Over the last few years in Vancouver, we've watched more venues shut down than we have found new ones opening up. Because of this, what Music Waste 2017 achieved was nothing short of awe-inspiring. In an amazing four days, Vancouver's independent music community flocked to over 20 venues in support of over 90 local artists. It was a relief to witness the music community thriving during this turbulent period of our history and proves that no matter however much the city threatens us with eviction notices or ridiculous rent spikes, we're going to cause a ruckus wherever the hell we want, whenever the hell we want.
While it would have been impossible to see every band at every show at every venue, I did the best I possibly could.
Thursday, June 1
On the opening night of Music Waste, Fortune Sound Club hosted the event with three separate stages set to play music throughout the night. Dozens of eager local indie music denizens and aficionados were sweatily jam-packed into the Art Room below the Main Stage. In the Art Room, strange little art fixtures adorned the walls and a bright green light illuminated the entire room creating an apt atmosphere for the small stage setting. I had only arrived just as the self-described "three piece passé rock outfit" Bored Décor were playing a knockout set mixing garage rock with a sprinkle of glam. Sadly, I had missed BB kick off the night, as well as the Trolls, but from what I heard on multiple accounts that night, they both kicked ass.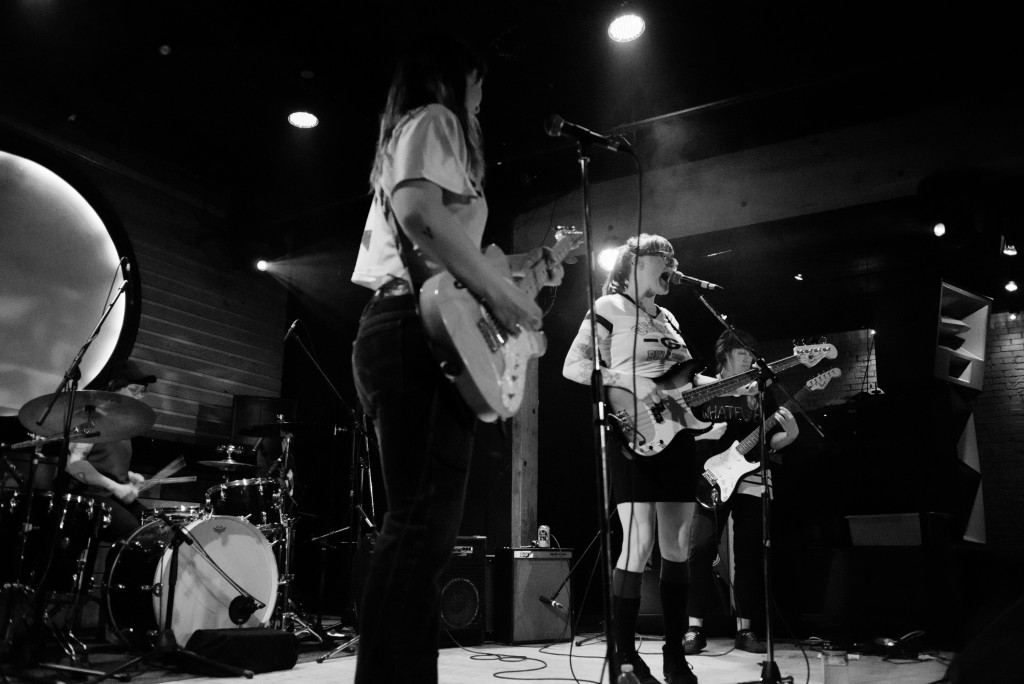 Along with those two stages there was also the Electronic Room, featuring the likes of Comisav and Devours. There was also the karaoke room on Fortune's main floor, which became a popular attraction between sets — I later witnessed the entire room erupt into a sing along of Bonnie Tyler's "Total Eclipse of the Heart."
Watching SBDC rip through their set of rowdy 3-4 chord punk songs on the Main Stage was an absolute joy to watch. While my friends danced around singing along to their song "Pensacola," they hadn't realized they'd misheard lyrics, hilariously shouting "Get me the f*** out of Pepsi Cola" instead. After the set, the myriad of attendees went outside for their next smokes, came right back inside, grabbed their drinks and proceeded to filter into the different rooms.
The next band I saw was Dumb playing on the Main Stage. Even if you had seen Dumb perform before, this particular set was an outlier. I was forced into standing directly in front of the monitor beside the stage, and while the drum sound alone was basically mind blowing (literally), the band is still primarily to blame for how great they performed. The immense energy from the crowd noticeably affected the band and they played one of the best sets of the entire festival. A notable highlight from their set was their song "And PC," particularly the moment in which the lead singer, 'Franco Rossino,' cries out, "I'm feeling alright!!" to which you could hear the audience holler in response. When I talked to 'Franco' afterwards about how great the set was, he said while laughing, "Yeah… we don't normally sound like that. Thank Fortune's sound system."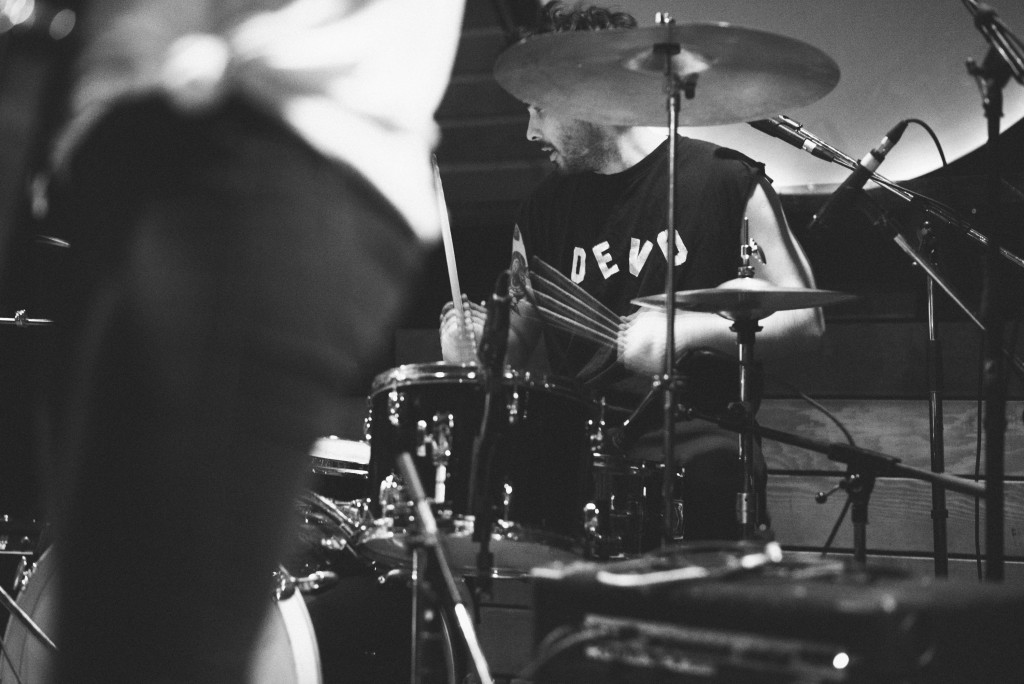 To close the night, Missy D took to the Main Stage to play a set perfect for past midnight grooving on Fortune's dance floor. If you haven't yet heard her track "XX," then do yourself a favour right now. The first night of Music Waste set an excellent precedent for the rest of the weekend that was to come: killer musicians, a great crowd and a hell of a lot of camaraderie.
Friday, June 2
While I was still recovering from my late night at Fortune, I knew my second night of Music Waste was going to require travelling around the city from venue to venue. Before the sun had even set, my evening began at the Cobalt.
First on deck was Tesstopia, a solo performance from Daniel Tessy (of Fuzzy P, who were playing later that night at Pat's Pub) with his semi-hollow electric guitar. His bellowing vocals were at times a jarringly high-pitched falsetto or bloated, with delicate melodies. Before he finished his set with "Impossible to Know," he mentioned that he was unable to play the song's closing guitar solo. Instead he decided to sing it note for note. While it wasn't necessarily my cup of tea, it was very entertaining and you could tell he was having a great time.
Shortly after, Milk took to the stage. Sporting a Hawaiian shirt, Milk's enigmatic vocalist / guitarist Thomas James carried himself with a similar disposition to Dinosaur Jr's J Mascis, with drawled singing complimented by the ability to pull off ripping guitar solos. Some of my favourite songs from the set were "Marmalade," with guitar melodies and harmonies reminiscent of Real Estate, and "Standards" where James sings, "Everyone's so worried they are losing their damn mind / Anyway I guess I feel alright."
For the final act of this show, all four members of Jock Tears were bouncing around the stage, each with their own spastic rhythms. Almost every song — which was never longer than two minutes — was preceded by a quick "1-2-3-4!" Similar to their name, their songs were cheeky, lighthearted jabs at different kinds of insufferable stereotypes. For instance, singer Lauren Ray announced before one song, "This is a song about cool guys who aren't cool," and proceeded to sing about boys with bleached blonde hair. Another song was preceded by a, "This song is about tinder, I hope you find true romance." While it was completely unexpected, their set wouldn't have been complete without their encore: a cover of GG Allin's "Don't Talk To Me."
By the time I left the Cobalt, the sky was finally dark. I made my way across the city to make it to my next stop of the night: The Toast Collective for Winona Forever's set.
If you've never been to the Toast Collective, it is a small DIY venue located in a back alley by Kingsway. When I say small, it's not actually that small, but the venue greatly underestimated Winona Forever fans. Frankly, it was no surprise to see the entire venue so tightly packed by an all ages crowd. Personal space no longer existed as everybody began nudging each others' shoulders in what was supposed to be dancing along. I wasn't too far towards the back of the room but I could hardly make out the band from the sea of denim jackets that gyrated in front of them. As the band jammed their song "Smoothie," the crowd was caught off guard by the sudden pauses between phrases during the chorus, making it almost impossible to dance along in time. As soon as the band finished, there was a mass exodus as the crowd so quickly evacuated the building to unanimously light their cigarettes, only to filter back inside for the next band.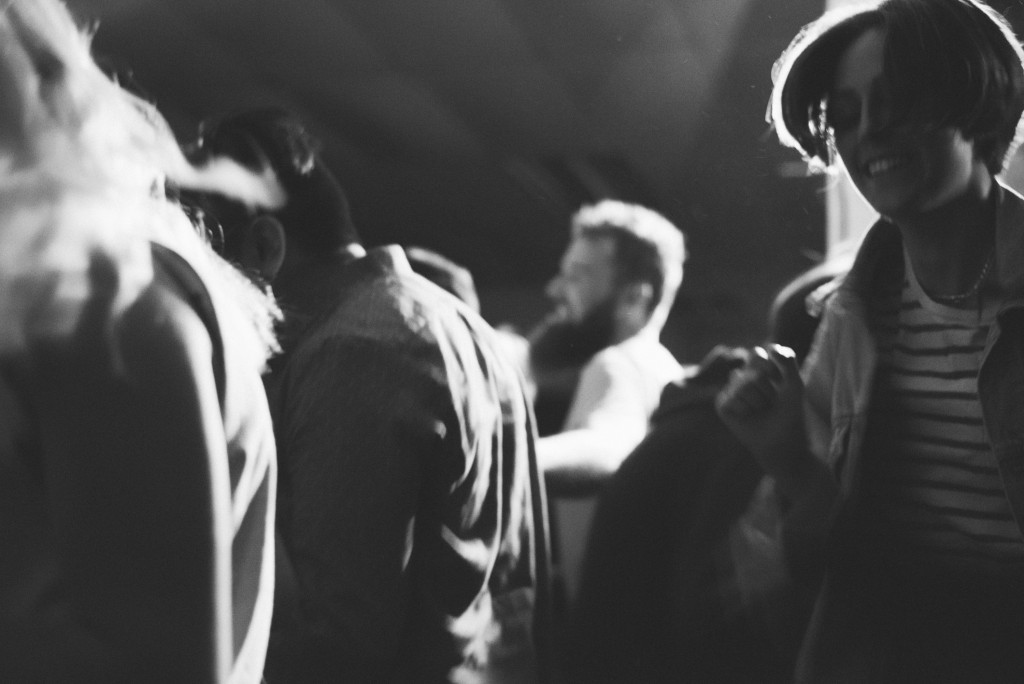 As Necking set up for their set, the room wasn't as cramped as it was previously, but that only meant that now there was enough room for movement among the crowd, eventually allowing for a mosh pit. As a badass, true-blue riot grrrl outfit, Necking are a relatively new force to be reckoned with and they aren't afraid to say what needs to be said. With Music Waste being their first-ever show, the band absolutely blew me away. Their songs are equally ferocious and catchy: "We're four commercial girls / Put us in a Ford commercial," as frontperson Hannah Karren shouted in a call and response supported by the band, "We want / MONEY! / We want / MONEY!" During their last song, which was a raucous condemnation against assault, a mosh pit inevitably formed, as ironic as it possibly could have been.
Before I could go home and rest, I needed to catch the final band I had planned to see that night: Supermoon at Pat's Pub. I arrived right at the end of Fuzzy P's set, seeing Daniel Tessy perform in the guise of his alter ego, which was literally fuzzy —he was wearing a large fur coat.
As Supermoon began setting up, I was exhausted from the long day after that late Thursday night, but by the time the music started playing I perked right up. While their set was plagued by slight sound issues, that didn't stop the band from putting on a great show. While most of the attendees were sitting at tables with their pitchers of beer instead of standing in front of the stage, all eyes were on the band. With its surfy guitars and melodic vocals, their song "Stories we Tell Ourselves about Ourselves" is one of my favourites. The set was fairly short, but it was a great way to bring my long day to a close.
Saturday, June 3
Unfortunately, I was unable to attend any of Saturday's daytime shows but when I arrived at The Lido, I was pleasantly surprised I made it in time to witness the last few songs of Victoria's lo-fi rockers, Death Kart. On the wall behind The Lido's small stage, a projector depicted a real-time psychedelic capturing of the bands' performance, creating a visual effects like some kind of vividly colourful alternate reality. I did not get to hear the reverberated ballads of Daniel Terrence Robertson (who played just before Death Kart) but I can speak for his music, as his 2016 release Death is comprised of beautiful atmospheric sound collaging mixed with haunting vocals.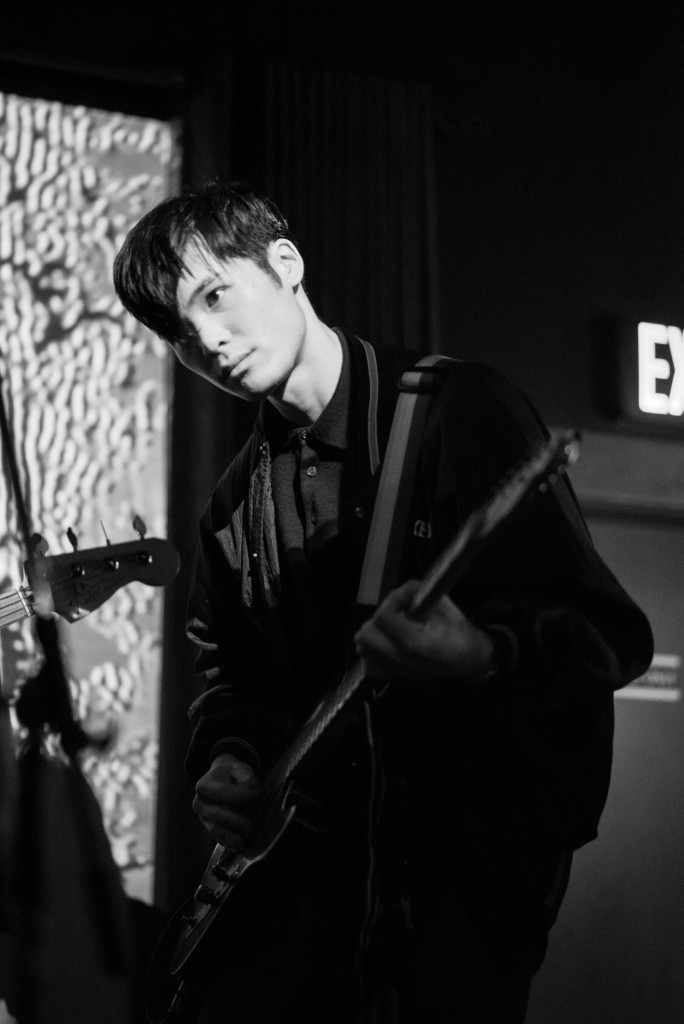 Shortly afterwards, the "non-substantial rock" group Mirepoix took to the stage, complimented by their own kaleidoscopic projection glimmering behind. Considering their garage rock vibes, the band draws inspiration from interesting places, playing their own rendition of Etta James' "I'd Rather Go Blind," while another song, written by their drummer Liam Dolan, is named after the philosopher Slavoj Zizek. Vocalist Ivanna Besenovsky's voice would shift, with ease, between calm and powerful. Guitarist Daniel Thow played his well-worn, customized Telecaster which was mysteriously missing its bridge pickup. It was an impressive set to say the least, and once it ended, the crowd dispersed into the street on their way to their next Music Waste show.
At first glance, Red Gate might not look like much, but that's part of the allure of this all-ages venue. By the time I arrived, I was very excited to see it near capacity. The first act, Braintree, were playing their set while modestly sitting down. A baritone voice echoed through the room during a relatively low energy set, which was actually a nice change of pace.
Out of all of the bands that I was able to see at Music Waste, Skunt was the only band whose entire set caused the audience to wreak havoc in front of the stage from beginning to end. Before they began, there was an announcement from Skunt's vocalist/guitarist Nora Kelly, "We're not always in the same city, so we only got to rehearse once, which happened to be in front of my grandparents on both sides," she laughed. Even so, the band played an amazing and unforgettable show as they commanded the crowd to slam into one another. Their song, "H8 Teen" is a Peter Pan Syndrome-esque punk anthem aptly named "because we all feel 18 forever," as Kelly says. After their cover of "Personal Jesus," Kelly jumped up and down, giggling as the crowd erupted into hoots and hollers. Towards the end of their set, drummer Allie O'Neill moved to the microphone while a mysterious replacement drummer, wearing sunglasses and a hot pink wig, took over the kit. As one of the most fun, engaging and exciting bands, Skunt easily earned themselves a place among the best performances of Music Waste.
Up next, Flatbed were doomed from the start with a mic'd saxophone gone horribly wrong. Virtually everyone evacuated the building into the smoke pit in the back alley, seeking refuge from the non-stop, blisteringly loud feedback. I'm unable to give a real review of their music because I really couldn't hear any of it, apart from constant screeching from the speakers. Even for somebody who casually enjoys listening to harsh noise and ambient music, this was really unbearable and that's saying a lot. But still, major props to the band for sticking it through the entire set regardless — now that's what I call persistence.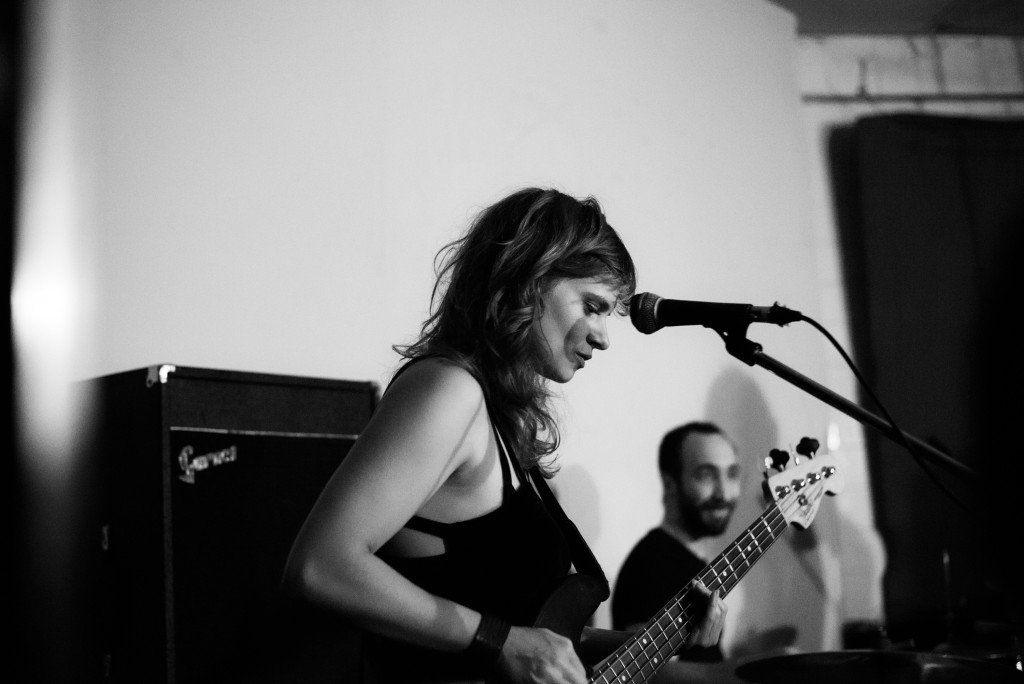 The final band of the night, Swim Team, were described to me as "basically jazz musicians playing post-punk." And that wasn't far from the truth, as Swim Team are seriously talented musicians with various backgrounds. For instance, guitarist Nick Short, according to Daniel Thow of Mirepoix, "is the busiest man in Vancouver. He's always recording people's albums and he's in Swim Team, Dumb, and Fuzzy P."
One seriously cool trick up Short's sleeve for this set was his use of a loop pedal in between songs in order to fill the dead air with a small feedback loop while the band tuned their instruments and situated themselves. There is a noticeable diversity in their music, ranging from melancholic grooves to complex, high octane songs like their song "Sentez." Beginning with Murat Ayfer's flurry of drums, "Sentez" is driven by hard-hitting guitar and bass riffs and vocalist Dorothy Neufeld's urgent pleas, "Get me out of this / This structure / This building / I'm feelin' / So restless / Everybody's sleeping / Can't you see here / No, no don't leave!"
Sadly, I was unable to attend any more Music Waste shows, like the late-night rap showcase at 333 that ran until about the sun came up. I also had to miss all of Sunday's shows as well, but I wish I could have spent my afternoon seeing the show at Antisocial Skateboard Shop.
I'm sure that there were many attendees that are now acquainted with some of our lesser known, more underground venues because of this festival, myself included. After her show, I talked to Skunt's Nora Kelly about her thoughts on Music Waste and our community here in Vancouver. "I live in Montreal now and I'd say the music scene is almost better here," she said. "I grew up in this — maybe it was stronger before, maybe even Music Waste felt bigger in past years, but it's still going strong and this is proof." Commenting on Red Gate particularly, Kelly mentioned that it will always be her favourite both to play and attend, and she criticized the article "Red Gate *Slowly* Pushed Out" for calling the time of death of the venue far too early, and I agree with her. We should stand our ground and support the venue full heartedly to make sure it isn't going anywhere.
People are quick to say that Vancouver's music scene is dying, but it is through our continued support that allows us to maintain our creative spaces and thrive against all odds. It's in this vein that I believe that Music Waste 2017 was a huge success as a statement for what Vancouver's independent music community is about, by coming together for one hell of a large, loud showcase loaded with local talent.