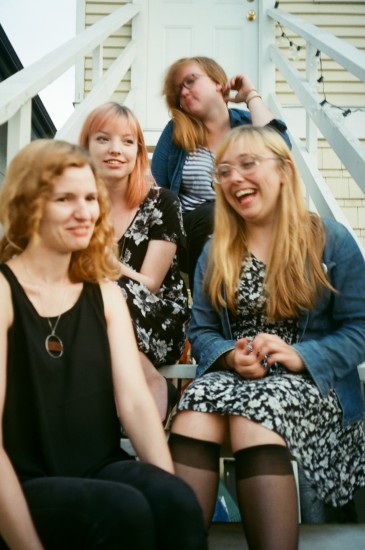 If you're lucky enough to have been in the right place at the right time this year, you know how much fun Supermoon is. Locally, the band has only graced a few Music Waste-related stages, but the hype around this adorably red-headed group — increasingly known for their short, catchy pop songs — is immense. And while there's understandably pressure to live up to their good name, thriving under pressure is something Supermoon have gotten really good at.
Formed out of the ashes of also-fun Movieland, the four-piece — consisting of drummer Selina Crammond, bassist Adrienne LaBelle, and guitarists Katie Gravestock and Alie Lynch — has been enjoying an astronomical amount of success over the course of their to-date brief orbit of the Vancouver music scene. The stars aligned and all four women found their way to my backyard to eat hamburgers and veggie dogs and chat about the "superhero origins" of Supermoon.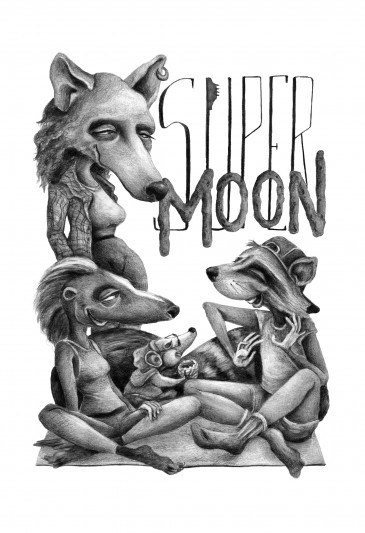 "It was right before midnight," on New Year's Eve of last year, they tell me — and yes, sometimes the chorus of information is so emphatic that it's impossible to credit a quote to just one woman — that Supermoon became a band. Crammond and LaBelle, long-time roommates, "accidentally hosted a party," at which they spent some time bemoaning the demise of Movieland on the couch next to Gravestock.
"Normally I wouldn't say anything, because I'm really shy," recounts Gravestock, "but I was really drunk, and I was like, 'Oh man, I've always wanted to be in Movieland. That's the band I want to be in!' And then I was like, 'Oh no, did I just say that out loud?'"
She did, and her outburst was met with enthusiasm. One of Gravestock's other bands, the pop trio Pups, had released a split cassette with Movieland on Green Burrito tapes in 2012. Gravestock jokes that she only listens to the Movieland side, and the others are quick to assert that they've all almost worn through the Pups side. This mutual musical appreciation helped solidify intoxicated plans. An hour later, Lynch had already cooked up a quirky name for the group that she knew everyone would flip for: Supermoon.
As topical as the name might feel to anyone who's spent a good portion of this spring and summer standing outside, staring up at the night sky, "The concept of a supermoon didn't even exist last year," says LaBelle. Lynch just found the name funny.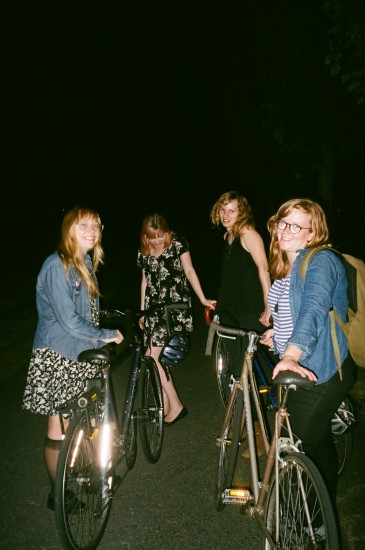 Initially, the band benefited from the momentum that Movieland had generated; the band's energetic live shows and recorded songs earned Supermoon easy spots at Music Waste and Sled Island. They're quick to note, however, that Supermoon is not just Movieland redux. "A lot has changed," explains LaBelle. "We've kept a couple of the songs, but we've changed them quite a bit." Gravestone writes "all the hooks," according to her bandmates and biggest fans, and has helped the band to find its new sound.
The band is "still pop, through and through," according to LaBelle, but "the combination of styles works really well. It's a little bit darker than Movieland. It's got a bit of an edge to it," with Gravestock bringing something atonal to the mix. Dressed all in black today, she is the band's "dark side of the moon," Lynch jokes.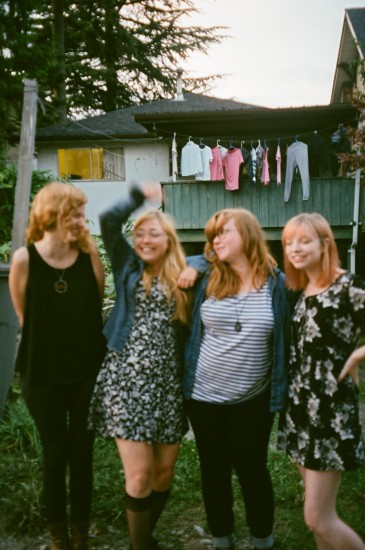 "We were having a really hard time trying to rework these old Movieland songs that we never recorded, and then, one fateful practice, it clicked. Katie had these amazing catchy guitar riffs that sounded so good. I had these crappy songs that I wrote on the ukulele that I was so embarrassed about, but we needed to have songs. We tricked our way into getting booked for festivals and then we realized we needed to be a band with new songs!" LaBelle's "weird ukulele songs" that she had penned under the name Lazy Bear were filled out by the group, some just hours before the first Supermoon show at the Toast Collective in early June.
As the group worked that day to bulk up their repertoire, "Alie wrote a riff to this little ditty that I came up with," recounts Crammond. "I play drums, so I don't know how to play guitar or anything. I had these notes, a little poem that I wrote or something when Adrienne and I shared an attic apartment. They all forced it into becoming a real song, which was kind of a crazy process. That's the first song that I've ever written — you guys brought it to life."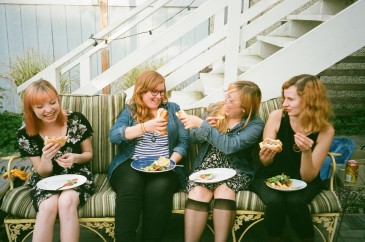 LaBelle had "one or two lines, 20-seconds long, and then we wrote an instrumental part all out of desperation." All four joke about the notion that their music is fueled by impending shows, but it seems to work, as, according to Gravestock, "We're all on the same wave-length in terms of how we want our band to sound, so it all just [comes] together."
LaBelle adds gleefully, "It's an experiment in how last-minute and scrappy you can be."
After a frantic June, the summer has been a quiet one for the band, but all four members have kept busy. LaBelle travelled, turning a two-week vacation into a month-long adventure that led her to quit her job; Lynch finished up her degree at SFU, and has sadly discovered that, "It turns out no one gives a shit about [higher] education!"; Gravestock has been working away, solo, at her contributions to the band and as a member of the Safe Amp Society; and Crammond has been busy with an organizing role in the Shout Back! festival.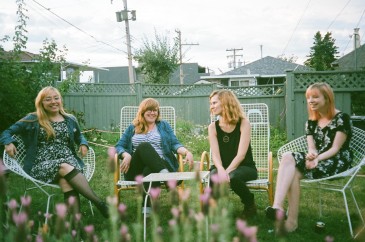 Right now, Supermoon is working to flesh out a set that breaks the 20-minute mark for the Victory Square Block Party on August 31. Next steps include recording a couple of songs for a seven-inch release.
"We had this great plan to do it ourselves. It would be a fun thing to record ourselves and put it out, but we're all way too busy and we don't have the gear," says LaBelle. "There are a couple of our friends who are around and have the gear and the time."
Crammond adds, "We recorded Movieland with Jay Arner, and I just recorded my other band with Jo Hirabayashi, so we've got folks who know what they're doing around us, and who've offered to record us … We've worked really hard in other bands."
"People have faith in us," LaBelle completes her thought.
It's true. Supermoon is a band built on faith and good vibes, and it's impossible to imagine a more exciting group of women to see together on stage, helping each other to "play out [their] pop fantasies," according to Gravestock. Something about these four friends, building instantly catchy pop songs out of tiny snippets, fostering each others' creativity, finding ways to be positive, active members of the community; it's no wonder it's the year of the Supermoon.