When I speak to Swim Team, the band is just back from a recording session in Oyama, a small town in the Okanagan. For the past three days they've been writing and recording the follow up to 2015's Freedom/Constraint; a dark, energetic album that introduced them to Vancouver's music scene. "I woke up at two PM today," guitarist Nick Short tells me, sitting in a quiet garden. "My sleep schedule has completely shifted since we started."
With Short on guitar, Dorothy Neufeld on bass and vocals, and Murat Ayfer on drums, Swim Team is a musically diverse trio. A relatively new band, they haven't settled into any comfortable routine or system. For Swim Team, this instability is a blessing, something to hold on to. "I wanted to be as uncomfortable as I could," says Neufeld, when asked about her intentions with the band. "I wanted it to be kind of ugly."
Trained as an opera singer, Neufeld spent years learning to control her voice, to practice discipline in the way she expressed herself. On Freedom/Constraint she takes a different approach, using a style that is in many ways a rejection of past training. Her voice is both playful and manic; speak-singing becomes anxious shouting over the course of a song. And unlike opera, Neufeld sees her vocals less as the main item and more as part of the greater whole. "The most important thing to me was that everyone was equal, and that I wasn't way 'in the front' vocally. It's much more fun that way."
Short expresses a similar sentiment about his role in the band. "I play in another band called Dumb, which is more straight ahead. This was an outlet for weirder things." Weird is good, but Ayfer is quick to point out that it isn't just for the sake of being weird — "if we practice something strange and dissonant and develop out of that, we can build up a repertoire of work that is more than just the same chords in different orders. I think that's very important to us."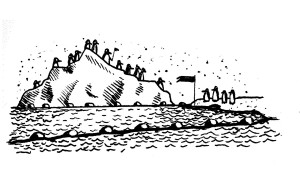 Their work reminds me of Family Band, a Montreal group that also combines playful instrumentation with existential dread. Where Family Band keeps it tropical (congas and surf guitars), Swim Team gets more grungy — guitars that sound bent, rhythms that turn on a dime, and vocals that sit somewhere between conversational and hysteric.
In their short time as a band Swim Team has been compared many times to Sonic Youth — punks playing art rock. There is an irony to this that isn't lost on the band members. "The Sonic Youth thing was funny, because I didn't actually start listening to Sonic Youth until people said that what we were doing sounds like them," says Short. "One of my biggest inspirations is Brian Eno, but I know that listening to the music on the surface it probably isn't very apparent." Ayfer's influences are equally disparate — "A lot of Turkish music that I grew up with has irregular time signatures, which are very different from Western music, which is often a 4/4 straight beat. I also listened to a lot of progressive metal like Dream Theater. In this band I can finally try that stuff out. That being said, I don't think there is one thing I'm particularly influenced by; it's just the sum of all the things I've ever tried to play."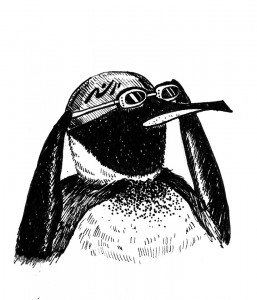 About three or four drinks into our conversation, the trio asks if I want to hear some recordings from their Oyama trip. We listen to a few tracks from the upcoming record (to be released on October 31) and it's an exciting feeling. The music is less punk oriented, but somehow feels more intense than Freedom/Constraint. Ayfer's drums are frenetic and fast, and Short's guitar work drives the emotion of the songs. Neufeld's vocals remain frantic, but she also diversifies her singing style. On one of the most subdued songs from Swim Team, she briefly trades in her short, clipped stanzas for a soulful croon. The effect is disorienting, sad and powerful.
"My writing on the new album was very intentionally vulnerable," says Neufeld. "I think the first album was safer because I would approach things from a distance. This still isn't about one particular thing, but it's definitely a self-healing album. Or… maybe it isn't, maybe it's just a fantasy, this idea of self-healing. But whatever. If you can acknowledge that too, it's ok."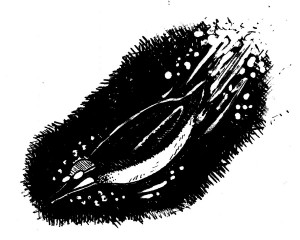 Throughout our conversation, each band member mentions the importance of physical space. Neufeld is drawn to objects and space as a source of her lyrics. Ayfer and Short talk about the physical spaces they rehearse and play in as formative to their instrumentation. Because of this mentality, Oyama itself becomes a significant player in the new album. The rolling hills, quiet orchards and lakeside setting of their Okanagan studio highly contrasts the recording location of Freedom/Constraint — an urban jam space in Coal Harbour. This shift is evident in the music, and listening closely I can almost hear the rooms enclosing and shaping the different ideas. "It wouldn't have been the same if it wasn't that few days in that physical space, and that was important," explains Short. "I like being driven by the limitations of a certain piece of equipment, or the limitations of a certain way of doing something. Being where we were and having what we had is what shaped the songs, and I really appreciate that."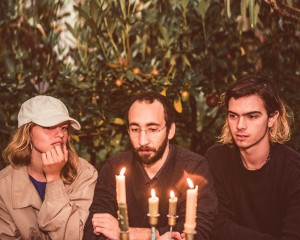 I spend time trying to unpack the dichotomy of Freedom/Constraint — the tension between control and chaos that the band is already becoming well known for. But as they speak about their music, I realize it's not as simple as addressing one tension. The things Swim Team sees as limitations (gear, time, techniques, etc.) are also the things that they use to experiment and grow. For them, both freedom and constraint are wrapped into one idea — held simultaneously, inseparable.
x
Swim Team's new album will be released October 31. Visit swim-team.bandcamp.com for more info.