As I sit with Bored Décor at Nice Café, the band is chatting about the merits of free-range eggs. Drummer Neriah Mair always pays the extra dollar, but claims jokingly that it is for the flavour of the eggs and not the ethics behind them.
Bored Décor is a new three-piece rock outfit in Vancouver; the other two members are keyboardist Ryan Quist and guitarist-lyricist Nik Barkman. They've been playing together for only about four months, and are releasing their first, self-titled EP in cassette this Saturday, February 11, at Stylus Records.
The EP — recorded at The Woods Studio and mixed by Ryan —feels simultaneously neat and messy. Neriah's suggestion that the songs were "written to be performed live more than to be recorded" rings true – the songs contain a performative energy that has translated to recording surprisingly well. Not without effort, however. Nik describes the recording process as "a pain in the fucking ass."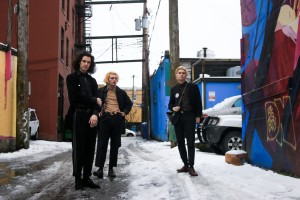 "So much of it [the music] is the energy of being on a stage," Nik explains. The band even chose to cut some songs from the recording because they didn't sound right after being removed from a live setting. "I don't think we ever play the same song twice identically," Ryan says, "the takes were all so different." And while this constant improvisation makes recording difficult, it also adds vibrancy to the band's live shows.
Bored Décor is all about performance. They want to see people to dance and have fun at their shows. "I've been pretty stoked on the fact that at most of our shows there's been crowd-surfing and stuff," says Ryan. They're also fascinated by fashion, and Neriah suggests that a big influence for the band is seeing other live shows, because it gives them ideas about what they'd like to see. "Something we want to do is put a lot more effort into the performance as a whole, because it's more than just the music," Nik says. "It's everything you see," adds Neriah.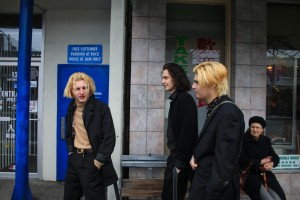 Their priority seems to be putting on a show where everyone has a good time — and while this may not have a great deal of weight behind it, a show where everyone dances and enjoys themselves might be necessary at this moment. As Nik says while describing the impetus behind the song "Fearphobia," "it's hard out there," and we need some catharsis.  
Their songs contain lyrics like "It's an abomination / We are embalming nations … / Do you ignore it? / Well that is awful ignorant! / And I admit that it's euphoric / To shut the door on it." Listening, I find these words to be especially pertinent to the current political climate — there's conflict between a need to be active and a desire to maintain personal contentment by 'shutting the door on it.' When I ask Bored Décor whether they intend to be political with their music, they say they'd maybe like to be, but admits their music isn't the best way of communicating significant change.
"It's a weird position to be in because we're not a big band, we're not saying anything to people who don't know it already," Nik explains. "I have political opinions and I would like to voice them, but I don't think I would like to do it through lyricism."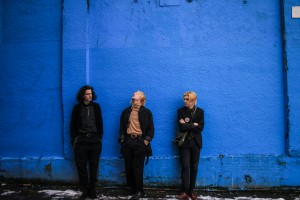 Our conversation verges on a question I've been considering more and more lately — Can art or music change minds at all? Bored Décor is undecided, but leans towards 'no.'
"Politics in politics is too big for politics in music right now," Ryan suggests. Neriah adds, "I don't think people are learning about politics through music that much right now. I think the information is available to anyone who wants to see it, but there are so many who don't care."
This statement — neutralizing the politicization of their music — is somewhat ironic, considering that the issue was addressed succinctly in the song "Subhuman" (lyrics cited above). As Ryan suggests, "maybe [the band] is oblivious to their own significance right now."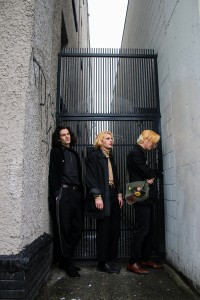 Deliberately political or not, Bored Décor is definitely about having fun and making good music through play and improvisation. "I feel like our music is just us, doing what we're doing, as people," Neriah says. They write with "no rhyme or reason," and that's what they like about it. "It's actually very natural, it feels good," Nik says. "We're all very adept at doing what we want to do and that's what the band sounds like, us doing our own things."
Bored Décor embodies the local, DIY spirit. They see issues of gentrification affecting fellow creatives, but also believe in the art scene's ability to sustain itself, possibly because they, themselves, take part in giving it vitality. They are already working on new material, and will be putting out a split album with Victoria band OKGB in the near future.
These guys are free-range eggs, and they're making music for the good, good flavour.
x
Listen to Bored Décor at boreddecor.bandcamp.com, and be sure to catch a live show. In the meantime, here are some more photographs: