For a band who by their own account are good friends, some of the biggest influences on DUMB's music are surprising: "Frustration, neuroticism, ego battles," summarizes guitarist and vocalist 'Franco Rossino'.
Astonishingly, these clashes are all in good nature, and in fact facilitate DUMB's creative process. DUMB other guitarist 'Fowlder Macteb' clarifies, "I feel like we argue so frequently and we are also really close friends that it actually doesn't ruin the vibe."
As an example, 'Franco' explains: "I used to just hate everything 'Fowlder' played on guitar, I used to think he was just playing it to frustrate me… but eventually I'll listen to it on recording and grow to like it, no matter what."
Indeed, the members of the garage-punk band seem to treat being interviewed the same way — tossing talking points back and forth until they reach an answer they all agree on. The band itself came together in a similarly piecemeal fashion, emerging from jam sessions with friends, then going through two bassists (Shelby Vredik, then Brett Barmby) before assuming its current form, which in addition to 'Franco' and 'Fowlder' also features 'Franco"s younger brother 'Gavin Ray' on bass and 'Pistol Pip' on drums and backup vocals.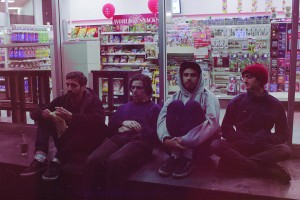 DUMB is a member of choms, a collective of bands that share the same jam space and some of the same members. choms also includes Swim Team, Tesstopia, tv ugly and Fuzzy P. tv ugly in particular is said to be a sister band of sorts to DUMB. 'Fowlder' speaks to the bond between the two bands: "I think that we started at the exact same time, more or less, so it's cool we played shows together in the beginning where no one knew who the hell either of us was … We've both sort of gotten better and bigger, [though] it's so clichéd to say sometimes." 'Pistol' adds, "We're still homies."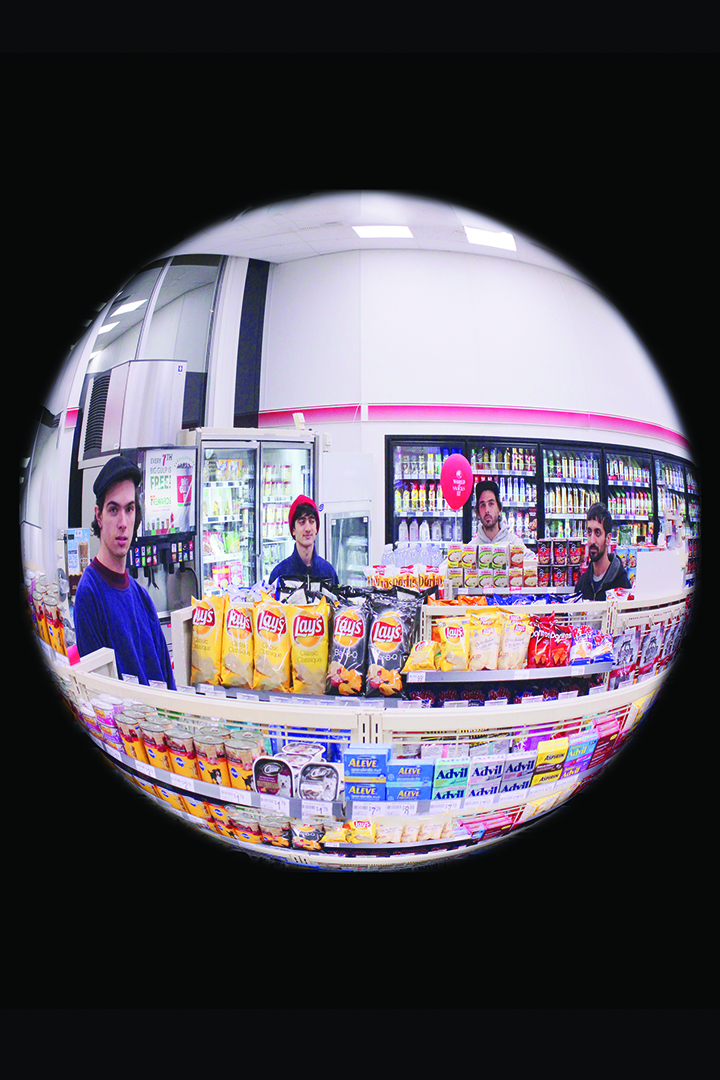 The interplay between DUMB's constituents runs to their collective musical taste, too; While they sometimes diverge — 'Fowlder' listens to prog rock, while 'Franco' and 'Gavin"s ears run to melodic indie rock bands, and 'Pistol' is a hip-hop head — they converge too, mostly on Parquet Courts.
After 'Franco' saw Parquet Courts perform at Oregon's Pickathon Festival, nearly all he listened to for a while was their 2012 album, Light Up Gold. Fast forward a few years, and DUMB found itself playing a game of email tag with the band, whom 'Pistol' emailed in the hopes of getting on a bill with them as local support.
"We made a Gmail [account] to message them," 'Fowlder' explains. "Other than that, we had no reason for having an email address, so we just totally forgot we had it. They emailed us back and we didn't even see it for three weeks." 'Pistol' continues, "It was pretty cool, since I've talked to other friends of mine who play in bands, who have toured and done all that stuff, and they were like, 'dude, emailing the band never works.'"
At the time of our conversation, DUMB was hard at work in their Coal Harbour studio in a building dubbed the Wantoo Lounge. The band was scrambling to the final touches on their forthcoming cassette, Beach Church, before sending it off to Jordan Koop for mastering. As follow-up to the slew of self-released EPs (starting with the Friendship EP, which came out February 2015) and one single (released November 2015), the Beach Church cassette could have been something very different.

'Franco' explains the initial concept of their release: "We were going to have a full-length that was going to be a bunch of DUMB songs, and we also had an idea for an album called Beach Church, which was supposed to be slide guitar, surf-themed, instrumental, experimental and electronic." 'Fowlder' continues, "We were going to ask four extra people to play synthesizers and basically make like a noise album, but it was going to be really short, essentially, just ten minutes … It was going to almost just sound bad."
The two ideas slowly blended together, but in the meantime Beach Church became something of an inside-joke for DUMB. "Every time we played a song 'Fowlder' would say, 'But is this Beach Church?'" 'Franco' remarks, "and we would be just like, 'No.'"
The band flirted with some deeper, even spiritual concepts as Beach Church took shape. Describing the album's title, 'Gavin' explains, "Between then and now we realized what Beach Church was … It's fun, but also very spiritual, which is why it's like a beach but also a church." 'Fowlder' laments, "Now it sounds weird because of Parquet Courts saying they're religious."
Nevertheless, DUMB retained some of these spiritual elements, both in the album and in their practices and performances.
"We have these things in the album called 'meditations,'" 'Franco' explains. "We [would] take breaks before doing a take of a song or before just playing a song … everyone would be quiet except for 'Fowlder,' and there would always be somebody asking the question, 'Why does 'Fowlder' get to play during the meditation?'"
"Because 'Fowlder' is a beach priest," 'Pistol' quips.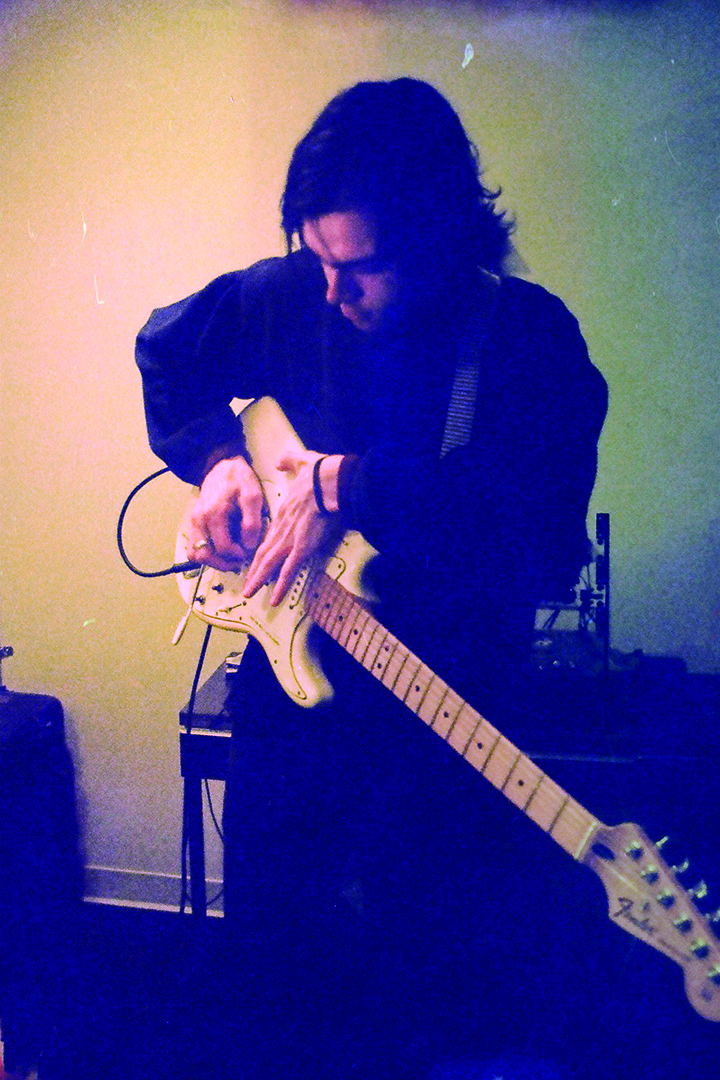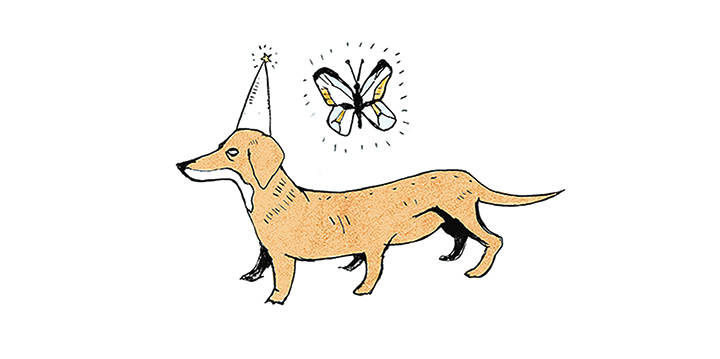 DUMB credits a month of playing Devo songs for a Halloween covers show for the direction they eventually took for Beach Church, all mixing wizardry and occasional forays away from straightforward guitar music — Ridley Bishop plays sax on one track, for instance. "I think Devo made us go a little bit crazy," remarks 'Gavin.' "Those songs were in some really weird time signatures and had a lot of repetition… I think we came out the other side a little bit weirder."
What's next for DUMB? It's an open slate — when asked about their plans, the band cracked as many jokes as they gave serious answers.
Asked about touring, 'Gavin' exclaimed, "We should go to Japan in 2019!" to his bandmates' laughter, before they started mulling the possibility of a Sled Island appearance.
On the topic of future releases, 'Franco' said DUMB was, among other things, considering a country-themed album and a split release with tv ugly: "It's going to be… called Dumb and Ugly."
It's hard to tell whether DUMB is joking about this, though. After all, it's a band which more often than not returns to its ideas, no matter how silly it might seem at first.
Just ask 'Fowlder' about Beach Church.
x
DUMB will open for Parquet Courts at the Rickshaw Theatre on February 20. Beach Church is due out February 11. Visit dumbband.bandcamp.com to hear their music, or follow DUMB on Facebook for updates.