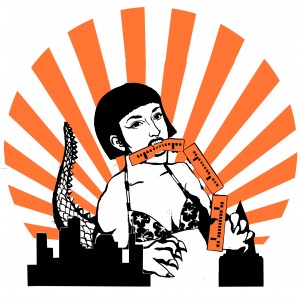 If you've seen the name Wishkicker pop up on seemingly every poster, handbill and event page in the last little while, you're not alone. With the exception of August (when they stopped performing to record their second EP in five months), the band has been playing nonstop. It's not because of longstanding connections, or by any stroke of dumb luck — they just work really hard, and aren't afraid to show it.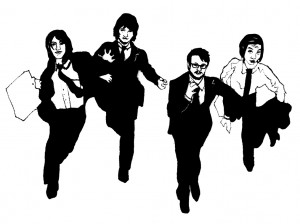 Kyle Schick started the project as an outlet for songs he had been writing that didn't quite gel with his previous band, MALK, morphing into Wishkicker proper with the recruitment of his partner Megan Magdalena on bass, and Alex Smith on drums. The trio released their first EP, Por Que, Y? in the spring — a wicked 15 minutes of power pop that was largely the brainchild of Schick's independent writing and composing. In the months that followed, however, Wishkicker did a lot of growing up. By turning over guitar duties to Kaeden Teindl and Felix Fung, the band turned into a five-piece, which helped make their second EP (the aptly titled Wider Vision) a serious step forward.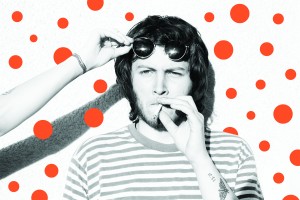 As Schick puts it: "I think this EP is the first step onto the road of what the band is going to go on to be. I feel like the first record was really me, and my songs, and my friends playing on it, whereas this feels more like a band."
The changes have done a lot for Wishkicker creatively, with Wider Vision being more collaborative than the band's previous work. The difference is audible, too. Where Por Que, Y? feels appropriate at a beachside hangout, Wider Vision was made for unlawful skinny dipping in your neighbour's pool.
Returning to Little Red Sounds, where their first EP was recorded, has also been a boon for the band. With Fung once again heading production, it has made the process of crafting Wider Vision both a comfortable and kinetic experience.
"When you're playing in the room and Felix is guiding to you towards the best possible take of a song, it really does feel like there's a genuine reaction between the band and what he's doing," says Schick with enthusiasm. "It's really cool. It's a really fun way to work."
Perhaps the most important aspect of Wishkicker's evolution has been the freeing up of Schick's hands. Even though Teindl has played guitar for the group since their second live show, it's only now with the release of Wider Vision and the addition of Fung playing rhythm that Wishkicker has been able to solidify a true frontperson in Schick.
"Now that I'm just singing I can really focus on putting a face to the music and having something for people to grab onto, rather than a bunch of guys with their hair in their faces looking at their guitars," he explains. "I'm really tired of seeing four dudes on stage who look like people I would be at work with at the construction site. I want to see some flash and some excitement — something I haven't seen in awhile, or something new."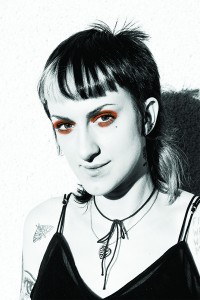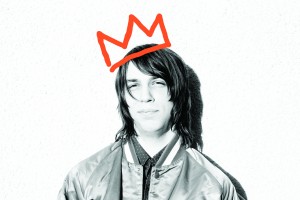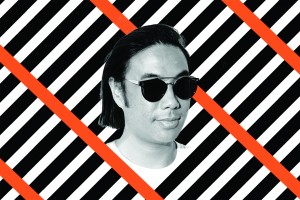 That idea of having a face and a focal point is something the group sees as a lost art, a missing connection amidst a sea of acts who choose to hide behind mops of unkempt hair and fuzzy guitar tones. Wishkicker's playfulness and buoyant stage presence help to separate them from a lot of other local talent, and those aspects are ones they're very much committed to.
"Where are the personalities?" Fung posits. "Even if it's made up… that's what we use to interact with each other. When I become this [personality] … then I can make those interactions a lot more exciting, for myself and the person in front of me."
It's an interesting juxtaposition, as Wishkicker appear so loose and lively on stage, they are serious about their music and their devotion as a band. As Schick, Fung and Magdalena all confess, taking things seriously is the only way making music becomes a cathartic experience.
"There's a lot of work that goes into it, but every minute is a fucking joy," Fung elaborates. "It's such a privilege that we get to do these things. I want every fucking rock 'n' roll experience that I can get — I've read about it my whole life, I've watched it on YouTube, I've seen documentaries, and every single one of those people I see I think 'Why not me?'"
Luckily for Fung, Wishkicker's work ethic is clearly earning them the rock 'n' roll experiences he covets. From opening for Parquet Courts at the Vogue last month, to an EP release show at The Fox early this month, the band is building momentum — and they don't intend to slow down anytime soon.
"We will be going somewhere in 2017 for sure," says Magdalena. "Either the U.S., or the U.K., or Mexico — or all of them. Something will happen … We all have the bug; we want to get out of here and see other places."
Future plans aside, Wishkicker is openly enthusiastic about the reception and recognition they've managed to accrue in the span of only a few months. As Schick divulges, this is the first project in his musical career where he's comfortable feeling proud about the product.
"Just to know there's other people that at least say they like [Wishkicker], or come to our shows or buy our tapes, it's just really validating," he concludes. "It's exciting, and I just can't thank anybody who likes it enough for liking it."
x
If you need some more Wishkicker in your life, you're in luck. Check them out at The Fox on September 3, or the Biltmore on September 17. Don't like leaving the house? Their new EP, Wider Vision, will be available for download on their Bandcamp in early September.