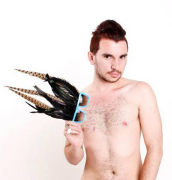 Today on the show, reviews DOXA 2013 films Horse Palace and Joe Papp in Five Acts  and two in studio guests:
The Vancouver International Burlesque Festival is back May 2-4th, and Tranny Zukko will be on the show to talk about his breakout boylesque career, his troupe Dirty Vanities, and the festival.
Plus, Ines Ortner directs and designs Hamletmachine (April 25-27) for her UBC MFA thesis – the show is free and it is sold out so this is your chance to get a taste of this unique event.
Based on the play by Heiner Muller, Ortner has created a visually arresting interpretation through costuming, using innovative materials and illumination.
[Photos courtesy of https://www.facebook.com/hamletmach]