Arts Reporter Ben Lumley attended Astrolabe Musik Theatre's Sex Lives of Vegetables on April 20, 2013.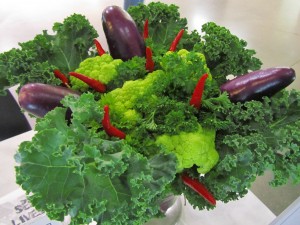 The evening began with Governor General Award-winning poet Lorna Crozier relating how she was inspired to write The Sex Lives of Vegetables. One day as she was baking a sweet potato, the vegetable split, exposing a sensuous orange flesh.  After that the poet began probing the sex lives of other vegetables such as cauliflower, tomatoes and carrots (thrusting into, fucking the earth).
VanDusen Gardens was more than an appropriate setting: undulating rooftops and organic looking stained concrete, a spectacle of rolling wooden roof slats leading up to a central round skylight. Small artful bouquets of eggplants and other produce were on display throughout the performance space.  Created by Elaine Savoie of Hornby Island, they were bursting with colour and vitality.
The evening's events began in the foyer, with the audience surrounding a trio of musicians who played in front of the floral arrangement.   The first performance was a world premiere of the piece "Eve, to Adam" by Leila Lustig.  The mellifluous clarinet of AK Coope filled the large room. Heather Pawsey sang the lyrics which, while in English, were hard to decipher; lyrics in a program would have ensured the poetry wasn't lost.
After this first piece the concert continued in the "Great Hall." Though "Great" may be an overstatement, the room made do as a performance space with folding chairs and cables hanging from the ceiling.  The room boasted a complete wall of glass overlooking the garden, and provided fine acoustics.
I couldn't see pianist Rachel Kiyo Iwassa from where I was sitting, but my companion remarked that Iwassa's fingers were dancing on the keys and it certainly sounded so.
After intermission Crozier read from her book of poetry The Sex Lives of Vegetables.  After Crozier read, the musicians performed them to music composed by Leslie Uyeda.
The most successful musical adaptations were the theatrical renditions sang by Heather Pawsey.  The music was beautiful throughout, though it was hard to top Corzier's expressive reading.