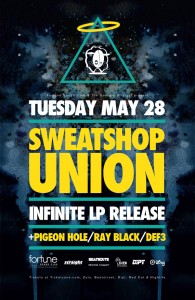 May 8th at Fortune Sound Club, come catch Sweatshop Union celebrating the release of their LP 'INFINITE'! They are renowned as the heavyweights of North Western hip-hop, and have earned a reputation as the hardest working collective in the region. Having performed over five hundred shows internationally, they have changed the perception of what live hip-hop can achieve.
They will be joined by guests DEF3, Ray Black, and Pigeon Hole.
Advance tickets on sale at Highlife, Zulu, DIPT, Red Cat, Beatstreet and online. More info here.