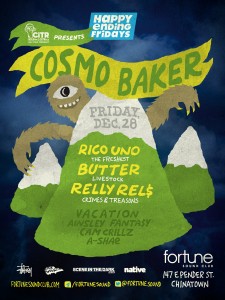 On Friday December 28,  Happy Ending Fridays at Fortune and CITR 101.9FM present Cosmo Baker with guests Rico Uno, Brendan Butter, and CiTR's own Relly Rel$ from Crimes and Treasons, along with VACATION in the Livestock Room with Ainsley Fanta$y, Cam Crillz, and A-Shae.
Cosmo Baker is widely considered to be one of the top party-rocking DJs on the planet. A master of everything from hip-hop to disco and funk to electronic music, his unique style and spinning prowess is able to bring it all together in a cohesive, and funky manner. This Philadelphia native, who helped found the internationally known DJ / remix collective The Rub, has a knowledge of music matched only by his uncanny ability to move the crowd. Cosmo is a rare breed of DJ that bridges the gap between the legendary DJs of yesterday and the superstar DJs of today.
More info here. Presented by CiTR 101.9FM.