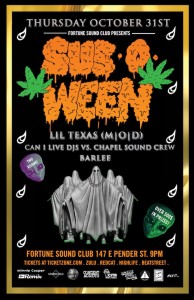 SUS-O-WEEN is happening at Fortune Sound, get your tickets early, it's going to be a party.[/caption]
Leaves changing colour and pumpkin spice lattes can only mean one thing – fall is upon us! The best part of fall, undoubtedly is Halloween. Free candy and a chance to dress up as whomever you want? Best. Holiday. Ever.
This Halloween, CiTR is proud to sponsor SUS-O-WEEN taking place at Fortune Sound Club.
The night is going to be packed with with performances by  Lil Texas  and BARLEE (LIGHTS OUT/ FVDED)
The Chapel Sound Crew will be spinning all night alongside the CAN I LIVE DJ's.
Dress to impress in your most daring costumes, Fortune Sound is going to be transformed into a Halloween acid trip.
There are a limited number of $10 early bird tickets, being sold at: Zulu, Beatstreet, Highlife & Red Cat
For more information on SUS-O-WEEN visit: https://www.facebook.com/events/356742397793603/