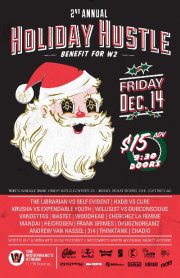 The secret is out. On Dec. 14th, at W2, the notorious community focused media arts centre in Vancouver's Downtown Eastside, Beatroute's Holiday Hustle looks to provide the world with a glimpse into what makes the city special by showcasing some of the incredible underground talent on offer, by a wide array of players. Represented here is a granular look into the vibrant spectrum of music to be found on any given night, in any given club or warehouse. Holiday Hustle IS Vancouver.
Featuring: The Librarian, Self Evident, Hexadecibel, Cure, Expendable Youth, Krusha, The Willisist, Dubconscious, Vandettas, Drugzndreams, Cherchez La Femme, and more!
Advance tickets $15, available here. Doors at 9:30.
Sponsored by CiTR 101.9 FM.