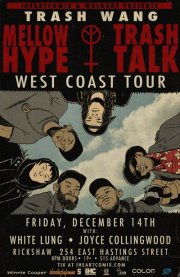 Join CiTR on Friday, December 14 at The Rickshaw Theatre for a special IHEARTCOMIX presentation for the Trash Wang Tour headlined by MellowHype and Trash Talk.
Catch these two OFWGKTA artists in Vancouver.
With White Lung and Joyce Collingwood
…
Doors at 8pm
Advance tickets are $15
Purchase advance tickets here or in-store at Beatstreet, Highlife, Red Cat, and Zulu Records and the Waldorf Hotel's front desk.
Ticket includes free admission to the afterparty at the Waldorf. Lineup TBA.
Sponsored by CiTR 101.9FM.