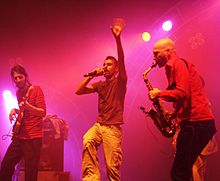 CiTR is proud to sponsor Balkan Beat Box with special guest Geoff Berner at the TD Vancouver International Jazz Festival, June 27th at the Vogue Theatre.
BBB blends Arabic, Mediterranean, and Balkan influence with the kinetic fervour of dancehall beats, all with a fiercely political, hopeful message in a wild, force-of-nature live show. Their latest album was inspired by recent people's protest movements, such as the Arab Spring and Occupy Wall Street. Come down and hear this soundtrack of the reenergized spirit of our time.
Doors 8pm / Show 9pm
Tickets $30
Details at vanjazzfest.ca.
Sponsored in part by CiTR 101.9FM.