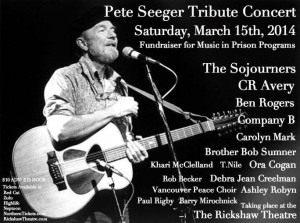 This Saturday, head to the Rickshaw theatre for a concert paying tribute to the late great Pete Seeger! All of the money raised at the show will go towards supporting the ongoing music programming at the Burnaby Youth Detention Centre.
Tickets are $10 in advance, $15 at the door, and are available at Red Cat, Zulu, Neptoon and Highlife Records, as well as online at Northerntickets.com and rickshawtheatre.com
Featuring performances by:
THE SOJOURNERS http://www.thesojourners.ca/epk.html
CR AVERY http://www.cravery.com/
BEN ROGERS https://www.facebook.com/ben.rogers.music.page
COMPANY B http://www.companybjazz.com/
CAROLYN MARK http://www.carolynmark.com/
ORA COGAN http://www.hairyspiderlegs.com/web/artists/ora-cogan/
BOB SUMNER http://thesumnerbrothers.com/home
DEBRA JEAN CREELMAN http://music.cbc.ca/#/artists/Debra-Jean-the
T.NILE www.tnile.com/
THE VANCOUVER PEACE CHOIR www.vancouverpeacechoir.ca/
Sponsored by CiTR, 101.9FM!