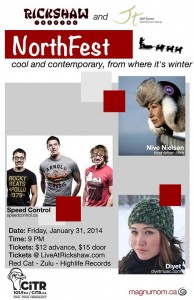 This Friday, the Rickshaw Theatre is bringing you a unique opportunity to experience music from Canada's north. Featuring performances by Diyet, Speed Control and Nive Nielsen, the night will be an array of vibrant music ranging from rock to alternative folk.
Doors are at 8PM, and tickets are $12 in advance or $15 at the door. Advance tickets are available at Red Cat, Zulu, Highlife and Neptoon Records, as well as online at northerntickets.com and liveatrickshaw.com.
For more information, check out the Facebook event page or The Rickshaw Theatre's website.
MORE ON THE PERFORMERS:
Speed Control
Straight out of – 40 degrees in Canada's Yukon, Speed Control takes control of the stage with a power that will make you jump up and dance while knocking your breath away, leaving you saying, "What just happened!? Dubbed "Parka Punk" by Stuart Derdeyn of The Province newspaper, Speed Control, made up of brothers Graeme (guitar/vox) and Jody Peters (bass/vox), and drummer Ian March, is known for their live shows and their passion for playing hard, fast and real rock!
Diyet
Born in a tent, raised in a two room cabin, classically trained in opera, now an alternative folk artist.This sub-Arctic-Southern Tutchone-Japanese-Tlingit-Scottish-Yukoner is your typical Canadian – the result of a long cold winter. Diyet's music is like her life – a mix of this and that but deeply rooted in the values of a traditional northern life.
Nive Nielsen
Nive travels the world sharing her music sometimes solo and sometimes with her band, the Deer Children. She has garnered much attention and many awards playing Europe's most prestigious festivals along the way. Nive is the Official Cultural Ambassador for Greenland. In 2010, she won an Independent Music Award for her "Pirate Song".
Sponsored by CiTR, 101.9 FM!