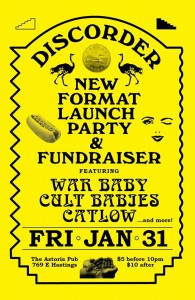 HAVE PLANS THIS FRIDAY?
Well cancel them, because Discorder's having a fundraiser, and it's going to be a good time.
So come one, come all to the Astoria to help that magazine from CiTR celebrates the launch of a brand-new redesign with some great local bands, including Cult Babies, Catlow, War Baby and Hallow Moon.
In addition to these rad bands, rumour has it there will be special edition prints of our new 72-page art mag, available at the launch, as well as cool prizes, and more! You can also read up on War Baby (also this year's Shindig winners) in the March 2013 issue of Discorder Magazine…
Admission: $5 before 10 p.m. $10 after | Doors 9 PM | The Astoria: 769 East Hastings Street
Don't forget to RSVP on Facebook, and like the Discorder Facebook page for more exciting updates!
SEE YA FRIDAY!