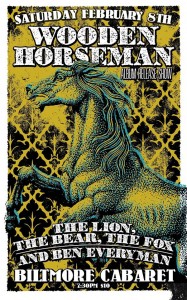 The Biltmore Cabaret Presents…
Wooden Horseman Album Release Party – Saturday, February 8
Fresh off their cross Canada tour to Halifax and back, Wooden Horseman is set to release their debut, self titled album in Vancouver. The music of Wooden Horseman has been described by Vivoscene as "timeless and ageless, evocative like a rain-bogged forest, mellow as a morphine drip and raw as a November squall, a distillation of a long journey with no discernible end point." We will let this description speak for itself – this is a show you don't want to miss!
Wooden Horseman will be joined by their friends The Lion, The Bear, The Fox, a fantastic West-coast band recently featured in Discorder Magazine, and local talent Ben Everyman.
Tickets are available online here. For more information, visit the Facebook event page here.
Sponsored by CiTR, 101.9 FM!