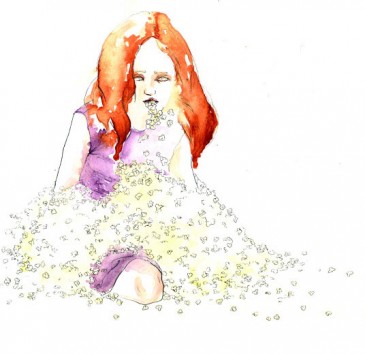 The fest runs from Oct. 1 to Oct. 16 and according to VIFF's website it's "cosmopolitan, innovative, friendly, culturally complex and very accessible." We thought these four films in particular might pique the interest of our average reader. If you want to see the whole schedule and lineup head on over to the VIFF website at www.viff.org. As with every film fest there's a bit of good and a bit of bad. Here's what we thought.
Ashes of American Flags: Wilco Live
(USA, 2009, 87 min)
Directed by Brendan Canty of Fugazi fame and Christoph Green, Ashes of American Flags re-imagines the tour documentary as a free-form rumination on music and Americana, and on the relationship between performer and audience. Following Wilco on their 2008 American tour, Canty and Green intersperse concert footage with band interviews and gorgeously photographed roadscapes as the tour bus cuts a criss-crossing line across the map. And speaking of cinematography, it is consistently excellent across the entire film—the concert footage is enthrallingly dramatic and the interstitial sequences effectively juxtapose warmly decaying rural scenes with jarringly corporatized suburbia. The interviews have moments of sublimity as well, as when multi-instrumentalist Pat Sansone talked about his tour hobby of photography, documenting the forgotten details of a backwater America on what is now a disappearing medium (the recently discontinued Polaroid film). The editing is also superbly paced, never lingering on one scene for too long, but refusing to succumb to overly jumpy MTVisms.
Wilco frontman Jeff Tweedy makes an excellent documentary subject—his charisma as a performer is matched by his eloquence as he holds forth on things like modernity's disaffection with representational art. Another excellent subject is Nels Cline's guitar playing—that guy fucking shreds. But not in a lame, Steve Vai way. You know? So you should go see Ashes of American Flags—you won't be disappointed. The structure and themes of the film mirror something intangible about Wilco's music: a preoccupation with what is lost in the incontrovertibly changing, and a wistfulness for those small and soon-to-be-forgotten details.
—Al Smith
Oct. 1 // 9:30 p.m. // Vancity Theatre
Oct. 7 // 9:15 p.m. // Empire Granville 7
Oct. 13 // 4:20 p.m. // Empire Granville 7
My Tehran For Sale
(Australia, Iran, 2009, 96 min, subtitled)
My Tehran for Sale is a heartfelt drama dealing with the struggle of artists and free thinkers in Iran's capital to live satisfying lives under the restrictive Iranian government. It tells the story of Marzieh, an underground actress trying to emigrate from Tehran to Australia, all in a series of flashbacks that occur after her arrival in Australia. Shot on-site in Tehran, Iran, My Tehran for Sale manages to balance universality with authenticity and never allows the stark and often disturbing faces of the city to overwhelm the sense of deep love for, and commitment to it that shines through in the characters (and the filmmakers). This love is apparent in Marzieh's every action, even as she attempts to escape the suspicion and repression of her homeland.
Deliberate and dreamlike, the film takes its time to unravel the details of Marzieh's journey. This measured approach means that it suffers from occasional dramatic dry patches and lack of momentum. Nonetheless, it is a moving depiction of Iran as a land in transition, successfully capturing the feelings of frustration, isolation and impotence felt by citizens whose lives are in a state of slow decay.
—Miranda Martini
Oct. 2 // 9:00 p.m. // Empire Granville 7
Oct. 4 // 1:50 p.m. // Empire Granville 7
Oct. 11 // 11:20 a.m. // Empire Granville 7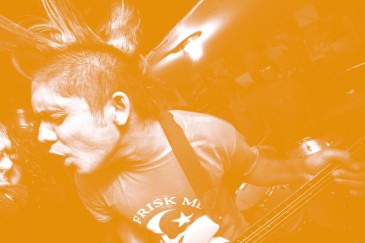 Taqwacore: The Birth of Punk Islam
(Canada, 2009, 80 min)
Filmed guerrilla-style by Montreal filmmaker Omar Majeed, Taqwacore is a look at a burgeoning subculture of Islamic punk rockers in North America. These kids are a diverse group of young Muslims spread across the continent and Majeed's documentary finds them coming together as a unified scene, galvanized by Michael Muhammad Knight's novel The Taqwacores, which was first self-published in 2003.
It's an interesting idea—young Muslims, mostly first- and second-generation immigrants, expressing through punk rock the frustrations of living in a post-9/11 America—but disappointingly, Taqwacore is not as compelling as it could have been.
The main problem is Majeed's unfortunate decision to focus largely on Knight himself, instead of the scene that his book named. Knight's personal story takes up too much screen time, from his troubled childhood, to his adolescent conversion to Islam, to his ongoing relationship with the faith.
If Majeed had focused on the kids and the bands that make up the Taqwacore scene instead, it could have been a fascinating look at a unique group of young Muslim-Americans struggling to reconcile the two sides of that hyphenate.
We get some glimpses into the bands and their lives, and invariably, these are the most memorable parts of the film. There's a Taqwacore band from Vancouver, an all-female punk combo called Secret Trial Five whose singer, Sena, identifies openly as both a lesbian and a Muslim, and is in a same-sex marriage. Sena explains that it's sometimes difficult to be gay, punk and Muslim, but this is only briefly mentioned, and never developed.
Instead, it's Knight's story that takes up most of the movie, and although he's obviously an important figure in this scene, it doesn't help that he comes off as annoying and puerile most of the time.
Despite significant thematic differences, it's hard to not compare Taqwacore to Heavy Metal in Baghdad, a far superior documentary examining Muslim youth and rock subcultures. Rent that instead.
—Dan Fumano
Oct. 3 // 9:30 p.m. // Empire Granville 7
Oct. 5 // 1:15 p.m. // Visa Screening Room in Empire Granville 7
Berlin Playground
(Germany, 2009, 62 min, subtitled)
This bittersweet documentary directed by Claudia Lehmann follows Hans "Tomato" Narva, bass player for the '80s East German punk band Herbst in Peking (Autumn in Beijing) around Berlin. Narva reminisces about his 40 years equally divided between the communist-era German Democratic Republic and post-Cold War Germany. Imprisoned for sedition when he was 14, he went on to form Herbst in Peking, now known as part of die anderen Bands ("the other bands"), a loose descriptor of music in the German Democratic Republic (GDR), which was openly critical of the East German political establishment. One anecdote from the film involves Herbst in Peking losing their performing license after observing a moment of silence for the victims of the Tiananmen Square massacre. Now, 20 years later, Narva has been arrested twice for drunk driving and seems rudderless, stumbling his way through life after the Berlin wall. His rueful optimism is infectious though and he becomes an especially engaging character in his tortured relationship with his mother—and in the way his glib façade evaporates when he visits the prison he was confined to, which is now being converted into condominiums.
The film provides an interesting look at post-communist Germany though the eyes of someone who lived as an outsider in the GDR and after reunification. Narva comes off as a charming ne'er-do-well, while today's Berlin is portrayed as overly capitalistic and materialistic, and not necessarily improved since the Cold War-era East Berlin. Premiered earlier this year at the 59th Berlin International Film Festival, this is highly recommended.
—Al Smith
Oct. 11 // 9:30 p.m. // Vancity Theatre
Oct. 12 // 11:00 a.m. // Vancity Theatre
Cole
(Canada, 2008, 100 mins)
Those that have visited the small town of Lytton, B.C. know it is one of the few truly desert landscapes in our province. This scenic area is more than visually stunning. The dehydrated and fiery yellow hills roll steeply down to the sparkling Thompson River. A lonely wind whips through the valley, pushing tiny clouds across the sky, passing through town enroute to better places.
It's the perfect setting for director Carl Bessai's Cole. Our hero Cole (played by Richard de Klerk) begins by telling us Lytton is a gold rush settlement that will get its first traffic light when the population reaches 1000. The 350 residents are still waiting.
The story begins with a clichéd plotline: a small town hero struggles to break free from his "white trash" surroundings. He is—of course—immensely talented, and has just started to actualize his dreams of becoming a writer in the big city. The plot is nothing groundbreaking, yet there is something endearing about Cole that makes us sympathetic to his hopes and dreams.
Consequently, it is tragic to witness his struggle. Cole faces a plethora of obstacles from a dependent sister (amazing performance by Sonja Bennett), her abusive boyfriend, an unstable family business and a substance-abusing best friend. Though things begin to resemble a Trailer Park Boys anniversary special, something about it resonates with an eerie honesty, and the characters are upsettingly familiar. While Cole teeters on the edge of hopelessness, defeat lurks around every plot twist keeping things unpredictable.
This film presents hard truths about life and human nature. The characters make individual progress with their troubles, but the film's only real shortcoming is a lack of resolution with some of the story lines. We are left questioning which direction Cole might move in next. Adversely, his character does manage to find resolve in his relationship with the tiny town of Lytton—the place that holds him back, also, provides him with so much inspiration.
Overall, the film Cole shows us a slice of life in rural B.C. We may never know one of the people living in this tiny town, but I am glad I got this chance to pass by.
—Tamara Lee
Oct. 8 // 6:30 p.m. // Empire Granville 7
Oct. 9 // 4:15 p.m. // Visa Screening Room in Empire Granville 7
The Agony and the Ecstasy of Phil Spector
(UK/USA, 2008, 100 mins)
As the film's title suggests, the words "agony" and "ecstasy" accurately describe the life of legendary record producer Phil Spector; they also describe the experience of viewing the documentary. To create the documentary, director and BBC producer Vikram Jayanti compiled pieces of a long interview with Spector, songs he produced, musical criticism and footage from Spector's murder trial. The final product is uncomfortable, astounding, enlightening and disquieting.
Spector's interview comprises the vast majority of the film's dialogue, with Spector emerging as a brilliant, mentally unstable and deeply egotistical character. He is both engaging and repulsive onscreen. After 100 minutes, Spector's shaking hands and watery, unblinking stare become tiresome, and the viewer is thoroughly convinced of his guilt in murdering failed actress Lana Clarkson.
The film simultaneously exposes Spector-the-man as deeply troubled, and Spector-the-producer as a prolific musical genius. From "Zip-a-Dee-Doo-Dah" to John Lennon's "Imagine," Spector has charted the course of rock and roll and left an indelible mark on music history.
For anyone with a passing interest in the music of the 1960s and 1970s, The Agony and Ecstasy of Phil Spector would be informative and an auditory pleasure. Most of the music scenes are footage of Spector's songs performed live for TV shows like American Bandstand. These scenes are wonderful, particularly those featuring Ike & Tina Turner and the Ronettes. Journalist Mick Brown provides critical commentary of the songs, and while an excellent idea, some of the comments are little cloying. Though the Ronette's "Be My Baby" is a great song and epitomizes Spector's Wall of Sound production technique, I doubt it is, as Brown wrote, "the closest to pop perfection" that music has come. [ed. You don't agree? I think that song is amazing.]
This film is further from perfection than the music it features. By the end of 100 minutes, one is grateful for a break from Spector's creepiness.
—Leanna Orr
Oct. 13 // 9:15 p.m. Empire Granville 7
Oct. 15 // 1:15 p.m. Empire Granville 7