On East Pender, nestled inconspicuously next to a Chinese herb shop, is Unit/Pitt Projects. I meet Jamie Ward, the Building and Office Manager of U/P and the current editor of the gallery's publication, ISSUE. Actually, Ward is hanging out on the bench beside the door and scares the shit out of me as I try to get into the gallery, which, at 6pm, looks very closed. Ward welcomes me into the space like it's his own home –– the gallery is showing Joël Doyle's It's a long way from the wishbone to the backbone –– and leads me to the back, where a mini library of curated books and magazines features some of the original issues of ISSUE, straight from the 80's.
Ward prefaces the interview by warning, "It's hard to talk about this magazine without saying the word 'issue' a lot. We should have a drinking game at staff meetings, how many times can you say 'issue'?" It can be said that ISSUE's history is not without its issues: the publication, which began running monthly issues in 1983, stopped printing in 1985 when the original editors, Barbara Daniel and Jim Carrico ended their time with the gallery. In 2014, Brynn McNab took the responsibility of heading the magazine as a quarterly critical mag until her departure earlier this year. Now ISSUE is in the hands of Ward and his first team of contributors, which includes Steff Ling, Shauna Jean Doherty, Ellis Sam, Zeb Zang, Catherine de Montreuil and Tom Whalen.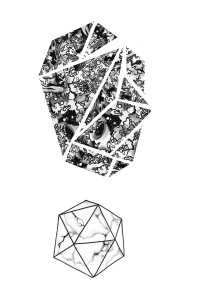 Speaking for himself and Catherine de Montreuil, the programming assistant at U/P, Ward says, "We were really drawn to the first series because they are really entertaining to read." Ward continues, "There's this really great blend of 80's punk sarcasm with a lot of actual intellectual conversation discussing art happening on a local level." It is this local sensibility coupled with that element of entertainment which Ward and his contributors intend to carry through to the upcoming publication.
Ward wants ISSUE to be the kind of magazine that opens the art world to everyone, one that gets readers thinking about issues surrounding art and what it means to be an artist in Vancouver. "The push is to make a publication that can function as a critical analysis of art without being so didactic that it isolates people," he explains. "How do you have open ended discussions because … when you are reading a publication that you don't quite get, then you don't want to read it, right? Beyond just art issues, [we want to look] at labour issues: what it's like having creativity as your labour, as your practice."
"I want [readers that] don't read art magazines, people that don't read Foucault. I want to break out of these institutional binds," says Ward. "We're intelligent people and we're writing about intelligent things. Our readers are intelligent. There's no point in pretending that they're not, but I don't want to sound so 'intelligent' that it's not smart." Ward is interested in discussing the real problems that emerging artists in the city face. He openly acknowledges that Vancouver has a rocky relationship with its artists and is eager to discuss the truth about the local artist's lifestyle. "Vancouver amazes me because it is almost like you are constantly having to fight against the city itself from crushing you from doing [your work]." Ward says, "and because of that, there is so much more investment, it seems, from people who really wanna make it happen… It's such an underdog feeling to me."
ISSUE's goal is to hold a megaphone to discourse that's already proliferating in the local art community, and to discuss those issues in every ISSUE. The resurrection of the mag is a testament to the true mettle of the artists in the city. It is pure passion, making the publication so vital. "I think there are interesting things to talk about, and I think that everyone who is writing with us right now feels the same way: that there are discussions to be had and [ISSUE provides] an opportunity."
x
The launch of the next ISSUE will be November 20th at Unit/Pitt Projects. For updates or to get involved visit issuemagazine.ca, or drop by U/P Tuesday-Saturday 12-5pm.