"To fragment, to uproot lives, to cross livelihoods, to respond to everything else before responding to the responsibility towards a people's sovereignty, and to interrupt the ancestral movement of life across land – this is the legacy of border regimes."
        pensamientos en la frontera is an honest, resilient and beautiful response to the inherent violence of border regimes. Co-authored by andi, Gabriel Benavente and Roxanne Charles, and published by Erica Wilk at Moniker Press, pensamientos en la frontera is a publication that combines visual art and the written word to explore the personal and collective experiences of borders and of displacement.
andi, the project coordinator, has been living outside of her home of Nicaragua for ten months. Displacement and forced immigration has not only impacted her life, but the lives of her peers, her family, and generations before her. She understands the "experience of being in two places physically, mentally, emotionally." The borders that are being explored in pensamientos en la frontera are not limited to physical divisions between countries. Instead, andi explains that borders are "things that we carry."
Published in Vancouver, pensamientos en la frontera encapsulates a discussion of the borders that people carry with them. andi explains, "I'm looking to recognize that there are different ways in which displacement has shaped the experience of living in the city and the experience of living across borders. It's not something that just responds to political borders, but borders as a way of living." Vancouver itself has "an often hidden history of displacement, as past and ongoing colonization has enforced uninvited settlement."
Translating in English to "thoughts on/at the border," the title pensamientos en la frontera captures the work that andi and her collaborators have created. "To be able to think about [a border] or to think on it is a little bit of an act of resistance. Borders are meant to be spaces of transition, a supposedly straightforward process where we are screened and allowed or denied passage, but such a liminal space forces a lot of thoughts and questions to happen really quickly about one's belonging." andi notes the potential of reflection through art to prevent the continued repetition of violence and of disastrous errors that we see throughout history: it "hopefully allows us to gain perspective and not repeat things, or at least not in the exact same way." In holding both a sense of urgency and a need to reflect, pensamientos en la frontera takes on the complexities of art, reflection and resistance.
andi explains that throughout the political crisis in Nicaragua, there is resistance, and "one of the areas where civil resistance has emerged is in art." When looking at art coming out of her country's political movements, andi was searching for art that embraced ambiguity. "A lot of art that comes from political crises is reactionary and tends to find a black and white perspective," andi explains, "when there's urgency, it's hard to do otherwise." andi was grateful to find something that "looked back into a wider pattern," in her friend Gabriel's creative work. It acknowledged the history of immigration in Nicaragua, and his work "Pensamientos en la Frontera" published with Colectivo 20/20 in San José, inspired the content and title of the project he, andi, Roxanne and Erica have created.
        pensamientos en la frontera puts Gabriel's original work in conversation with two other works, one by andi and the other by Roxanne. Like the project as a whole, Gabriel's piece is not linear, but is best described as a graphic poem. Beginning with a picture of three people squeezing between two trucks, the piece proceeds to both examine and expand the photo by breathing thought into each person. Gabriel describes it as: "the moment they leave their lives and enter the unknown." The child asks for their mother, the woman wonders if the life she carries will weigh as much on the other side, and a man recognizes the place where he will cross into another land. The original image is made from a photo Gabriel's partner took at the border between Nicaragua and Costa Rica.
        Also a reflection on Nicaragua, andi's short story brings her reader into her backyard at her beach-side home in Nicaragua, where her absence is marked by the growth of three sea-almond trees. A picture her parents sent over Whatsapp in December shows one tree as tall as her father. Further north on the same coast, Roxanne explores the ability for arbitrary border laws to disrupt an ancestral way of life. andi explains that Roxanne's piece "is a response to her nation being only able to dig for clams on the south side of Semiahmoo Bay, the part under United States jurisdiction, because the north side of the bay is in Canada, where digging remains banned. She can literally cross the border, go dig for clams on the other side of the bay, bring them back to her house and eat them."
The differences between the pieces allow for a complex and rich experience of interacting with the project. The stories Gabriel, andi and Roxanne share are intimate and brim with their own personalities and life, yet also somehow touch a sense of shared experience. "Gabriel's incisive poetics really puncture the soul," andi acknowledges admiringly, "they create that opening space." Her work, by contrast, is "more of a journey" that explores temporality, and how it alters in moments of drastic change. Embracing the importance of family that all three pieces acknowledge, "Roxanne's piece is a bit of a love letter to the clams and her family." Both Roxanne and andi's works focus on the land, "and the experiential aspect of knowing a place and being forcefully removed from it."
Assembling pensamientos en la frontera has been a cautious, careful process. "I think [the pieces] are all protective of the language or the space that holds these stories," andi observes. Language is especially important for Roxanne's piece, which is written in her language, Xwlemi Chosen. Not only does writing in different languages allow each contributor to find the words to express an experience that cannot be translated, but language is "a key element in how [the project] speaks to borders and how these political and cultural divisions have provided tools of separation and unity at the same time."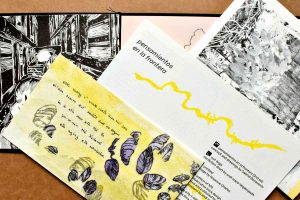 As it is written in three languages – Xwlemi Chosen, Spanish and English, there would be few people who would have full linguistic access to the book. andi reflects on the way language can be a form of resistance and a means of honest expression. Both English and Spanish are colonial languages, and "the agreement to not have full access to everything is not only resistance and having a political stance in terms of accessibility, but also reflects the reality of people's lives." As people move across borders and across land, speaking and living in different languages becomes a part of their lives.
pensamientos en la frontera was printed with risograph, a process at the juncture of traditional printmaking and contemporary mass-printing, both precious and accessible. Yellow, a colour full of contradictions, "associated with danger as well as joyful things," holds the various pieces together. Nothing in the book is bound, but is instead held together by the way it is folded and arranged. andi explains that the lack of binding was very intentional: "not binding them, but still grouping them together acknowledges the fact that in the Americas we are forced apart, but we can also come together, and not pretend that it's all the same experience."
Now on its way to launch, pensamientos en la frontera is only on its first iteration as a growing series of works. Because it is so loosely bound, the book will easily hold many more stories, and the work of many more contributors. The project has evolved at the pace of conversation, and it will continue to do so. It will continue to be a space of unity and of difference, to be built on relationships of trust, and to generate community. "It's not that easy to talk about displacement," andi shares, "and I don't know that this work will make it easier. But it's a starting point."
pensamientos en la frontera will launch on May 10, 6 PM at Massy Books. Follow @monikerpress for more information or pre-order the publication at monikerpress.ca/shop