I will admit that this is not the typical sort of event that Discorder tends to cover. As we are always striving to give a platform for those artists who cannot find one elsewhere, it seems almost blasphemous to set aside this space for such a highly regarded, and otherwise publicized concert series. While Music on Main, an organization devoted to showcasing both local and international experimental and contemporary classical music in Vancouver, programs incredible and diverse performances, the artists they showcase are generally world renowned and by no means lacking publicity and support.
But this show is different. Providing the same resources and support they would to their other, more established artists, Music on Main chose three local musicians and composers to feature for their Emerge on Main concert at the Fox Cabaret.
What is normally the large expanse of floor space usually packed tight with dancing crowds was instead neatly arranged rows of chairs, all facing the stage, containing a motley assortment of musical instruments and sound equipment, as well as furniture and various small objects and trinkets. Typical of a Music on Main show, the audience — in general a bit on the older and wealthier than the average night at the Fox — was seated and awaiting the commencement of the evening at eight o'clock sharp.
Music on Main's artistic director, David Pay, started it off with a warm introduction to the program and music series as well as a thorough acknowledgment of the Musqueam, Squamish and Tsleil-Waututh peoples, on whose land the event was taking place.
Percussionist Julia Chien, the first of the three local artists chosen, stepped on stage. Taking her place on the far right of the stage, behind a selection of drums — two toms, two congas, two bongos and a kick drum behind her — she began tapping out a soft and steady pulse. After a few moments, her other stick struck a single, syncopated hit on another, instantly changing the initial feel into a triplet-based groove. As Chien worked through the composition by Michio Kitazume, the intensity rose and fell, with various polyrhythms shifting in and out of focus with masterful precision.
Next up was composer and guitarist Matthew Ariaratnam, performing his own piece "Altar :-: Source." Sitting behind a shrine constructed from objects related to his Sri Lankan heritage, including a pendant with an image of his own grandmother, as well as a guitar, Ariaratnam began. Using a microphone as well as the heavily affected guitar with a vibrating toy, Ariaratnam created swells and jerks of sound. As the first wave of sound subsided, he removed a tape recorder from the shrine, and placed it on his guitar, with the microphone facing it, and pressed play. The voice of Ariaratnam's grandfather singing in Old Tamil emanated. Then, as the recording ended, he picked up his guitar and played, as if in conversation with the voice of his grandfather. Using various physical objects to manipulate his instrument, including a spoon, a hair elastic and a credit card, his guitar morphed from an almost sitar-like sound, into a wall of distortion and delay. He ended his piece with the tape of his grandfather again, sitting and listening along with the audience.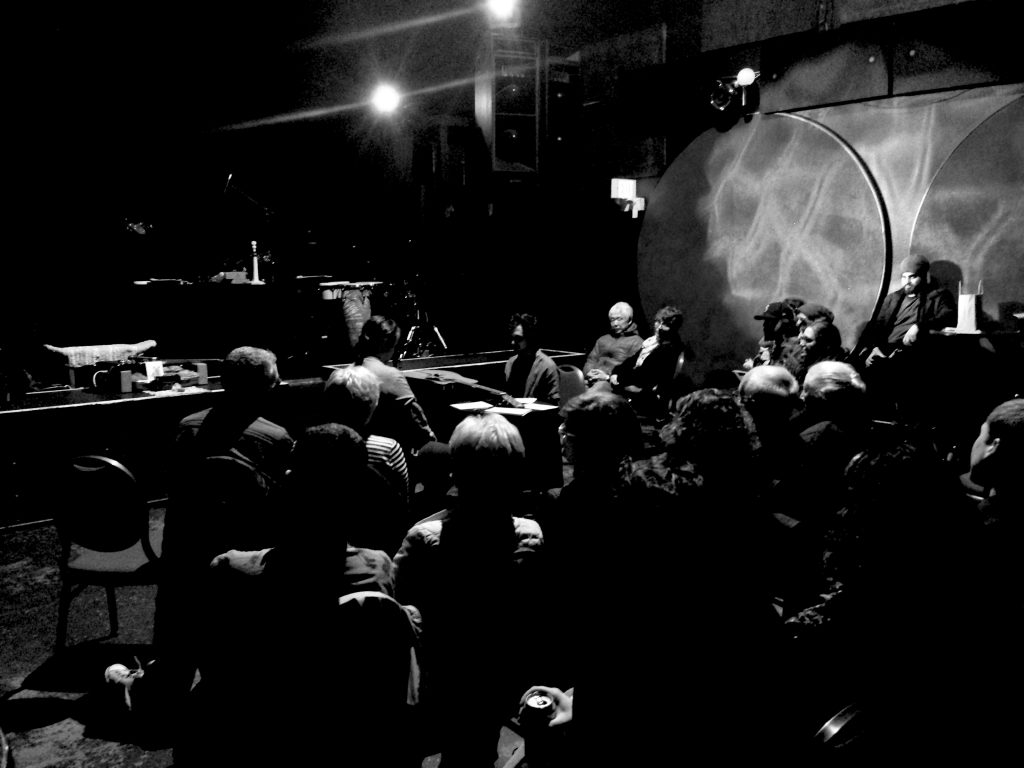 After a brief intermission, Alex Mah's piece, "chimes," began. Inviting the audience to moved around the room and experience the performance from various perspectives (which hardly anyone actually did), Mah sat across from Ariaratnam at a table with a guitar and various pieces of paper with text atop. Methodically, the two performers took turns plucking, strumming or tapping the instrument, with the other singing out words from the texts before them in unison with the instrument. Almost as if it were a game, they seem to be striving to throw each other off, stopping abruptly and letting their opponent's voice trail off acapella or detuning and re-tuning the guitar to create inimitable sounds for the other to attempt to vocalize. The playfulness of Mah's piece, as well as the freedom to move around the room, even peer over the shoulders of the performers, felt fresh and exciting, especially in such a formal concert context.
Finally, Julia Chien arrived on stage again to perform the final piece of the night. "Manifesto," composed by Aaron Graham, was written especially for Chien to perform, and far from being a typical percussion piece, Chien sat behind a desk at centre stage, complete with a typewriter, three lamps, an assortment of papers and some drumsticks. In perfect time with the prerecorded music and sounds playing out of the speakers, Chien typed away, turned lamps on and off, arranged and rearranged papers, made hand gestures, and tapped the desktop with the sticks. With almost mechanical precision, Chien's performance was as much a feat of musical ability as it was a carefully choreographed dance. It was mesmerising.
Despite the evening's formality, all four performances were bristling with energy and excitement that is so rarely associated with contemporary classical concerts. For Music on Main to share its valuable resources — as well as its virtually built-in audience — with local artists in the early stages of their career is indispensable to the future of this city's music and art scenes. I only wish they did it a bit more often.