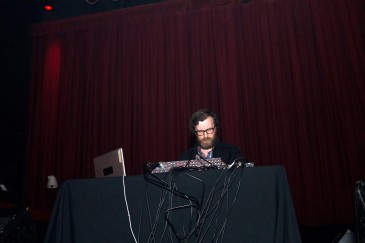 I was at The Getty last August. The afternoon hovered around 30°C: desultory conditions for tourists like myself. So, walking around the museum's grounds, I found myself lazing on the grass. Down the hill, in a garden, with pillars of foliage gated into sprouting shapes and polite outcroppings of color, sound emerged from a hidden set of speakers. There was an uncertain cycle: a soothing drone accompanied by the creak of weather vanes, giving way to murky horns, divots of noise and the movement of hard matter. Outside of a brief infatuation with Sissy Spacek, this installation, "Wind Changed Direction," was my first encounter with American interdisciplinary and noise artist John Wiese.
This is all to say that Wiese is an interesting figure. The Getty Center, perched above Los Angeles, accessible by air-conditioned tram–a fixture in the constellation of transnational art culture–is shades apart from the gallery backrooms and basements where noise-niks typically do their work. To its credit, The Fox had a warehouse tone on Thursday: meager attendance meant that the circulator silhouettes were especially visible on the wall adjacent to the stage. Sonic masochists even had to orient themselves to a new kind of terror: chunky beats from the bar upstairs that bled out over many of Wiese's films. The impropriety.
Earlier that night, establishing an austere mood, Vancouver local Aileen Bryant opened. With an ascetic-electronic set-up, her voice, and a controller, Bryant gave the audience a compelling dirge. Dissonant sustains of voice evince Bryant's powers as a singer. But this uncanny vocalization was also abetted digitally, with time-stretched voice and layers of pitch-shifted auto-harmonization. Bryant would fill the silence after particularly harrowing passages with electronic pulses, or deploy chimes, gurgles, and droplets to further impress the mood of sparseness.
Mass Marriage's set was typically good. Mel Paget's rattling drones possess a density evocative of oscillating concrete: and a minimal focus that allows the listener to hone into a slight rhythmic pulse. Seeing Paget's performance for the fourth or fifth time and speaking as a fan of her visual art, I wonder if there is room for confluence between the graphic dimension of her work and these types of performances.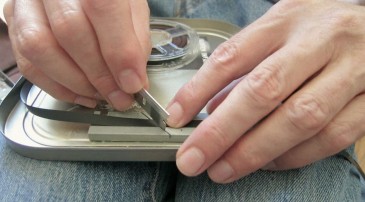 After these sets, Wiese presented a series of his short films (not all of which are described here). Some provided documentation of music makers: i.e. Joseph Hammer or The Tenses with John Wiese. Here, footage of the creative process is sequenced in montage, with samples of the titular artist's music featuring on the soundtrack. However, outside of rare moments of diegetic audio, the soundtracks are desynchronized from the recording happening on-screen. Wiese's shots are often similarly arresting decisions: candid and with a textural sensitivity–a close-up of a person's face, proximate shots or odd angles, refractions of light.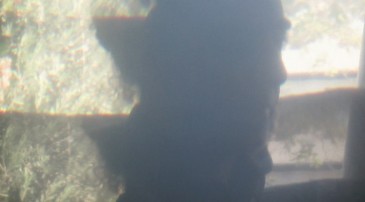 Untitled, comprised of brief cuts and lush colors, follows a woman from the beach–rife with shallow water life–to the studio in portraiture. But while the previous films are scored with noise, Untitled features no audio at all. Wiese's reticence to suggest a mood with sound points towards depiction that is non-didactic: suggestive but wandering. Untitled, which evokes an intimacy and inner-space, may be considerate of the overpowering signification that a designed soundtrack would confer.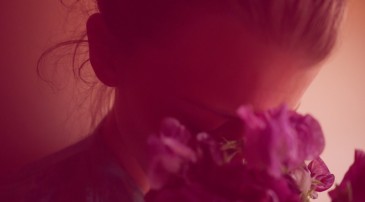 Besides a multifaceted concern for sound, these choices delineate a curious tension: noise pranksterism versus Wiese's seriousness. Wiese on stage, sitting behind a laptop, does not give the impression of automatic action. It would be far-fetched for me to try and articulate each component in his composition or to suggest that there is some inherent coherence linking this brass squawk with that commercial excerpt or this field sample with that AM broadcast, but there is a tonal logic in the assemblage.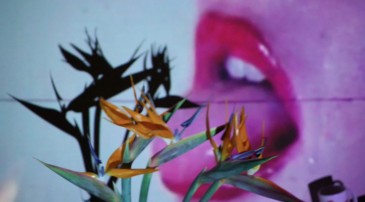 After an opening crescendo of soothing drone pulled from "Wind Changed Direction," Wiese set upon a vortical path. Imagine the undulation of bass, acoustic rattles, and howls of metallic or submerged atonality: planetary frequencies upon which other motifs or loops orbit. The pace is steady – indomitable – and the collection of sounds is manic. So it is impressive that neither the audience nor Wiese lost themselves in dissolute or apathetic action. If Wiese's films point towards particular experiences, then perhaps the breadth of his live material points towards a praxis: a response and organizing principle towards material within what doomsday theorists would lambast as today's hyper-saturated society.
At any rate the music was beautiful. The performance's closing was sensitive as well: not rushing towards a climax, but instead almost seeming like a matter of mere logistics. Unlike an installation, John Wiese can't sit around and play all day.