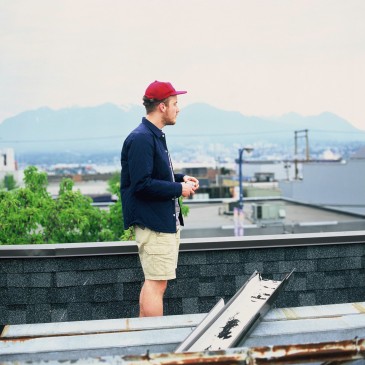 Attending the Music Waste listening party is all about bragging rights. It's an afternoon of critiquing more than 300 aspiring musicians while drinking tall cans of PBR at what White Lung's Mish Way called "the cheerleading squad headquarters of 'cool music,'" in her VICE column last year. Taking a humble backseat to those with a more discerning ear, I approached the local tastemakers to find out which bands they were most excited to see this year.
Peering over the shortlist they gave me, I was surprised to see Young Braised, the lyrical half of self-professed "post-iPhone" rap group Hyperlinx. Solo rappers are a rare sight on the Music Waste lineup. It's been a primarily rock 'n' roll affair for the past 19 years and expanding the variety of genres has been an uphill battle for the festival. I was intrigued.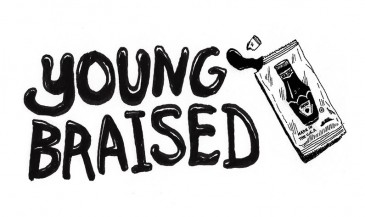 The Kootenay-born, Christian-raised Jaymes Bowman has lead a short musical career that boasts three solo mixtapes, a full length release, and an additional full length under the Hyperlinx moniker with producer Full Function. Add a slot at this year's Sled Island and you'll understand why I got lost in his back catalogue. For someone who released these five recordings in a single year, Young Braised's digital presence looks like a well lived in mansion where 64-bit chandeliers hang from browser toolbars as roaring Mediafireplaces illuminate iPhone 5s. Like many internet-based rappers, Bandcamp, Soundcloud, and a handful of social media sites have been integral to Young Braised's networking and exposure, "I just hit up people on the internet a lot. I'm on Soundcloud, following any producer I like and just trying to make genuine relationships," he explains.
Looking to gain respect from his idols, Young Braised decided to take music seriously after his summer job as a door-to-door salesman in Baltimore ended in 2009. He grew his musical repertoire for three years in Victoria before his debut, Drunk Muzik, was released via Bandcamp in March of 2012. It was a tireless year for the rapper as he dropped three more releases, including his first solo full-length, the retrospective 2012, by the year's end.
Constantly seeking out new producers, Young Braised also indirectly collaborated with Babe Rainbow (a.k.a. Cameron Reed) at the end of last year for "Snack City," a fast-food satire of Mac Miller's "Rack City." It was a tie-dye drenched YouTube mini-sensation facilitated by social media. "I actually didn't know Cameron at all and I just rapped over [Cam's] beat. Then I tweeted at him and he liked it."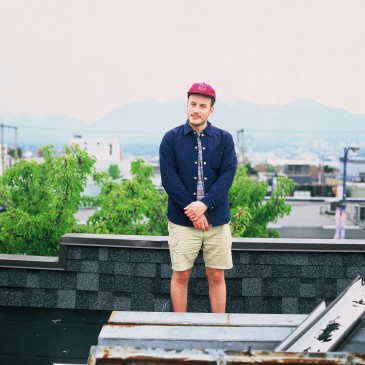 Reflective of his relationship with social media and the internet, Young Braised's fascination with technology has come to the forefront of his music. The classic hip-hop themes of his early releases (weed, money, food, weed, basketball … weed) still resonate. But 2012's "Tingri" saw the emcee pairing with prolific vapourwave artist Laserdisc Visions, while the effortless cadence of lines like "I come through with the euphemisms / I'm the voice that the youth was missing / Coolin' like New Edition" that collide with spaced-out synths on his latest single "Hotel Lobby," illustrate a thematic shift. "I'm a heavy user of technology and people look at that as a negative thing sometimes, but it's a part of our lives. It's the world we live in," he reasons.
Challenging rap's limits doesn't end there for Young Braised. At last month's Emily Carr Grad Party local multimedia artist Paul Wong helped project his performance onto a narrow mylar sheet hanging in front of the audience as Bowman performed from behind a secluded cubicle, distanced from his fans. Acknowledging that it's a struggle for rappers to have an interesting live show, he hinted that this wouldn't be his last holograph show. "I'm going to try to get a wider sheet so I can have a full stage presence next time," he says coolly between sips of beer. Defending a performance style that could easily be pegged as ostentatious, he leaves me with the question: "What's the point of pursuing an entertainment-based endeavour if you're not going to entertain?"
____________________
Young Braised headlines the Astoria for Music Waste on Saturday, June 8 before projecting himself upon Calgary's Sled Island Festival (June 19 to 22).