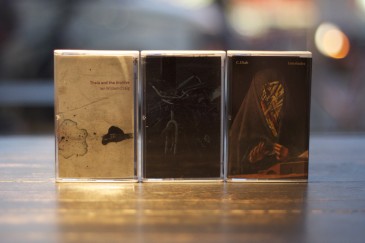 Vague Records, a newly founded Vancouver-based label, is focused on distributing a variety of works from the city's experimental music community. The first three releases for the label are the works of its co-founders: Ian William Craig, Fraser Dobbs (Drogue), and Caton Diab (C. Diab), respectively. These artists approach ambient music in a distinct fashion, promising great things for this young label.
Ian William Craig's Theia & the Archive is his fifth overall release and his first physical release through Vague. Utilizing analog synthesizers and feedback loops, Craig crafts a cinematic atmosphere for his listeners. "The Always Mountain" evokes a sense of profound foreboding thanks to a mercilessly sustained tonal shift that gives way to ethereal piano work.

Fraser Dobbs challenges the listener over the course of Long Metrics under the guise of Drogue. Through extensive distortion and sound manipulation, Drogue displays the evocative depths of his guitar work in crafting expansive soundscapes. "Post Riseau Xs" is a highly recommended listen.
C.Diab's debut album Interludesis a haunting experience. "Is Winter Mike Country?" is a chilling marvel featuring tastefully delayed acoustic strumming over a heavy, sinister loop. One of Diab's strengths lies in his acoustic work, especially in "Stone." His use of the cello bow throughout this album is staggeringly effective.
Together, these three records showcase the exciting sonic possibilities of ambient/experimental music. Vague Records is off to a good start.