Setting an exciting DIY, local, and generally good vibed precedent for the rest of the festival, day one of Music Waste at Fortune Sound Club was enjoyable and engaging. With three stages, Hockey Dad Records, Art Waste, and the Livestock Room, Fortune felt like a perfect place to watch the grasshopper-legged indie boys and girls see some favourites and discover something new.
Experiencing three stages in one building was like being inside an Ouroboros – the ancient symbol of a snake eating its own tail. Cyclical and dizzying, the music never stopped, the audience flowing in and out of rooms as if afraid of silence. Each room had its own personality.
Hockey Dad Records Stage was the largest in the main area of Fortune. The stage and the bands that played there were what all good parents should be: warm, fuzzy, and dependable in high-waisted jeans that they've had since the '80s.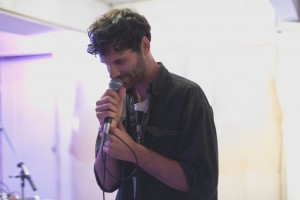 Art Waste Stage was a stark contrast to the muted tones of the main room. It was, in my opinion, the most engaging, probably because everyone was crammed into a bright white room surrounded by pink and purple mixed media art, stimulating all of the audience's senses.
The Livestock Room was tiny, dank and dark featuring a very aggressively spinning disco ball and black light set-up. Being the smallest room, it  was also unsurprisingly the hardest to get into once a set had started. But once you got inside, it was magical.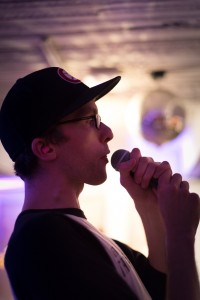 The bands that I saw were by no means the only bands who played. If I had multiple bodies or disconnectable ears my experience might have been different, but alas, I had to choose between the nooks and crannies of a multi-roomed venue, and the plethora of bands that came with them. The night passed quickly.
Booker T On Acid was incredibly self explanatory – Booker T remixed into mod acid vibes on the Art Waste stage. The duo was rad. Next came psych-rock outfit jo passed.
Having enjoyed their 2016 EP release Out, I was quite excited to experience them live. Blind folded and melodramatic, they filled the Art Waste stage with their sound. Honestly, I just appreciated how well they played together, although I couldn't tell if their synergy was the result of long-term chemistry or just practice.
After a quick overhaul, the Art Waste stage was set for its next act. Using his entire semicircle of space to serenade the audience, Rec Centre seemed to be there just to have fun. Despite the nervous start, Alex Hudson and the rest of the band went full throttle, resulting in some fine electro pop.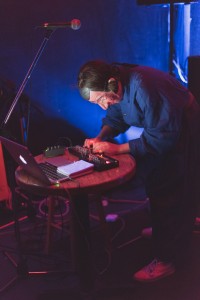 I am in love with Shitlord Fuckerman. Fuckerman's energy was condensed into the Livestock Room that should only fit ten but contained closer to thirty people. The audience was subjected to an 8-bit hellscape in a major key. The set, which left me wanting more, felt more like a performance piece than a musical number because of their heavy use of creepy masks and backing tracks. Frolicking and shaking with the beat, their performance was creepier once the masks came off. Instead of wondering if someone was looking at you through the mask you were forced to come to terms with the person behind it. This eye contact allowed Shitlord Fuckerman to mosh through audience in the tiny, black-lit and mirrored room.
I appreciate how rare it is to be in a single venue and consume so many genres and quality bands. And while the rest of the festival spread itself out across the city to a multitude of exciting venues, everyone packed into Fortune together was a good way to start the Music Waste weekend off.
x
See all the photos of Music Waste Part 1 by Jon Vincent here.