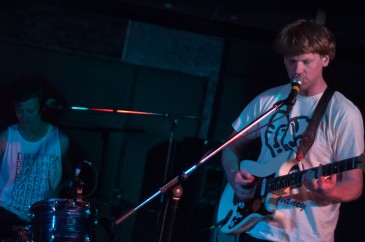 The New Order-influenced dance rock dip of "Surf Don't Sink" from local lad Jay Arner's excellent eponymous Mint Records debut greeted me as I entered the thinly settled Media Club. While Arner and his tight team of keen musicians were airtight and energetic, I was dazed to discover this was an early show, as were many attendees, showing up to find the band wrapping up just as we were getting ready to cut a rug. Too bad as Arner always plays a celebrated set, tonight being no exception.
Little time was wasted before the Haligonian dyad Cousins claimed the stage. While I was still a little saddened that the crowd was so meagre, the tireless twosome didn't seem to register any adversity or discontent, performing with intensity and pluck, as if the place were packed. An emphasis on The Halls of Wickwire was graciously gathered—clearly one of 2014's sleeper successes, it's a lo-fi prize of garagey goodness—and in a live context Leigh Dotey (drums, vocals) and Aaron Mangle (guitar, vocals) unleashed an avalanche of awesome via crunching guitars and dizzying drums.

Tracks like "Alone" and "Other Ocean" seemed to provide the template for artfully atavistic grunge, recalling early Eric's Trip and the dishevelled delight of Guided By Voices. Mangle's wails carry a lot of emotional brawn, especially on songs like "Body," a heartfelt and high-powered dirge written for his grandmother, whose recent passing provided the spark for Wickwire. So resounding and raw the performance, so lofty and juiced, it was impossible not to convulse and commiserate.
Always personable and diverting in their banter and audience rapport, it was easy to be swept up in Dotey and Mangle's anecdotes and asides—even if Dotey's overlong Hitchcockian crow story was more a shaggy dog than The Birds—but easiest of all was to just sway and undulate to the music they manufactured. "Mess" and "Ocean" both radiated contagious joy and élan, which felt all the more exclusive, as the audience was so modest. It wasn't unlike the time another guitar and drum duo, the White Stripes, played the Pic Pub (R.I.P.) back in 2000 to a meagre assemblage of fans, all of whom were greatly rewarded for their obligation to live music in intimate spaces. Sometimes the best shows are the scrupulous and pocket-sized, reserved only in the well-lit memory shared by just a select and fortunate few.