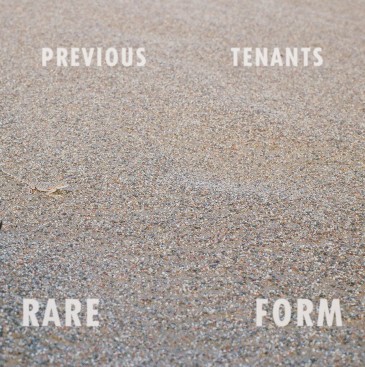 Rare Form. It doesn't get much sweeter than this. If you're a 20-something whose personal golden age of punk rock took place during the '90s, Previous Tenants have a treat for you. Over its 13 songs, Rare Form takes cues from the MTV generation of pop-punk and hammers home an exceptional sounding record ripe with whoa-oh-oh chorus chants and introspective lyrics that lean on the side of being just weighty enough.
Sonically, Rare Form doesn't deviate too far from the tried-and-true, blending indie rock with a sound reminiscent of Dookie-era Greenday, NOFX, or Me First and the Gimme Gimmes, minus the goofy humour. What really turns Previous Tenants' first record into more than just a nostalgia gold-mine is the crisp production and Jesse Gander's just-starting-to-strain vocal delivery.

Particularly on standout track "Previous Lives," simple guitar hooks and the most basic verse-chorus-verse structure actually serve to strengthen the song's appeal. Still, Rare Form doesn't break the band out of any predefined moulds, and while a certain indie rock sensibility is present throughout songs like "Headlights" or "On Pyramids," the album lacks the diversity that punk bands in the early '90s were so eager to show off with their ska, hardcore, and metal influences.
What's most impressive on Rare Form is the awesome consistency, with zero dud tracks and few seconds wasted between its many riffs. Twenty years too late to cash in on the pop punk boom, Previous Tenants have, at the very least, created a blissfully tight piece of musical nostalgia.