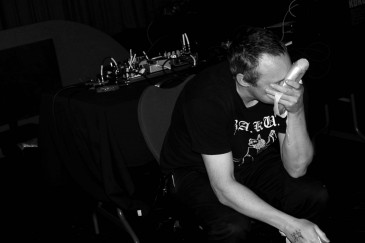 There's something to be said about the Fox Cabaret hosting a night of noise music: the juncture between a restored porn theatre and harsh electronics. As a genre, the latter has always been preoccupied with exploring latent violence and its masking-by, and dispersion-throughout, society. As such, blah blah deconstruction, Derrida, Pharmakos, blah: I have a BA, please publish me TinyMixTapes. 
Anyhow! The night started off with Mass Marriage: the musical component of local artist Mel Paget's oeuvre. There's a ghostly desensitization to Paget's vocals: I've always derived a sense of insouciance. I mean that in the best way. I mean like entering Mass Marriage into image search and getting Rev. Moon's Cosmic Blessing Ceremonies looking back at you: insouciance as a dulled response to extreme disquiet. That kind of approach came through well, in the emergence of a beat and an overall sense of cohesion. The transitions were matter of fact  — sudden demarcations — but not for cheap surprise. Layers of noise didn't fight for dominance so much as they skid roughly against one another. It's an interesting take without sheer nihilism. But that's not to suggest the sound was mild: the brutal thrum of Paget's noise is very vibrant. And as dark and successfully atmospheric as The Fox proved that night, the offbeat chic is nice as well; wisps of fog shot out near the set's end, billowing about the red rush of curtains — an illicit Victorian touch.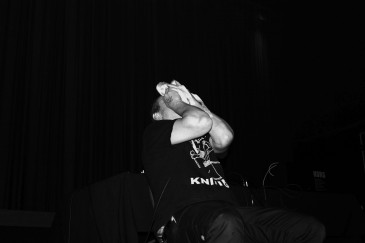 Second was Vancouver's The Rita, a.k.a. Sam McKinlay, whose innovation in the genre is acknowledged internationally. Unassuming to the initiated (which I am), his set began with an immediate shock of hot noise — rudely/thankfully — blasting "Head Like a Hole" off the PA. Noise walls seem to graph to the claustrophobic inundation of small spaces. At The Fox, McKinlay's most interesting material came through as the most spacious: irregular patter of raw sourced samples layered and destroyed. Overlapping the prominent voice of a ballet instructor or more noise walls, these sounds spat in with the irregularity of human cadence: distended, warped, and intensely frustrated. Adding to this theme of balletic discipline and fetishized femininity, at intervals, The Rita would bathe his face with a pair of ballet slippers. In harsh noise, there's often an undefined line between criticism and fascination: in this case, The Rita's aim to "bury the listener into all that is woman."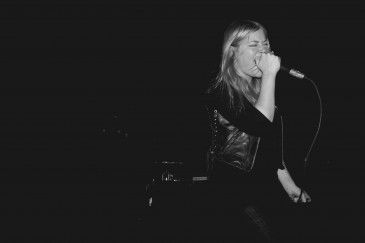 As the slippers demonstrate, that line can provoke, but the dulling of sensitivities given an escalation war seems to be an impetus of Pharmakon a.k.a. Margaret Chardiet's work.
She has stated that she wants to make hardened listeners feel. And with lights colouring the venue blood red, Pharmakon began by immediately demonstrating the tactile appeal of her music: the textures of industrial and power electronic, laid in a cogent array, deployed with rhythm and physical urgency. The first track began with a sort of invocation rhythm, beat into a characteristic tool that Pharmakon would deploy throughout: a piece of sheet metal with inlaid mics — sung into, scraped, and beaten. Throughout, her songs would come together in a process of creation, sampling, and looping: physical input being rendered as industry line product for use and re-use. In prolonged vocal exercises, her voice was the generative input, shot through machinery — distorted and delayed so that each piece of a scream was enunciated with particular horror.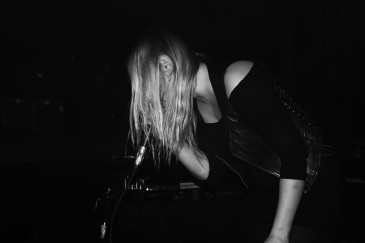 During these exercises, she would descend offstage into the throng: upsetting the central projection of sound. This drive to destabilize the barrier between Audience and Performer in the context of a Show made me reflect on my own experience and the success of her mission. Did she make me feel anything?
I'll say this. At one point during a song's climax, Chardiet flung herself onto the stage and, jerking on her side, pummeled the audience with her screams while driving herself in a circle into the ground: a paroxysm of power and abjection. As cameras flashed, I suddenly became hyper-aware of my front-stage voyeuristic gaze, the dark anonymity of the audience, the shadow-figures on the balcony, and of course The Fox's history as a XXX theatre. I became exceedingly uncomfortable. It was a valuable sensation. So long as there's a gap between the audience's night out and the artistic extremity on display, it's worth thinking about artists who try to bridge that gap.