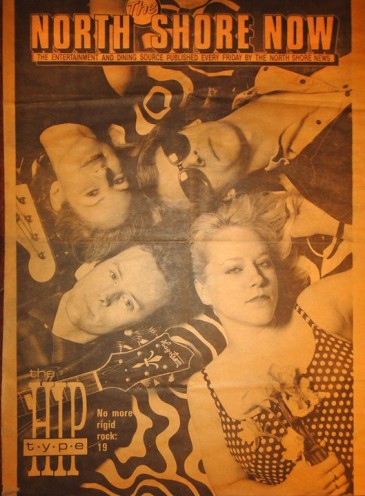 It is a truth universally acknowledged that a rock 'n' roll band in possession of a charismatic singer, a smokin' guitar player, and a cute bassist must be in want of a drummer.
"My dear Mr. Bailey," said our guitarist over the phone one day, "have you heard of The Hip Type?"
We discovered later that Derek Bailey was a nice guy and a real chick magnet. Tryouts for our new drummer were being held at our practice space and by the time Derek showed up, we'd already gone through a slew of duds.
Why we were looking for a drummer? Scott, who'd been Hip Type's drummer since before I joined in 1986, had a feel like no other. But that didn't stop Tracy from kicking him out for missing too many practices. Scott's girlfriend really monopolized his time and the band came second. Tracy wrote the lyrics for our single, "Glass Pussy," about that particular girlfriend. Sadly, she died from a heroin overdose a few years ago, much too young, but she lives on in the song: "You know she's not made of glass / There's never been a girl like that / She can smile and break your back / Glass Pussy, she's a girl like that."
Together, the drums and bass are the rhythm section of the band and you need them working together to get the band to rock. I like to play "in the pocket," which means that the bass hits every time the drum's bass kick pedal does, so that the bottom end gets reinforced nice and tight. Done right, the bass playing "in the pocket" with the drums is the backbone of the songs. It frees up the singer and guitarist to be as freewheeling as they like because there is a solid foundation behind them.
When Derek showed up for his tryout, we knew right away he was the right drummer for us. He was a hard-hitter, seemed like a good fit for our group, and seemed like an overall nice guy. The fact that he was also good-looking didn't hurt either. I mean, you don't want to ah-hait up too much, but being easy on the eyes never harms a band's appeal. (Think of all the times you've been to see a band you like: the music had better be good, and there needs to be at least one person in the band who's nice on your eyes. More than one is better. None sucks.)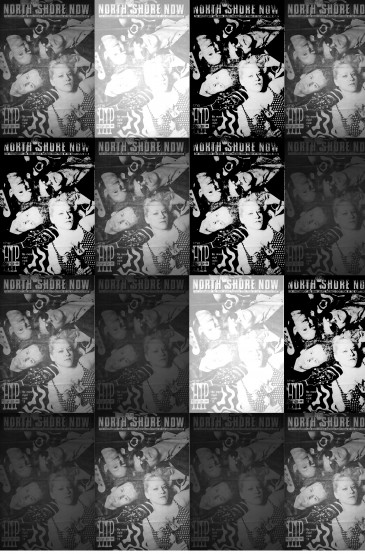 As soon as Derek left, the three of us convened on the couches at the front of our practice space and agreed: we'd found our new drummer, and it was going to be a lot of fun playing together.
And it was. Derek hit hard and true and although he didn't say much, he got along well with the rest of the band. His good looks went over well with our audience too. He had a surfer physique, chiseled jaw, and dirty blonde shoulder-length hair that mussed perfectly. Rapt in concentration, seemingly oblivious to his audience appeal, it only took a few of our faster songs — and they were pretty much all fast songs, except for our opener "Faster Pussycat" and the love song "Under You" — and Derek would strip off his shirt. He'd finish the set bare-chested, muscles rippling, much to the secret delight of Tracy and me, along with our appreciative audience members.
One time an enthusiastic young DJ and fan of The Hip Type who we knew from CiTR asked us if we'd like to headline a five-band bill he was putting on at The Seymour Street Arts Club. He even created a theme for the pre-Christmas gig: "Amelia Earhart's 50th Annual Christmas Party," on December 20, 1987 at 7:36 p.m. precisely. The mastermind of this affair was a friend of my sister's from the North Shore's mod scene, and the evening was planned not only to showcase some of his favourite bands but also to launch his own new band, The Evaporators.
The hilarious, dada-esque on-air and stage name he used was Nardwuar the Human Serviette. Nard's manic enthusiasm could at times verge on annoying, at least to our lead singer, Tracy, but when he asked The Hip Type to headline his extravaganza, we were happy to join in. It was an awesome night, with the bands on the bill including The Wee Beasties, King Martin K. & the Tribal Beats, and The One-Eyed Jacks.
Derek was with us right to the end of The Hip Type in 1988, when Tracy and Pat split up and then so did the band. But before that happened, we had many adventures together.
The Hip Type's swan song was our HoneyTrap recording session, where we laid down six songs along with the help of Dennett Woodland at Grapevine Studios. We broke up right after that and never released any of the songs, even though we considered them to be some of our best. One song, "Darker Than This" was included on Grant McDonagh's Zulu Records' excellent and definitive double CD Last Call: Vancouver Independent Music 1977-1988. It can still be found and is well-worth looking for, both for the music and the impressive liner notes.
Where are they today, these two spectacular drummers I played with in The Hip Type? Scott is playing in his new band Pill Squad with Tracy. (Yes, they ended up happily together.) Pill Squad have a playful punk sensibility they gig regularly at LanaLou's and other local venues. I'm not sure where Derek is today, but with his talents I imagine he's in charge of his own remote Gulf Island, living an idyll of bliss surrounded by an adoring crowd of lovelies. Wherever you are Derek, you were one of the best to play with. The last I heard from you was a posting on The Hip Type website sometime ago where you referred to me as The Hip Type's "hot" bass player. I'd no idea! What a nice surprise and a lovely compliment. So this is right back at you.