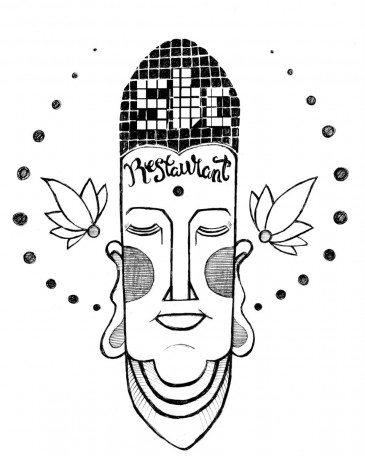 Plug Smilin' Buddha into Google and you'll draw more hits about the neon sign alt-rockers 54-40 famously dragged around on tour than the business it originated from. However, ask any local musician in their 50s and you'll hear the cultural history the iconic sign was a beacon for.
There are few addresses in the Downtown Eastside more storied than 109 E Hastings. Through a colourful history that began as a Chinese restaurant in 1894 to hosting cabaret dancing in the post-war era before showcasing up-and-coming musicians, the Smilin' Buddha Cabaret has seen it all.
In the '60s Hendrix was famously fired for playing too loud and in the late '70s local legends like Art Bergmann and Joey "Shithead" Keithley used the club to showcase Vancouver as a hotbed of alternative culture while Sweeney Todd were busy breaking hearts. It's where the original all-female punk trio the Dishrags made their mark, as art school graduates like Bev Davies flocked there late at night to document the unfiltered satire and aggression.

As the punk adage goes, living fast does come with consequences, however, and the Buddha halted operations in 1993. Cramped between derelict businesses and seedy hotels, the doors at 109 E Hastings remained closed for nearly two decades until musical enthusiast Andrew Turner and his business partner Malcolm Hassin were approached by Peter Ducommun (of PD's Hot Shop), who liked the renovations Turner had made at the nearby Sheppard's Pie Gallery. Turner, who left his Kerrisdale home at the age of 15 to move in across from the legendary punk bar, had been watching the location go into further disrepair and became intent on resurrecting it.
Of course, it just wouldn't be the Buddha if this incarnation didn't have its own twist though. "We went at it with the idea of creating a private community centre," Turner says between sips of coffee at the recently opened SBC Restaurant. They're doing a good job so far; the place was a revolving door of suburban parents bringing their kids to skate the 65-foot indoor half-pipe that makes the restaurant look like an afterthought.
Skull Skates memorabilia hangs from the wall, checkerboards lie casually on wooden tables, waiting to be played, while the words, "In honour of the former venue" are feverishly scrawled in spray paint below a photo of the original neon Buddha.
"People don't see the sense of community here. There is a network of community here though," he maintains. The brainchild of Ducommun and Turner, its slapdash eclecticism indicates they weren't the only ones who helped revive it.
"There must have been over 100 people who helped put this together," says Turner before staring blankly at me. I couldn't argue, as calling this hyperbole would have been an insult.
While SBC could be an acronym for its previous name, Turner and Hussin want to move forward, dropping the seedy connotations in exchange for a safe and welcoming all ages space.
"One positive indicator is that parents are starting to bring their kids here. They're running the gauntlet with their kids and the neighbourhood's respectful of that."
Recently granted heritage status by the Vancouver Heritage Foundation, and with names like Cecil English already coming to produce live albums, things are just beginning.
"The Smilin' Buddha Cabaret was never, ever a bar. It's always been a restaurant licence," Turner says, recounting his lengthy conversations with city officials.
Don't worry though, they'll be bringing in a few cold ones under special occasion licenses when they hold shows until they are eligible for a full licence. For the time being, small intimate performances that can remain all ages will take place in the restaurant while they've been given the green light from the city to let performers take to the skate ramp for larger gigs, which, as Turner put it, "is going to make for one hell of a slam dance."