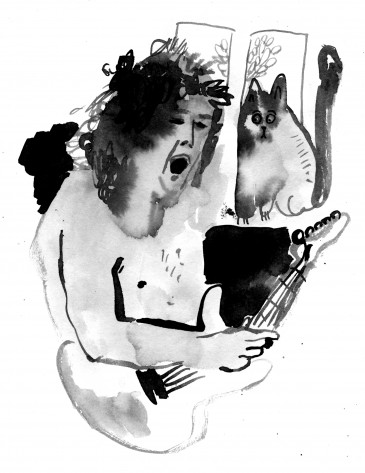 I'd never heard of Van Halen. We were in Pasadena over Christmas vacation in 1977/78 to visit Grandma Anna and Grandpa Haakon and to see the Rose Parade, a family tradition. We'd lived in Pasadena during my Grade one through four years, when Dad wrote for  the LA Times, a plum job, because he could get us free tickets to Disneyland! Home was a beautiful little sun washed, craftsman-style house near the parade route on Colorado Boulevard.
New Year's Day was a big deal in Pasadena, starting with the parade, then a big smorgasbord at my grandparents'. Grandpa built the house on Cooley Place, and it was the gathering place for our whole family. In the backyard he'd made a beautiful garden courtyard for Grandma and planted it with lemon trees. She loved lemon trees. Oranges too. Back in Norway, these had been rare treats, so trees flowering and fruiting in the backyard year-round must have seemed just like heaven. She told me once, she never wanted to feel cold again, and in Pasadena, you didn't have to.
Grandma's black and white cat Sylvester was a familiar sight in the back garden. He guarded the spot by the screen door, languidly sunning himself on the stoop or looking expectantly inside to the cool, dark interior where Grandma might be cooking up something delicious for us to eat, like lefse, a favourite Norwegian delicacy. Lefse is like a very thin potato pancake. Grandma would spread ours with butter and sugar, then roll up and throw them to us nonchalantly, as though the skill and effort of preparing this time consuming treat were nothing at all.
The tame box tortoise was another magical feature of the garden during our years growing up in Pasadena. She (he?) was usually to be found in the front yard, rambling freely and delicately nibbling greenery like a connoisseur. Sometimes we'd feed her a piece of juicy lettuce, which she seemed to like. If it got very hot, she would rest under the giant jade plants which stood like friendly sentinels at the entrance to the driveway. The tortoise would appear in the yard in springtime and be spotted now and then. When the few rainy weeks of November heralded winter, she went off to hide, only to re-appear the next spring, her shell grown a little bit larger. She was dry and dusty in a pleasant sort of way and she let us touch her hard shell, sometimes withdrawing, then coming out slowly to resume her perambulations with a meticulous rolling gait. We loved the gentle tortoise and, though we never knew where she went, she returned with every spring.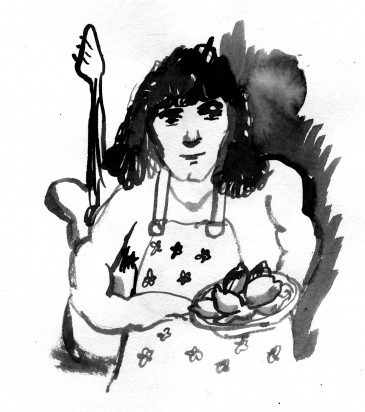 One day during our visit, we were standing out back near the garage, when our youngest uncle, Robin, appeared with an armload of t-shirts and LPs and began proudly handing them round to my three sisters and me. The loot was from his friends' band that he was helping out.
The t-shirts were mostly black, with a big flying "VH" logo on the front; the album cover had photos of each band member taken at the Whisky A Go Go. The record was called simply Van Halen, a name that was new to us young, innocent Vancouverites.
We were like, "Cool! Thanks!  Who's Van Halen?"
Had we been a few years older and still living in Pasadena, we definitely would have known who Van Halen were… the hottest thing in the LA Club scene and just about to release their very first album. The t-shirts Robin was giving us were for their first world tour, supporting Black Sabbath and Journey, and the records were advance copies of their debut album. It would come out two months later, totally catch fire, and sell 10 million copies. The band, of course, would go on to world-wide domination, with our 22 year old uncle along for the ride! We didn't have a clue at the time.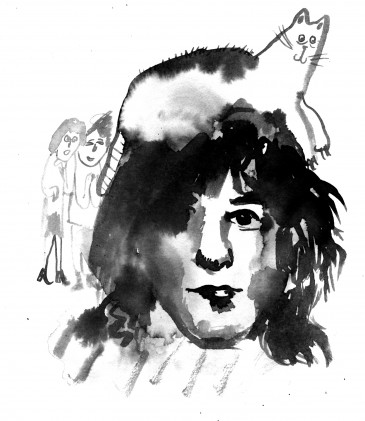 When they were wood-shedding and still a local phenomenon, Van Halen practiced in my grandparents' Pasadena garage. Grandma told me the guitarist's pretty and nice girlfriend, Valerie Bertinelli, would come along to watch them practice. She starred in a popular TV show. I wonder if she ever got to try lefse?
Truly, it is hard to imagine the force of nature that was early Van Halen being contained by anything, much less a suburban Pasadena garage, while honing the songs for one of rock 'n' roll's greatest debut albums ever. David Lee Roth's California-god looks, killer sense of humour, and belly-dance moves were made for a bigger stage. Van Halen were F-U-N and they took it straight from Pasadena to the world.
Later, when the band got huge, Uncle Robin toured the world with his friends in Van Halen as their guitar tech. Pretty cool when you think of what an epic and terrain-changing guitarist Eddie Van Halen was. My uncle was the guy tossing Eddie his next guitar on stage and making sure it all went perfectly so that the world's newest guitar hero could really shine. Uncle Robin was a big burly guy and he got the touring nickname "Rudy," because after concerts he had to be the "rude" one standing at the door making sure the backroom wasn't overrun.
I still remember the first time Robin called us up with tickets when the band arrived in Vancouver. So exciting! Return of the conquering Hero!
It was September 26, 1978, at the Pacific Coliseum, near the end of Van Halen's first world tour. He got my three sisters and I great seats, and we stood the whole time. They played the entire album and every song was better than the last. I was 17 and it is still the best rock 'n' roll show I have ever seen (and I've seen Nirvana.) David Lee Roth's antics made you scream involuntarily.
A few years later, Robin came through with Mötley Crüe, but that's another story…