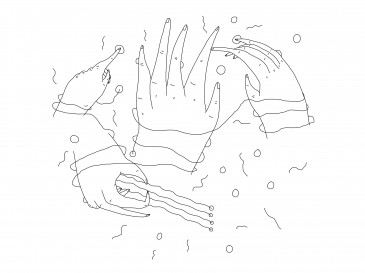 It's my first issue as solo Editor-in-Chief and I'm feeling sentimental. As a result, this Editor's Note may read as more self-indulgent than I had intended. Oh well to impartiality, I've chosen to reflect. Let's all take a couple minutes to think about me. Me and my four year relationship with Discorder magazine, walking a terrain that has changed many times, but run a consequential course in my life.
Meandering through the last year of my arts undergrad degree at UBC, I began writing for Discorder in October 2011. My first assignment from then Editor Gregory Adams, was to review a halloween-themed EP. Although a silly, pumpkin-patchy task, I directed all my most masterful alliteration abilities into my premier music review. Gregory gave me a pass.
Graduated into the world of live show reviews, I walked nervously into the Electric Owl that November. My subject was Grimes, and unlike her performance, my review was shaky at best. I honed in too much on my own judgments and didn't succeed in saying anything significant. Regardless, I tried again a couple months later. My two show reviews in February were better.
Meanwhile back at Discorder headquarters, the EIC torch was passed from Gregory to Laurel Borrowman. Laurel — lucky as she was — had the delight of reading, and probably gutting my first feature. Disheartened by my own unexceptional work, I was determined to improve on my next feature. I poured more effort in and my May article on River Vintage was notably stronger than my first.
I wrote a feature nearly every month for a year after April 2012. My pattern of success is spotty and self defined. I was (and probably still am) a sensitive writer and I didn't deal with criticism very well. Alterations to my work made without my consent antagonized me and I often responded to critique with resistance. My editors, therefore, were irritating to me and certainly not more knowledgeable than I was. I generally crafted what I wrote very carefully, so suggesting it was imperfect was a direct offense.
In April 2014, past EIC Jacey Gibb gave me the opportunity to become a section editor at Discorder. Nervous and inexperienced, I found myself suddenly on the other end of the Google doc, holding onto the sensitivities of unpaid, time-sacrificing writers. Discorder's contributors were now at the mercy of my email phrasing and the contentious connotations of my critiques.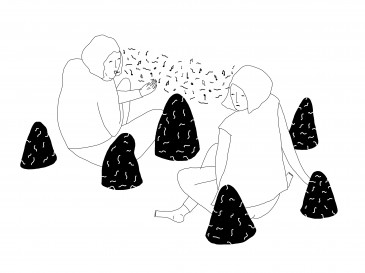 When Jacey stepped down as EIC this past March, the other section editor, Rob Catherall, and I took over as collective interim-EIC. I must say, I never thought I could be EIC (or co-EIC). I mistrust my knowledge of Canadian Press standards and am still jarred when a conjunction sits at the front of a sentence. Regardless, the shared position was both an honor and a challenge.
When Rob became too busy to stay on as co-EIC at the end of May, I took over alone. I don't really know if I earned the position, it seems more like it fell on me. But whether by capability or convenience, it's June 2015, and I am the Editor of Discorder magazine.
Did I write this all for the sake of vanity? No. Really, no. While putting together Discorder's summer edition over the last month, I have been struck by a number of observations and emotions.
Firstly, I realize that I can be a stern, blunt editor. "This doesn't make sense," is a comment I make regularly, and it's a pat on the back in comparison with my harsh appraisal of writing that has not reached its potential. This month I was intentionally, extra rigorous with my edits, and the irony is not lost on me.
My other striking revelation is what stirred me to write this very Editor's Note: Discorder has changed my life.
When I began writing for Discorder, I was aimless, longing for creative direction, yet completely lost without it. This magazine was the platform from which I was reminded that I am capable. Not at first, not painlessly, but incrementally, and because of my own commitment. I had forgotten I could create something I was proud of, and now I know I can. I didn't think I could be the Editor-in-Chief of this magazine, and now I am.
By no means am I saying I've arrived as a writer or editor. I just wish to articulate to Discorder's generous contributors that I appreciate you and I believe you are capable of doing exceptional work (though I may express it roughly). Corny as it sounds, the most significant thing you do can is realize your potential. My work with Discorder gave me that realization and it's something I hope everyone finds, in these pages or elsewhere.