This week Montreal via Vancouver via Montreal via Vancouver artist Whitney K releases When The Party's Over on Egg Paper Factory. It comes just eight months after his previous release, Goodnight. In conversation with Konner Whitney, a.k.a. Whitney K, he said he has already written and begun recording his next album. Konner, haphazardly prolific, agreed to a casual chat over poutine in Montreal's Saint-Henri.
Scroll to the end of the interview for an advanced listen to When The Party's Over, scheduled for release July 24.
.
.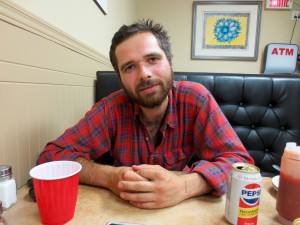 Konner Whitney: We do not drink Coca-Cola in Quebec, we drink Pepsi.
Brit Bachmann: Why do you think that is?
KW: […] It has to do with the quiet revolution, I forget exactly.
Two plates of poutine arrive.
KW: The gravy. The gravy is what makes this one. The gravy is so fucking heavy.
BB: So, you're in Montreal.
KW: I am, and so are you.
BB's hair falls into gravy.
KW: Careful, it will swallow you up.
BB: Why did you move back to Montreal from Vancouver?
KW: I was bored.
BB: Really, that was the reason?
KW: Yeah. I have this tendency of making rash, quick-second decisions.
BB: Do you feel more stimulated here?
KW: Definitely, in my day-to-day at least.
BB: You're releasing When The Party's Over on Egg Paper Factory, which is based in Montreal.
KW: Yeah, they are the homies I play music with — Josh [from Egg Paper Factory] is my musical partner in crime.
BB: Is it only being released on cassette?
KW: We might do more with it, but cassette for now. [The album] was just sitting there, and Josh thought we should do something with it.
BB: So, it was recorded on the West Coast?
KW: Yes, in Vancouver, at that, uh, office space that is gone now. Julian Mars, it was his space. A bunch of other folks used it, too. It was in an alley just west of Pub 340, on the bottom floor. The people running it had some grandiose ideas about throwing parties and having jam spaces. It went somewhere, but then they got evicted.
BB: Do you know why?
KW: [An adjacent business] on Hastings Street. [They] complained so much that the landlord finally said, "You guys gotta go. I can't kick out [the adjacent business] because it has been here forever." Fuck that place. Nobody go there. […] [They] shut down that space because they couldn't deal with people playing music.
BB: I'm going to have to edit that a lot.
KW: Why? Can't you publish whatever you want? What are you, Fox News?
BB: You did not accuse me of being Fox News.
KW: You need to include this part of the interview. Include this.
BB: Fine. So circling back, you played a show in Montreal a few days ago. […] Playing songs off this album, written and recorded in Vancouver, does it feel nostalgic?
KW: Ask me in four months. […] Our current live set doesn't really include anything off this new tape, only a couple songs — "Cowboy City Rockers" and "Hard To Be God." —Isn't this gravy crazy?
BB: It maintains its shape when you push it with a fork.
KW: There's definitely a good chunk of lard.
BB: Isn't gravy vegetarian?
KW: What?
BB: Kidding. I like it when you go to countries that don't really do gravy and you try to explain what it is, and it sounds so unappetizing.
KW: I haven't yet been to one that doesn't mess with gravy.
BB: […] What's in the future for Whitney K?
KW: We're actually recording a new album right now. […] We're going to take time recording it. It's not going to be another shit lo-fi album.
BB: Why the more polished sound?
KW: I need to do something big, quick, in case I decide to commit to a normal working life and not do music anymore.
BB: Do you think that could happen soon?
KW: I don't know. I definitely haven't been thinking about music as much lately, that's for sure. I'm mostly thinking about getting a decent job. A decent job and good mental health. […] I don't want to be 57 years old struggling to pay my rent and being bummed.
Konner, finished his plate, begins eating BB's unfinished poutine.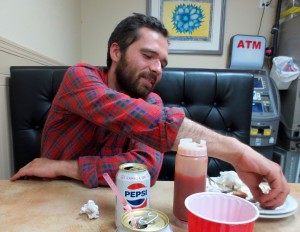 BB: So for Vancouver news, did you hear Woolworm got signed to Mint Records?
KW: Yeah! That's funny. That band's been around so long. I remember playing shows [with them] way way back, and it was still Woolworm.
BB: That's the thing, if you're a good band and you can just stick it out, things happen.
KW: So if I had stuck it out in Vancouver, I could have been signed to Mint? Hey, Ryan Dyck, what's up?! […] Until very recently, music people didn't talk to me. I only knew people who played in bands and like, three people who promoted shows.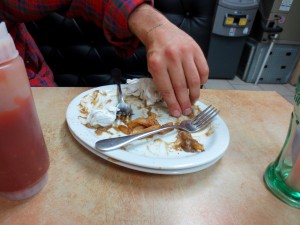 BB: Why do you think people started talking to you?
KW: Because I started talking to them. […] Listen to this, this is a new plan I'm figuring out — I play music long enough, keep doing stuff, and get all these friends that are involved in art and stuff, and eventually some other friends will get their feet in the door. This is the long con. I don't have to do anything except not die for 10 years. Just fight off depression, and try to live.
—and keep making music.

x