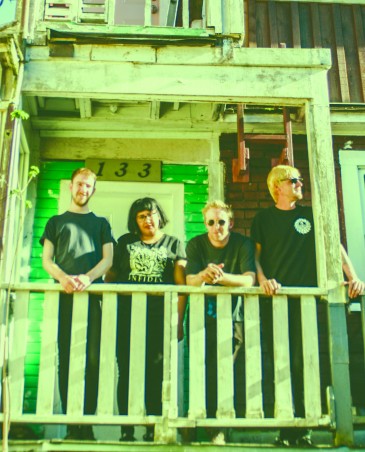 For four days in August 2014 the fuzzy sound of Vancouver rock band Woolworm resonated from a rattling cabin on Gossip Island. Exclusively using money made from performing and releasing the band's material, high school buddies Giles Roy (vocals, guitar), Alex Pomeroy (guitar, vocals), and Ben Purp (drums), along with Heather Black (bass, vocals), came to this remote location off the coast of Galiano Island to record their latest EP Everything Seems Obvious.
After a minor delay on day one, involving a vital piece of recording equipment being essentially air-freighted to the island, the four friends spent the remaining three days having breakfast together in the morning and recording work that is amongst their noisiest, catchiest, and most lyrically honest to date during the day.
Almost a year later, I sit with the band on the roof of the house that Roy and Pomeroy share (and of which Purp is a former housemate) as they reflect on the recording of the EP. The band agree that the recording process was an extremely organic one.
"We just wanted everything to come out naturally… whatever comes out of you naturally to be what the song is" says Roy. "It was just us being ourselves together." The band's entire ethos seems to be one of absorbing the world around them and letting it come out organically in their music. When asked about who and what influences their unique brand of pop-rock Roy simply replies "Oh, everything."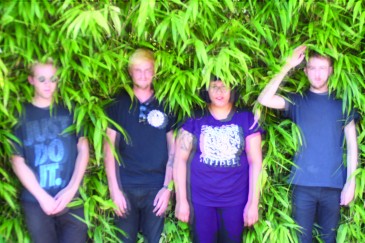 Formed in 2008 from the ashes of hardcore and post-rock bands featuring Roy, Pomeroy, and Purp, Woolworm was intended as an indie rock outlet for some kids who enjoyed the heavier side of music. "For as long as I can remember," says Roy "I wanted to be in a rock band/pop band." However, the formation of Woolworm was not a reaction against hardcore, and all members still have an affinity for the genre (Purp plays in Vancouver hardcore band Vacant State and admits that he can't quite shake his hardcore drumming style in Woolworm recordings).
To anyone who has seen one of Woolworm's live shows, or heard any of their recordings, this subtle bleeding of their heavier roots into their lo-fi indie rock is apparent. Pomeroy notes that one of Woolworm's post-rock forebears was probably in retrospect "ripping off [instrumental metal band] Pelican pretty hard… big amps, three guitars" and attributes similar projects to have had subtle influences on the sheer density of Woolworm's sound. Roy reflects that the more sonically dense elements of their music weren't necessarily intentional, but developed as the band acknowledge their roots and that they are "just sort of good" at making music that way.
Heavy music is not the only unusual influence to make an impact on Woolworm's music. They somewhat jokingly use the term "blanket rock" to describe their music, which according to Roy is "rock music that sounds warm but covers a swath of different sub-styles". Each member is a rock/pop enthusiast and are not shy about their sincere love of bands that could be considered embarrassing ("A lot of mid '90s Canadian rock seeps into our shit" laughs Purp). Integrating influences from anywhere is permissible. Roy states that the band are just as likely to be inspired by the music of Hall & Oates as they are Guided By Voices.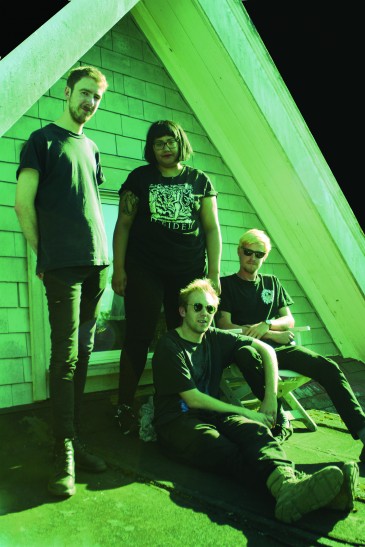 Pop music has always covertly influenced Woolworm's sound, but Everything Seems Obvious is their most outright pop recording yet. The EP is mostly bright and upbeat, brimming with catchy hooks and choruses that imprint themselves onto the listener's brain. Roy's witty, self-aware lyrics are instantly memorable and are reminiscent of the painfully funny vignettes Morrissey and a young Rivers Cuomo have previously been responsible for.
The 11 minutes of music on this EP are Woolworm's most captivating yet. But this full on embracement of pop sensibilities doesn't mean the band have abandoned the noisier elements of their music — they have just incorporated them into these songs in a characteristically organic way. Roy's intimate sounding cadence on "Useless" (which is reminiscent of a non-Mancunian Stone Roses era Ian Brown
) is juxtaposed over a clattering bridge which subtly hints at 1990s alt metal. The inverted punk of "Cassandra" (with lead vocals sung by Pomeroy) is as catchy as it is mosh pit friendly. Purp's emphatic drumming and Black's uncomplicated bass lines give the EP a punk undertone that becomes amplified when these songs are played live. The whole EP is peppered with wailing noise rock guitars that are congruous with textured vocal harmonies. The entire effect is of a band that have successfully made an infectious pop record, without compromising anything of their own unique sound and wide circle of influences.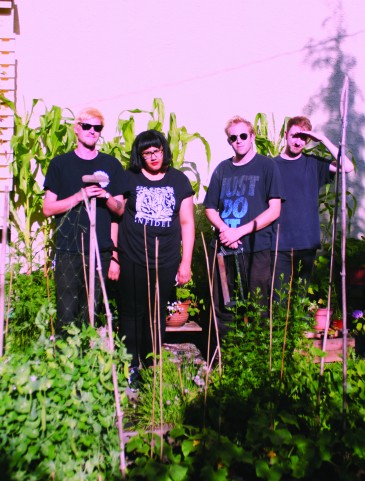 As the evening draws to a close, Woolworm tell me about a boogie woogie riff they've been jamming at practices lately, a planned two song cassette that they hope will catch some of their more pop-minded fans off guard, and joke about evolving into a "stoner dad rock" band in twenty years time.
"We have a special bond…just the four of us friends playing music" says Black with a smile. "It's just really great being in Woolworm" agrees Roy. A combination of close friendship and a totally open and organic approach to making music could see Woolworm turn into one the most enduring of Vancouver rock bands. Woolworm's music has the exciting potential to go in any number of directions, due to their ethos of "stealing from everywhere" and recording what feels natural. Maybe we will see something like that "stoner dad rock" set circa 2035.