Watching When The Storm Fades, audiences may find themselves most compelled by a character who isn't seen in the film at all; Ida, a member of the Pablo family who didn't survive Typhoon Yolanda, or Typhoon Haiyan as it was reported internationally. She is only spoken about by her family members, mostly her sister Nilda.
"There is all this data about why women are more likely to die in a natural disaster," explains writer and director Sean Devlin, known for ShitHarperDid.com and his work with the Yes Men. "One of the reasons is that when facing life or death, the women are generally the ones who are going to sacrifice [themselves] for the family."
Such is the case with the Pablos, an actual family who live in Tacloban, Leyte Island, the same island in the Philippines where Devlin's mother grew up. In 2013, Devlin travelled there to make a short documentary after Typhoon Yolanda and encountered the Pablo family, who had lost everything. "I met the family and fell in love with them, which made me want to get to know them better and find ways to share their story in a way that would benefit them tangibly," says Devlin.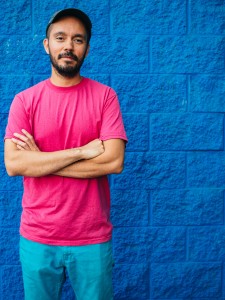 He did that by writing and directing When The Storm Fades over the course of two years, financed in part through crowdfunding. Devlin calls the film "experimental" in its direction, blending documentary filmmaking, and improvised comedy with two "voluntourists," played by Aaron Read and Kayla Lorette. The documentary aspect of the film was made with the Jemez principles in mind, a set of principles that guide democratic organizing, and in this case, guided Devlin and his participants. "The script, in the end, contained basically no dialogue. The movie was almost entirely improvised," he explains. "I didn't want to be putting words in the family's mouths — people can speak for themselves." As for the part of the script that was more planned out, Devlin enlisted professionals: "Aaron and Kayla are two of the best improvisers in the world. They've won awards for their work, and I felt that improv was the best way to approach [their scenes]."
Read and Lorette play two Canadians, ostensibly in Tacloban to help rebuild the community, but who are more interested in taking selfies. The inspiration for these characters is based on Devlin's own experience as a volunteer in Ghana, and even as a Filipino-Canadian in the Phillippines. "The silly things they're doing are mostly things I did myself in my early 20s," he explains. "I had never seen a film that depicts white characters in a foreign country being anything other than white saviours, and I know that not to be true in the real world."
As with all of Devlin's projects, environmental activism is a strong pulse in this film. "I've been working around climate change for over a decade now, and when you start to look […] at the mess that has already been created in communities like Tacloban, there are no easy answers. Unless we consider how complicated it is, we won't know how to start on the right foot. Part of my interest with the film was to tell a story that made space for some of that complexity and nuance."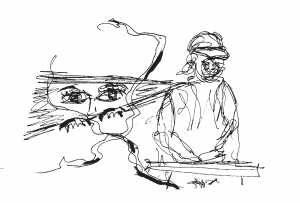 At its heart, When The Storm Fades forces the viewer to face the devastation of climate change. Devlin explains, "Every climate change film I've seen is so bogged down with overwhelming statistics and this picture of a massive problem. I wanted to bring that down to a human scale, to a family scale, that I think people can feel some resonance with."
Half of the money crowdfunded towards the creation of When The Storm Fades went directly to the Pablo family to help them get back on their feet, the rest went to production costs. 50 per cent of any potential profits will also go to the family. "I'm interested in art that crosses boundaries and doesn't just exist in sanctioned spaces for creativity's sake," says Devlin. "Can the financial [profits from] this production actually make for a happy ending for this family?"
By virtue of this film being created, the answer is yes, though Ida's loss is still felt by the Pablo family. Through a creative and collaborative filmmaking process that prioritized the voices of the survivors themselves, When The Storm Fades gives space for grief and the commemoration of life. Devlin poignantly captures the cost of climate change and balances it with his own brand of comedic satire.
X
Buy tickets now to see When The Storm Plays at VIFF on October 4th. If you would like to learn more about Sean Devlin's documentary, visit whenthestormfades.com.