Names and gestures reverberate throughout my interview with Elisa Ferrari and John Brennan, co-curators of Destroy Vancouver. These are the names of Vancouver's artists and sonic neighbours, the gestures they send into the world. But our conversation also returns to the name of that ostensibly punk prerogative itself — Destroy Vancouver — and its productive gesturing at a network of artistic production. The experimental music series, which now in its fifth and final year, concludes with volume XVIII this September 8 at VIVO Media Arts. If there is a trace that Destroy Vancouver draws out with the myriad of local and international artists, the present seems like a time for reflection.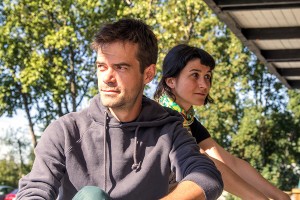 First, a brief history. Years ago Brennan, who worked as Technical Coordinator at VIVO, was using the performance space for Destroy Vancouver. The series' conception was to provide a space for eclectic experimental music, with a focus on improvisation and deconstructed stage / audience binaries. Brennan says, "I've always been interested in programming different genres, in the field of experimental improvisation, all within one event. The set lengths are usually short, between 15-25 minutes with break periods to allow people to mingle and get beverages." Ferrari adds, "It was very much about going into all these different genres without creating a hierarchy." Destroy Vancouver would eventually go on to partner with VIVO, increasing the series' funding. Ferrari began co-curating Destroy Vancouver in 2015.
Brennan: In the spring of 2015, we applied for funding through the Canada Council for the Arts. We programmed the whole year in advance, and the application was successful. But it was January 2016 when we felt this would be the last year. Four years is a good amount of time for a series to run.
Ferrari: There is another reason. I think it's important to think about how this project started — the name "Destroy Vancouver" was about "protesting" what was happening in the city, the closing down of spaces where you could really experiment with noise or other genres. Since 2012, the series has gone from being very independent to more institutional. At some point this year, we felt as if the name "Destroy Vancouver" had run its course.
Back to the trace. What does Destroy Vancouver gesture towards? With its dedication to eclecticism and local partnerships, Destroy Vancouver has been a lightning rod of political dynamics bound to Vancouver. As Ferrari notes, instead of taking 'Destroy Vancouver' at face value, "we were thinking in terms of building relationships. Not building condos, but the relationship between different organizations in the city, local and international artists and the individuals who attend these events."
Destroy Vancouver, which links international artists to hometown favourites, is also contingent on a rich network of allied Vancouver artists. Brennan and Ferrari are quick to cite their partners and supporters in Vancouver: JP Doucet and Shaun Watt (Big Joy), Constantine Katsiris (Quiet City), Alexandra Spence and Rebecca Bruton (Tidal~Signal), Brady Cranfield and Josh Rose (Selectors' Records), KC Wei (art rock?), and Rainbow Robert (Coastal Jazz and Blues Society). Giorgio Magnanensi of Vancouver New Music is cited as a particular supporter, who has done much to make Destroy Vancouver's successes possible.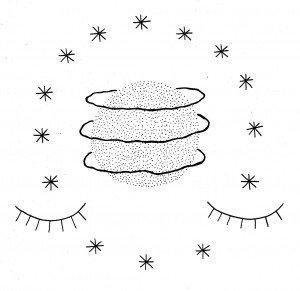 Brennan: The freedom of experimentation is a part of what I've found [in Vancouver]. I feel that people aren't afraid to just try. Even artists that focus on a specific genre and are very good at it, are not afraid to move outside of their comfort zones. You might have harsh sound artists who also experiment with techno or weird punk music.
Ferrari: And I also think that in Vancouver it is fairly easy to start a new experimental sound project and have the right support to present it: there are many entry points, with series like Quiet City, Big Joy or art rock?, and places like Selectors' Records.
If Destroy Vancouver has done anything, it has pointed towards these various intersections and meetings of artists, and at an undercurrent network of collaboration and experimentation which girds against an antagonistic municipal presence. That is the improvisational quality and charge of possibility in Destroy Vancouver. The final edition references this charge, with Barcelona-based techno artist Adriana Lopez, German artist Christina Kubisch, Dan Leonard's Friends + War, Emily Thacker, KC Wei's hazy, Austrian drummer Katharina Ernst, minimalviolence. It'll be a series of roiling dynamics. To quote Brennan, "One of our favourite techno producers, Adriana Lopez will perform a 1.5-2-hour techno set at the end of the evening. We're hoping this will set the atmosphere for yet a different embodied listening experience."
Improvisation and possibility have marked Destroy Vancouver's run — Brennan and Ferrari hope it will mark its conclusion. In the evening of September 7, Christina Kubisch will host an artist talk. On September 9, she will lead three Electrical Walks. The Electrical Walks, beginning at the end of the 1970s, allow individuals to use special headphones designed by Kubisch to amplify the acoustics of electromagnetic fields. As such, they allow participants to wander throughout a city, discovering the ubiquity and heterogeneity of electromagnetic frequency. The city becomes a generative machine, with the user as its conductor.
The trace may be non-visible, but Vancouver is a city with many currents. Destroy Vancouver has been an invitation to exciting moments of reinterpretation and revelation. Ending the series with Kubisch's upcoming Electrical Walks is an ending in the spirit of exploration with an open and extended hand.
Brennan: [Kubisch] will extend Thursday evening even further, especially the Electrical Walks which are definitely rooted in the spirit of Destroy Vancouver and Vancouver itself.
The series' closure also makes it possible for Ferrari and Brennan to re engage with their own projects. Ferrari, who sees her practice "as an artist and curator and researcher as something that shifts and is interrelated," will continue focusing on projects that "manifest through installation, performance, sound, and photography." Her focus is "archival fragments of text, image and videography, considering the act and implications of retrieval." Brennan will be working on a sound sculpture / installation that examines the relationship between improvisation and a musical instrument's sonic memory of musical instruments, in this case a drum kit and involves acclaimed drummers from across the world.
Ferrari: We also DJ together.
Brennan: We also DJ together!
The name of their DJ project — still undecided.
X
Destroy Vancouver XVIII will take place Thursday, September 8 at VIVO Media Arts Centre, featuring performances by Adriana Lopez, Christina Kubisch, Friends + War, Emily Thacker, hazy, Katharina Ernst, and minimalviolence. Tickets $15 in advance, or $20 at the door. There will also be artist talks and sound walks in the days before and after the event — visit vivomediaarts.com or VIVO's social media for more information. Destroy Vancouver XVIII is also part of SWARM17, a two-day festival celebrating artist-run culture. Details at paarc.ca/swarm17.