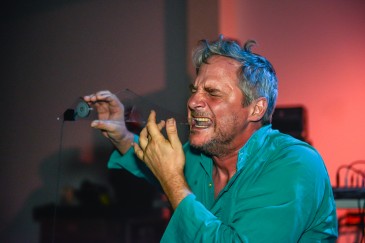 Quiet City's brief is as vague as it is intriguing: deep-listening, experimental concerts in a comfortable and intimate setting. Lost in the industrial no man's land outside Renfrew Skytrain station, I was wondering what comfortable setting could possibly exist off Grandview Highway? Eventually, if a bit forlornly, I stumbled into the charming and warehouse-y VIVO Media Arts.
For this, their 17th edition, Quiet City welcomed someone I'd actually heard of: Oren Ambarchi. A celebrated sonic weirdo and prolific collaborator with acts from Sunn O))) to Fennesz, he played London's Cafe Oto so often I figured he must live 'round the corner. I now discover he's Australian. Playing Vancouver. Nice.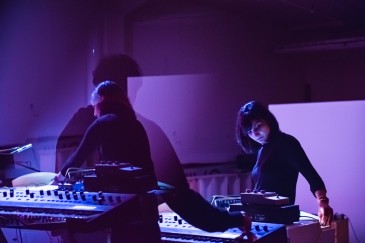 Opening act Davachi/Smith actually drew the biggest, most committed crowd of the evening. A very pleasant-if-innocuous loop of analogue '70s synth on vintage equipment, their set got me in conversation with my neighbour. I suggested that whilst Davachi/Smith are clearly "ambient," this description has derogatory connotations, as if it's forgetful or inconsequential. He pointed out that they were also very Krautrock, a term coined from the outside to describe German synth bands. I resolved not to use the term "ambient" in my review. I fail.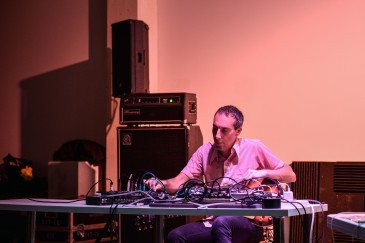 Anyone drawn to the idea of a "deep-listening, experimental concert" is probably well aware of the name Oren Ambarchi. While manipulating and elongating singular guitar notes with an array of effects pedals, Crys Cole sat stage-right, essentially performing a live field recording. Scrunching paper into a field microphone, her evocative insect-like sounds and textural minutiae nicely played off Ambarchi's atonal improvisations.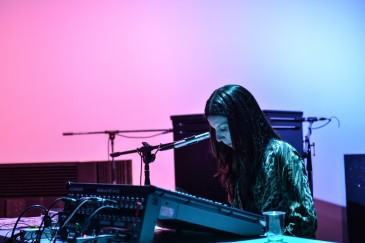 If all this sounds like weird-for-the-sake-of-it pretension, then steel yourselves for Lucas Abela — who blew on an amplified piece of glass for 15 minutes. Creating an indecipherable wall of distortion by connecting effects pedals directly to glass and his own body, Abela's set was a hugely bonkers performance art project: a human stylus.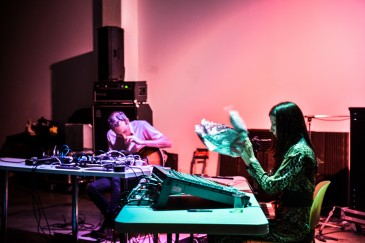 Ending on a humorous note of noise-for-noises-sake, Quiet City may be an elitist and marginal concept. But thanks to curator Constantine Katsiris' warm introductions, VIVO's creative vibe and a dedicated local crowd, Quiet City #17 truly felt like a community event: friendly, inclusive, and artist-run.