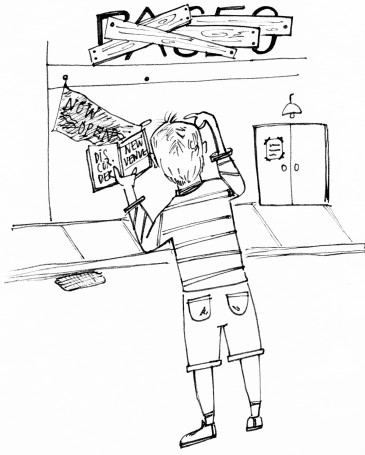 With the end of summer already in sight — or already come and gone, depending on when you read this — now seems like the perfect time for me to gab about how temporary things can be.
I shouldn't, but I often get jealous of people who've lived in the Lower Mainland for most of their lives. It comes with a degree of credibility that transplants like myself can't easily replicate, especially when it comes to the music scene. I regularly have to explain my blank face whenever someone talks about places like Richard's on Richards or the old Emergency Room; one of the first Apollo Ghosts shows I ever attended was their feel-filled send-off; I know Mac Demarco from his solo stuff rather than Makeout Videotape. There's a lot of history I'm not a part of and while the same can really be said for anyone — no matter how old you might be, there was a time before you — it's a bummer to have missed out.
Suppose that's why the more I've aged, the more appreciation I have for history. To kid Jacey, history seemed like just an excuse for people to throw a clusterfuck of dates around and jump at a chance to correct you. (A naive perspective, I know.) But I've grown to appreciate the knowledgeability and worldliness that comes with it.
So what does all this have to do with Discorder?
I used to have a more permanent-centric view of the magazine — wanting to spotlight things that might grow over time, maybe even become icons — and even shied away from covering things that might not be around six months, or two weeks, from now. "It makes Discorder seem so dated, featuring things that are dead and gone while the issue's still on stands." But that adds a uniqueness to it. An issue is a snapshot of Vancouver at a particular time and it wouldn't be any fun if that snapshot was the same every time.
In this month's issue, we tackle the temporary nature of things in several ways: Matthew Murray's Discorder debut shines a light on recent digitization efforts to make every issue of the magazine available for viewing online; our Textually Active column looks at the beginning and end of Victoria punk-rockers Open Relationship via their new zine, Open Relationship #IRL; we have a story that ties together fleeting youth, The Pointed Sticks, and Dustin Hopper in this month's Discorder Revisited; and even our feature on New Forms Festival talks about the change in venue for this year's festivities to the all-knowing dome of Science World. We also have a bunch of other stories that, while not fitting the theme of change like the ones above, are nonetheless pretty great.
September also marks a full year since I took over as Editor-in-chief for Discorder. It's been a fun/challenging/rewarding/time-guzzling/incredible experience so far and, unlike some things in life, that likely won't change anytime soon — and I'm looking forward to it.
So it goes,
Jacey Gibb