In its essence, publication is the process of creating a public–– a community who witness a work. This idea comes from Matthew Stadler, co-founder of Publication Studio in Portland, who believes that beyond the physical manifestation of a book, the art of publishing encompasses the building of a community around that book. The annual Vancouver Art/Book Fair showcases publications that are themselves 'acts' of publication–– the cultivation of a public based on Vancouver art bookmakers and the people who enjoy them.
Tracy Stefanucci, founder and director of Project Space, the non-profit that organizes the Vancouver Art/Book Fair, holds this ideology close to her heart. "When we started Project Space we were interested in the intersection of communities around making books and publication in general as a practice. Often that involves visual arts and graphic design, and the literary community. We really wanted to become a kind of hub for those communities to intermingle and look out for each other's work, and support the creation of work–– to become an access point for making a stronger overall art publishing community in Vancouver."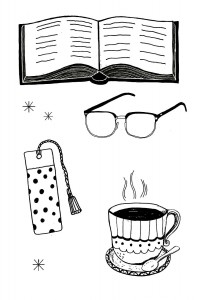 In it's fourth year, VA/BF will be held at the Vancouver Art Gallery from October 17-18 and features exhibits, reading rooms, performances, talks and installations from over one-hundred art book creators. Local publishers like Moniker Press, Print Ready and KIOSK will be exhibiting alongside national and international publishers. Among the presenters are Shauba Chang with Waterfall and Not Today from Taipei; Jp King with Paper Pusher from Toronto; and Kelvin Soh with DD/MM/YY and Le Roy magazine from Auckland.
VA/BF is modelled after events like the New York Art Book Fair and Broken Pencil's Canzine in Toronto and Canzine West in Vancouver. Back in 2006, when Project Space operated as one cool word magazine, Stefanucci and the publication's co-founder Ken Yong attended CanzineWest.  Stefanucci and one cool word magazine co-founder Ken Yong attended Canzine West in 2006. The event failed to return to Vancouver the following year, and in 2010 Stefanucci approached Broken Pencil founder and editor Hal Niedzviecki offering to help bring the event back. While Canzine returned to the West Coast, Stefanucci still felt there was a gap in the type of publishing she wanted showcased. Inspired largely by the emphasis on art and design brought to one cool word by the publication's art director Jaz Halloran, who helped to relaunch the publication as OCW Magazine, Stefanucci decided to create VA/BF as an event specifically for art books.
Project Space is also organizing the annual Artists' Books Week, an extension of the fair occurring the week of VA/BF in collaboration with galleries and publishing spaces across Vancouver. "We started ABW to help people and organizations around Vancouver take advantage of all of the attention to art publishing that VA/BF stirs up. It is a chance for everyone to showcase their own spaces and work," says Stefanucci. ABW will allow the excitement of VA/BF to spill over into the city at large, giving people the opportunity to see what the local indie publishing scene has to offer.
Stefanucci perceives publication as an art: "There's a lot of a different ways you can explore publication–– it's not always print." She continues: "It can also be affordable and accessible, especially when you're making zines; it can be a really good way to share work. I also really like the different ways artists work with the idea of publication." For Stefanucci, print media is a building block for community in ways that digital publishing is not: "It's a very isolating experience to do something online," she says, "especially because publication is all about connections between humans, their ideas, their experiences, and what they are working on."
In past years, VA/BF has successfully created the kind of community that is the true goal of publication for Project Space. "My favourite thing is always the connections I make with people, and sharing and nerding out about this kind of work. We can get inspired about it and share our ideas–– that's the heart of it," Stefanucci reflects. "People enjoy interacting with publishers and artists, but also the publishers and artists enjoy interacting with the public. Artists really want to chat about their work. It's really not a market-driven activity. People are creating this work because they are excited about it. So, when someone asks about your little obscure project you are like 'Oh my god, I have someone to share this with!'"
X
Project Space's Vancouver Art/Book Fair will be at the Vancouver Art Gallery Oct 16 to 18, 2015. For more information visit vancouverartbookfair.com, or visit projectspace.ca to learn how to get involved.