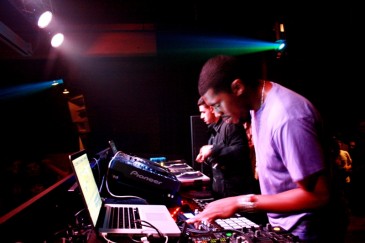 As I stepped into Fortune Sound Club on a Wednesday night it was clear that people were preparing for the main event. The aroma of various recreational substances filled the place. The air was hazy and the floor was sticky, but not sticky enough to keep people on the dance floor.
Flying Lotus may have been the headliner but it was his guest Low Limit (of Lazer Sword) who first got everyone up and dancing. It was the first I'd heard of him, let alone listened to any of his music, but with the show he put on, I can't imagine anyone walking away without becoming a big fan—unless they already were. He started out with sounds reminiscent of Flying Lotus, but soon unleashed a more playful and experimental range of melodies that lured the crowd to the darker, slightly sinister, yet adolescent bass lines. Though his sound may have been heavily varied, his roots were clearly in hip-hop, as he occasionally threw in some remixes featuring well known southern rappers, mainly Gucci Mane. Personified, his sound is like Dennis the Menace, wearing a New Era fitted cap, while pulling his red wagon filled with the strange and interesting things he'd found.
The floor got wetter and stickier, the lights were dancing in the thick haze that filled the room. Low Limit was winding down his set. The crowd only grew more restless.
Flying Lotus finally graced us with his long awaited presence and he was greeted by an enthused crowd. Fans that were daring and tall enough stepped up to give the young L.A.-based producer a handshake. With a smile from ear to ear, FlyLo gave back some love to his fans as he prepared his equipment for his show.
"Cosmogramma," "LA" and "1983" could easily have been dubbed as the soundtrack to my summer, but I still wasn't prepared for what Flying Lotus had in store for us. The bass kicked in and the crowd lost it. He looked at us and smiled ear to ear, knowing that this was only the beginning. What blew my mind was when he played a remix of "Nas Is Like". The producer was dancing and so was the crowd. We started mouthing the lyrics towards the end of it and right before it hit the hook the track was switched up immediately.
Flying Lotus got on the microphone one last time and asked if the crowd knew "The Astral Plane," only to be bombarded by a thunderous, roaring "YES!"
With his permanent smile, he proceeded to play the final song as the crowd danced their hearts out. They looked as though they were uncertain if he would return to Vancouver again.