Let's start with this. If there is a more perfect song than The Modernettes' "I Can Only Give You Everything," I haven't heard it. Double dare you to listen to it and not air guitar the main riff.
I walk down the street and I see the world is broken dreams,
Some man comes up to me and says all is not what it seems
…Don't ask me Baby 'cause I don't know just what it means
But I can only give you everything.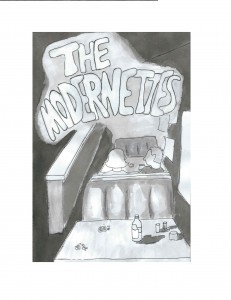 The Modernettes were a great band from so many angles. Their gigs had that exciting air of danger you get when a band is unpredictable and the shows can go either way. Would they perform gloriously? Or would it end in a fight? The spectacle and the performances were always irresistible.
John Armstrong, aka. Buck Cherry, was the Modernettes' guitarist / vocalist / main songwriter with the good fortune to have both a teen-idol-perfect singing voice, and the good taste to use it with intent. This is especially true on the band's masterpiece and final album, View from the Bottom, where the songs resound with a bittersweet depth and conviction. Armstrong's rebel-chic persona, smouldering intensity and the fact that he has a brain didn't hurt either. Buck Cherry… the man Jack White wishes he could be.
Remarkable at the time was seeing a girl playing an instrument and holding her own with the boys. Mary Jo Kopechne played bass and was obviously a lynch pin of the band, not just there to ice the cake. She was tough, talented and strikingly beautiful, like the film noir heroines the band idolized. To the boys in the audience, she was a living doll, but to the girls she was much more — an inspiration for what they might accomplish musically.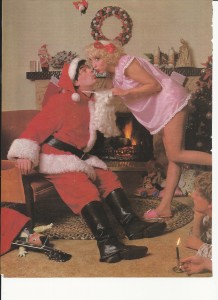 You can see Mach 1 Modernettes Buck, Mary and drummer, Jughead in action on the wonderful short film for "Barbra," the single off their 1980 debut record, Teen City.  The record went for a phenomenal five pressings when the initial run of 1,000 sold out. The band released their posthumous, limited run (300 copies) live & demos record Gone…But Not Forgiven with a note from Buck thanking their fans. It said, in part "to me, we always seemed like poor cousins to everybody else. The Pointed Sticks were slicker, DOA were 'cooler' and the Young Canadians were virtuosos. All we had going for us was our songs and our ability to be either shit-hot or abysmal for no discernible reason."

The Modernettes, Mach 2 replaced Jughead with Ian Noble, a fresh face who Downbeat Magazine lauded as one of the up-and-coming drummers to watch for. He later cut a swathe though other Vancouver bands (Go Four 3, The Hip Type) with his big drum sound that simultaneously delivered showmanship, power, accuracy and great rhythmic feel. The other tasty addition to the Modernettes cocktail was guitarist Randy Valentino.  This lineup recorded View From the Bottom which was released just in time for Christmas 1982. The title and record cover photo (actor William Holden floating face down in a Hollywood swimming pool) alluded to the film, Sunset Boulevard.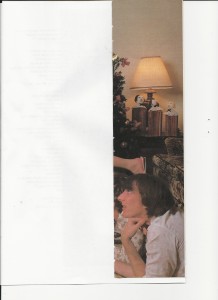 The records may be hard to find, but luckily, Zulu's 1995 CD re-release Get It Straight includes all the songs, plus excellent liner notes and photographs of the band. The re-mixes add a production lustre that highlights the power and swaggering beauty of the two-guitar line-up. Bonus: it is still available from Sudden Death Records.
Also well worth the effort to locate is Armstrong's 2006 autobiography, Guilty of Everything wherein the author/musician shows us that he is equally capable of writing fine prose— think Hunter S. Thompson meets Hemingway in Vancouver, and goes on a musical bender. Delicious. So good, in fact, that Vancouver filmmaker and ex-rocker Patrick Carroll (Picasso Set) plans to make it into a film. I'm already imagining who will make the best Mary on screen. For a glimpse of how Buck and Mary easily eclipse most mortals, watch Susanne Tabata's 2010 documentary, Bloodied But Unbowed. Larger-than-life characters? How about skyscraper size? Seems that the view from the bottom may be one of the best angles there is.