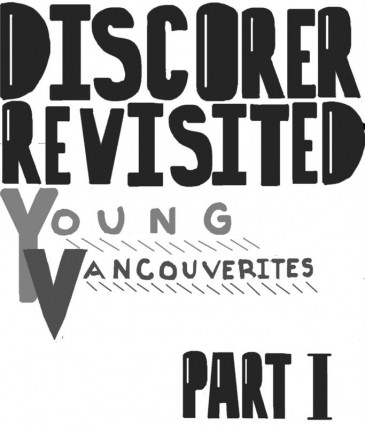 "We're looking for a band to play with us who aren't the usual punk double-bill. Are you guys interested?" Tom Anselmi, the lead singer of Slow, asked me after one of our gigs.
"Sure. That'd be fun!" I told him. I played bass in the Dilettantes. We were sweet and poppy with three girl singers and two boys on guitar and drums.
It was 1985 and Slow were already slightly notorious around Vancouver for their teen-power-fuelled shows and Anselmi's intimidating growl. Slow were bigger than us on the scene and had a very loyal following — my friends and I included — who tried to never miss a show.
Like all truly great bands, Slow were unpredictable and that made them really exciting. Would a fist fight break out? Would a girl leap up on stage and hang off of Anselmi's neck? Would Stephen Hamm, the mountain of a bass player, crush a beer bottle with his bare hands? Would drummer Terry Russell slip off his stool from the sweat dripping down his naked chest? Could Christian Thorvaldson duck-walk across the stage while playing his fabulous solo and wink at the girls all at the same time?
At a Slow show, the atmosphere was always ripe with the feeling that something exciting might, could, would happen at any moment. Most of Slow's shows featured real genius, a sublime synthesis of their four distinct cartoon-like personalities, distilled into the raw power of music. Slow were Vancouver's Nirvana before anyone ever heard "Teen Spirit."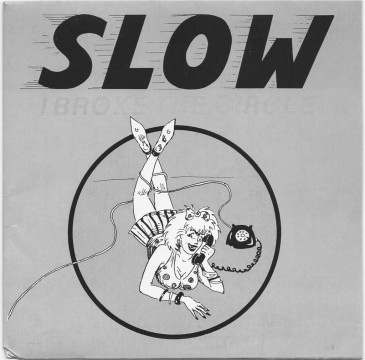 I remember buying their first single, "I Broke the Circle," at Zulu Records in '85. I walked into that small friendly place, and saw the little box full of singles propped up against the cash register. The cover sleeve was a powder-puff pink and baby blue cartoon of a girl on the telephone with Slow rushing by right above the song title. Flip it over, and there were cartoon drawings of each band member with their first names underneath: Tom, Christian, Terry, Hamm. Grant McDonagh played it for me. The song was pure, compressed energy. It had everything: moaning, heavy breathing, breaking glass, cow bells, and big drums, big bass, and big guitars. It speeds up and slows down, does absolutely everything right. It was the sound of four newly-minted young men at the edge of a precipice, ready to fling themselves off, with a cry to invoke the god of music.
So when Anselmi asked me if we'd like to play with Slow, of course the answer was "Yes!"
The first gig we played together was at The Savoy on Water Street in Gastown. To get in, you humped your gear up a set of narrow stairs, redolent with the fragrance of delicious curries cooking in the Indian restaurant below. The room was comfortable. Also, familiar to us; it was the scene of the Dilettantes maiden performance. Once we'd scraped together seven songs, we figured we had enough material to play live, and entered CiTR's SHiNDiG '85 at the Savoy. While our front line of three pretty girls plus the band's light airy harmonies and sweet melodies parlayed us to the finals, we then met our nemesis — Death Sentence — a straight-ahead punk rock outfit with a stacked fan base in attendance. We lost.
Fade to our Savoy gig with Slow…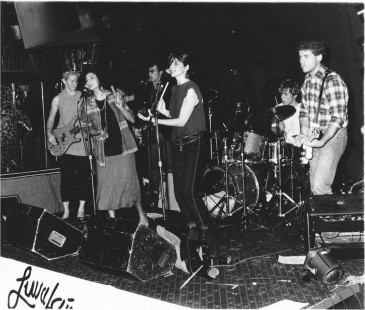 Anselmi took over the room during their set.
He ran over table tops like an acrobat, hanging from the rafters while he sang. He held a beam in the ceiling in one hand and the microphone in the other. Leaning down towards the audience, hanging from the roof, he balanced lopsidedly on a table and the top of a chair. From there, he bellowed out the songs, peering at his audience with an intense gaze, just one eye visible from underneath his wild corkscrew curls. No matter what size venue, Anselmi and the band always gave the audience more than it came for.
"I Broke the Circle" was their first single. Not long after, in '86, they released the EP Against the Glass. By then, Slow were huge. So big that they were asked to open for one of the city's main musical events of the coming year, Expo 86's Festival of Independent Recording Artists.
All the local bands were excited about the opportunity to play for such a large international audience, even if ambivalent about the venue. Expo '86 was viewed by the indie scene as a corporate mega monster, but the chance to play was just too good to resist. A separate evening each was slated for many popular local indie acts: Poisoned, Brilliant Orange, Bolero Lava, and others.
Contrasting to the locals were some international groups, like Einsturdenze Neuibauten, an experimental and extremely loud German industrial noise band. They unleashed their set on the Vancouver audience. To be charitable, they were virtually unbearable, but absolutely fascinating. They took chainsaws and sledge hammers to their instruments. The best part was the astonished and appalled reaction of the unsuspecting families, innocently waiting to be entertained by the next act. Many with young children fled like lemmings before the unexpected aural assault, moms and dads gripping their hastily packed fast-food meals and kids with their fingers in their ears. This was not pop music. Even my boyfriend, Gord, and I, who knew what to expect, endured only ten minutes before we too had to leave.
Whether the variety of bands who played Expo was a credit to the open-mindedness or the naïvety of the organizers, it made for an entertaining spectacle. We young Vancouverites were loving it.
So here we were, the evening of Slow's Expo concert, an evening when the expectations of the crowd no doubt weighed heavily on the shoulders of the four boys who were just about to come on stage. It was a beautiful summer evening. Just darkening, soft and warm with the caress of the nearby ocean's waves scenting the air. I snuggled close to Gord, anticipating the show.
The venue was a semi-circular open air amphitheater ringed with wide-set continuous aluminum bench seating. There was a narrow strip in front of the stage, where we could see many of our friends and the band's fans gathering. The local TV station had their studio set up on site. Just behind the concert bowl it perched, with big glass windows allowing a view of the newscasts happening inside. From where we sat, the local celebrity anchorman and woman were in plain view: "Live from the Expo '86 Fairgrounds!"
The excitement you always felt at a Slow gig was hanging there that night, but there was something more. A slight unease. This was our very own Slow, and they were playing at Expo. What did it mean? The band must have been fighting with the same question. Was this a chance to play well and impress the people who needed to be impressed to advance their career? Or was it the opportunity to seize the monster by the throat and shout right into its face: "We don't give a d#@*n!?"
I don't think they'd decided which it was within moments of stepping onstage. But by the time they did, there was no doubt.
Slow would shout in the monster's face.
____________________
Come back in June to read part two of Erica Leiren's story.