Art Signified hit the ground running two years ago. As I walk from The Bottle Shop liquor store to Suna Studios with Mitch Ray and Taya Fraser, they tell me about the whole thing got started.
"Even before Art Signified, I was forcing myself to book a show a month," explains Ray. "I set a rule and I wasn't willing to break it. It was a good way to get into the grind of it and develop my work ethic." He punches in the code for a security door and we walk inside.
"I used to work at Iron Road (a jam space which doubled as an after-hours venue) and I wanted to bring that vibe back to life," says Fraser as we settle into some well-worn couches. "I never wanted to promote, but it just sort of happened. We kept referring bands to one another, and it hit us. Now we're busy all the time. Last year we did roughly eight shows a month."
The raging success that was their anniversary party back in January can attest to how integral to the scene they've become. The show consisted of nearly 30 bands on two stages over two nights. The duo have become known for putting on exactly this sort of creative and exciting concerts, such as their 10-band bills and their upcoming "day drunk" shows. They always have a few other ideas up their sleeves, but you'll just have to wait to hear about them — we wouldn't want to spoil the surprise.
"I think we're lucky because we've gotten to the point where we have creative licence to do all the weird shit we want, because we've been so successful," says Ray, grinning broadly. "Or maybe we're just lucky."
"We just try to make sure it's a show that we'd want to go see," adds Fraser. "We like to party and have a good time as well, and we want everyone to have the very best time they can."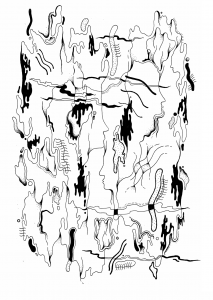 Ray explains: "We want bands to be able to show up and not worry about anything. We deal with all the details. We want the crowd to have the shows they remember for years, you know? The thing is, we have a huge game plan. We know what we want to do, and that's already a full plate. There is also an abundance of stuff thrown at us, and that can double or triple the workload."
For instance, Art Signified has dived into the world of band management. "Eric Campbell & The Dirt came to us and asked us out of the blue to manage them," says Ray. "It was a curveball, but they're talented, and we love them, so it worked out. BRASS was the natural second addition. As of right now we don't want to bring on more … but we're learning, maybe down the ways."
"I like working with bands that are goal-oriented, you know? We never work with bands we don't think are awesome," says Fraser. "We want to move into booking tours also."
What Art Signified, and all promoters, do is largely thankless, behind-the-scenes grunt work. However, Ray and Fraser have reached the point where people come out to their shows because they know an Art Signified show is going to be good. It's a great way for people to discover new music, and the contributions they've made to strengthening the scene are tremendous. I tell them so and they laugh, not maliciously; they just don't know what to say.
Ray cracks a fresh beer as he muses: "The thing is, we do the little things, and when you do the little things, you always think no one notices. But the right people do, and when they do it really makes me feel that much more optimistic in general."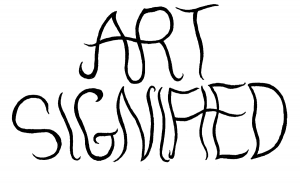 For a promoting company to have as good of a track record and reputation as Art Signified does is really difficult; booking punk-rock shows can be a topsy-turvy business. I ask what their closest near-miss has been and Fraser and Ray stare at each other for a moment. Fraser motions for Ray to tell the tale: "In February of last year, we did a show with Radio Moscow, which to this day might be one of the biggest bands we've worked with. We put everything into that show. It was at [a venue that didn't have a licence]. We had to send slightly illegal border paperwork to a big band with a big booking agency. Because the show was only semi-legal, we couldn't publicly promote the show as much as I'd like. It had to be an 'ask around' sort of thing. We couldn't reveal the name of the venue on posters and whatnot. With a big band with a high guarantee, that's not an ideal situation at all."
"We also had another show going on that night already," adds Fraser, "but it was just such a big opportunity and we couldn't turn it down."
"I was texting the band, and around 8 p.m. they go quiet," says Ray between sips of beer. "After an hour, they let me know they were going through an awful search. I was thinking, 'Fuck, my money is all gone. I fucked up with one of my favourite bands and a big booking agency.' It was fucked. But they made it! They showed up halfway through Black Wizard's set and it was absolutely incredible. That really was the closest we've come to an absolute disaster.
"Instead, we made the guarantee and were still able to pay the locals. It was a fucking homerun."