Holy Smokes was essentially born out of frustration — a detail unrelated to the development of its name, yet fitting if you think about a lightbulb taking shape from a whiff of smoke trailing out someone's ear. As they nonchalantly celebrate their one year anniversary, co-founders Serena Sousa and Colby Carruthers tell Discorder about the inception of their music promotion project, instigated by a conflict of interest between them and former production associates.
"We didn't really have any expectations [in the beginning]," Carruthers remarks. After acting as a media sponsor for Pretty Good Not Bad and collaborating with Shake! Fest on curating their line-up, Holy Smokes has yet to reach the peak of its growth. Wanting to create a virtual space to talk about music was an impulse that triggered interviews, reviews and visual features that fulfill the company's function as a pivot for Victoria's music scene. Noting the void left behind when the event production and promotion company Animal Productions disbanded, Sousa realized that "the scene here needed something to bring it together, something to act like the glue," or perhaps the cytoskeleton.
Victoria's size is joked about all too often, but a cell analogy really fits. Despite its tiny capacity, a cell hosts numerous, scattered organelles that rely on different signaling pathways to perform their individual functions, altogether keeping the cell alive. Likewise, while Victoria has tons of independent (sometimes overlapping) bands, they lack a cohesive home-based structure for proper representation. For instance, PGNB received coverage from media based outside of Victoria, including Discorder, but "nobody in Victoria" covered the festival.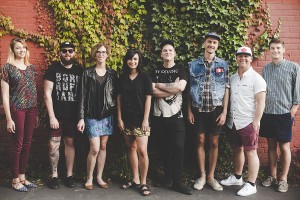 Enter Holy Smokes.
"Timing is everything," Carruthers explains. "It's not like Vancouver, where you have a big population and you can have a show on a Wednesday, and if it's good then enough people show up." With limited DIY venues and venues in general — especially large, licensed venues that aren't Sugar — Victoria doesn't make it easy for bands and the music-minded. And let's not forget the cost of the ferry, which has been steadily increasing over the last decade.
These challenges seem to lose their intimidation factor when Sousa comments on the "close-knit culture of people" in Victoria, and the relationships they've built in such a short time, namely with Madi C of Shake! Records and Phoenix Bain of Pretty Good Society. "It's been really great. We've managed to all work together for mutual benefit. It doesn't feel competitive. We're all helping each other," says Sousa.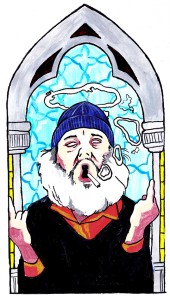 Though these symbiotic relationships are not reserved for Victoria folk, they seem to galvanize the deeply embedded sense of community that accompanies the small town / city. On meeting Madi C, Carruthers remembers being surprised by her enthusiasm: "Why do you think so highly of us? We think so highly of you!" This reciprocated admiration is what keeps Holy Smokes on the lookout for reliable, "capable people," like Santiago Thompson, co-founder and illustrator, who contributes from his new Chilean home; Joseph Leroux, who set up their show review platform; Olivia Perry, who wrote all the artist bios for Shake! Fest and helped push events through social media; Trevor Ball, a generous photographer; and Elyse Mathes, who, well … "she'll go backstage even if she's not allowed back there and get an interview with somebody." And these are just to name a few of the 25 to 28 individuals comprising their macroscopic network.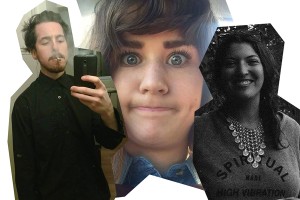 Having kicked off this summer with Levitation and now anticipating Otalith, Holy Smokes is bent on covering more shows and festivals, with a greater energy than that yellow smoke that rubs its muzzle on the window-panes. And once they find the time, they'll start developing live sessions, for which Victoria's venues and exceeding beauty will prove advantageous.
I remember seeing Half Moon Run at Alix Goolden Hall: listening to the silence fall from the high ceiling of the former sanctuary as the band gathered at the edge of the stage, took up one guitar and sang into the vacuum. That Victoria's venues are able to summon that kind of intimate atmosphere is a quality that deserves appreciation. Though Holy Smokes is still relatively new, they have the confidence of those who know what Victoria has to offer. For now, that's probably enough for them to fare forward.
X
Bodies has also taken on Colby Carruthers as their new manager, and, as he put it, the band's stuff is now in "the ether of Holy Smokes." We'll keep you posted.
In the meantime, here's a suggested summer playlist compiled by Holy Smokes for Discorder Magazine: