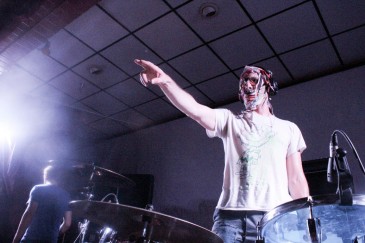 I awoke the next morning and met my pals from Milk, one of my favourite Vancouver bands. We walked around, lost (this proved to be a large part of my Sled Island experience), had some overpriced brunch at the Palomino, and I helped them load their gear in at Bamboo for the Beatroute party that was happening later.
Melting in the sun, we strolled toward Tubby Dog where we enjoyed the most extravagant hot dogs I have ever encountered. Mine was stacked with a mountain of seaweed, ginger, and wasabi, which paired wonderfully with the can of orange juice spiked with gin I had concocted in the ladies' washroom.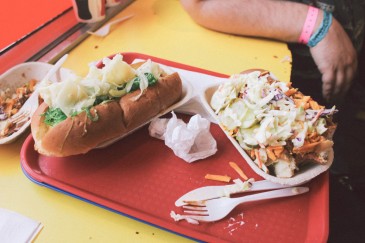 I had a conversation with a young mother outside about how her husband never makes dinner, so her children and her frequent Tubby Dog. Apparently her kids' band had finished playing as soon as I got there, and I was pretty bummed to have missed them, considering they were fourteen and sixteen and, in their mother's words, "totally rip!"
It went to show, Sled Island is one of those events where no matter how hard you try, it is nearly impossible to see everything you want to. Or sometimes, you go to shows accidently, with bands you've never heard of and they absolutely blow you away. A good example of that was the next band I saw: Whimm.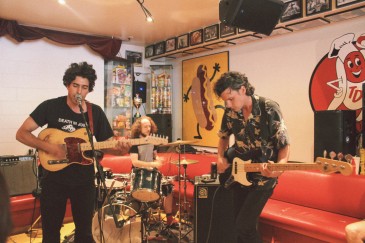 From Toronto, they were an unexpected delight. Their heavy sound contrasted with the goofy but endearing decorations of Tubby Dog to create something quite special.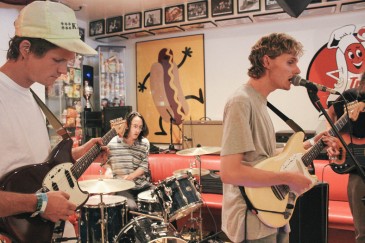 After that tidal wave of delightful noise, Victoria's Jons took the "stage [see: floor]." I met these sweet fellows at a house party in Victoria a few years prior, and I remember them telling me that they had just started a band. I had no idea that this modest party-talk had blossomed into such a glorious band. They were maybe one of the most enjoyable acts I had the chance to see throughout the whole festival.
After Tubby Dog, I strolled over to Bamboo to a sea of friendly Vancouver faces. It was so interesting — I kept forgetting where I was and it just felt like a strange dream where somebody had just taken a good portion of the show-goers in Vancouver and magically made them all appear in Calgary. It was very exciting to see everyone!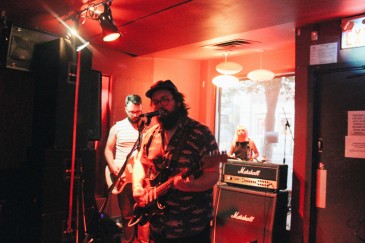 As always, seeing Milk was really cool because I love them, musically and friendship-wise. They played my Dad's birthday party once. Then Dead Soft played and the crowd went wild!
Even the bartender was wearing a Dead Soft shirt.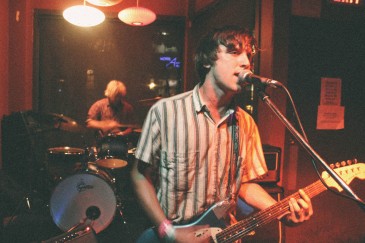 I was like an embarrassing Mom at a soccer game, shouting and waving like a goose, "Hey, those are my friends! On your shirt! Cool!"
He just gave me a sassy look and handed me my gin and soda without a word as a reply. Nevermind his icy behavior, because there was a lot of sweetness to go around at the show. There was free cotton candy, and the friendship vibes were very high! I had a full cider poured on me during Slow Learners set, so I scurried off to the ladies' washrooms and had a very classy d.i.y. home salon experience and washed my hair with hand soap and tap water. I had a nice team of stylists (drunk girls) helping me blow-dry my hair in the hand dryer. It was one of my more glamorous moments and one of the many strange bathroom experiences I had during Sled.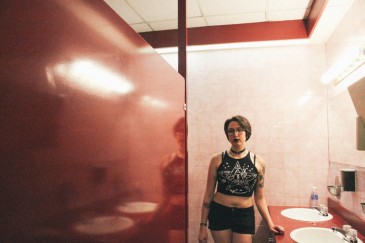 After the Beatroute party, I tagged along with some rude strangers — which was weird, because everyone was typically very friendly — over to see Lightning Bolt. They had some pretty gnarly sound troubles, but once the drummer slipped on his cloth mask, it was on.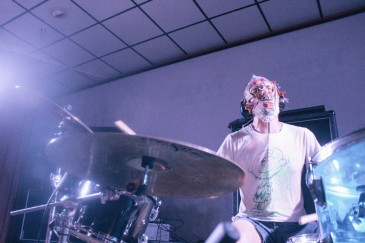 The dude beside me with his Burning Man attire chivalrously shouted, "JUST HOLD ONTO ME" as his Kanye West stunner shades flew off his face. I have been in many wild moshpits (stitches, broken bones, bruises of every shape and size), but during this one, I guess all the free cotton candy I had prior made me feel exceptionally dizzy and dehydrated, so about half-way through I decided I'd try and make a quick exit.
Usually my escape route is to crowd surf, but this time I had three cameras & my big denim backpack. I realized it was too hazardous, so I just pushed through a pit of very sweaty Lightning Bolt fans when all the sudden, this larger gentleman knocked me with such force my camera broke. So, only half of my pictures thus far turned out on my film camera. Bummer of the summer, but I guess it went down in a pretty noble way. When I stood on a chair near the back of the Legion, I noticed all the celebratory veteran art as well as the older volunteers behind the bar looking very disgruntled by the incredibly noisy, but jaw-droppingly talented, band before them, and I thought, "What a funny location for such a wild act."
As the night came to a close, I lost my friends (as to be expected — I'm really good at that) and I finally, after walking for a few hours in the streets of Calgary and befriending a few drunk cowboy bros, found my way onto the floor of the house my pals were staying at.