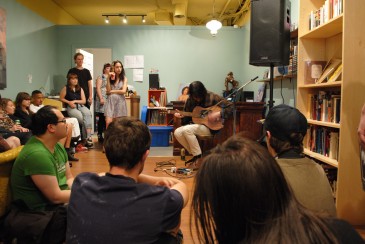 Horses: freedom, liberation, unbridled power. Records: best enjoyed in the presence of others. Celebrating their first day in business, feelings of liberation and communion filled the pleasantly cool air inside Horses Records.
This is a place I've been to just weeks ago to sit down with the owners and find out what they had planned for the sliver of Hastings-Sunrise real estate. And when I say sit, I mean that literally because the place was in complete disrepair. But now it's been completely facelifted and the orange/turquoise dynamic works in this long room, shelving records alongside works of poetry and music biographies. There's also a zine library in the back of the shop and a vending machine full of cassettes.
But don't be fooled by its size—the options here are cleverly curated. A copy of Can's Delay 1968 is juxtaposed by Lawrence Ferlinghetti's Her. Aside from the whole actually having to spend money part, it's a beatnik's candyland. I guess that's what the VISA card terminal is for.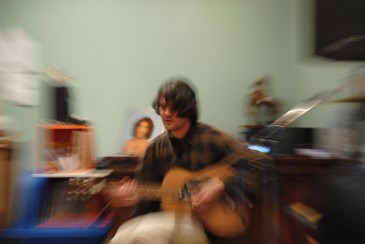 Opening the party was Gretchen Snakes, whose incessant strumming manipulated by a variety of delay and overdrive pedals single-handedly filled the room with his lone guitar's non-descript blend of drone, psych, and noise. Those with a short attention tended to come and go throughout his set while the more determined onlookers slowly nodded along to the din's minute developments. Anticipating the shift in energy that would come next, the bodies once again began to file in as Gretchen Snakes' final chord had finally drifted off.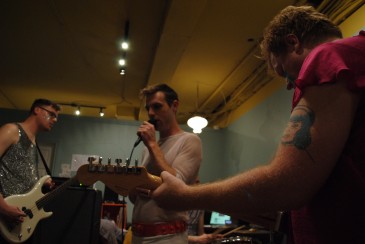 N.213's Group Vision, home to the haunted and nothing short of fabulous voguing only tireless Vancouver mainstay Nic Hughes (Shearing Pinx, Isolated Now Waves) can pull off, did away with the homely vibe and turned the shoebox of a record store into a sardine-packed aural assault. Playing heroically through technical difficulties that sent the little store's lights flickering more than once, frank and agonizing stories were told through post-punk arrangements soaked in reverb and distortion as Hughes' inimitable stage presence occasionally sent tambourines shaking through the air that were bookended with Stardust-meets-Crash diva posturing. With the Group Vision fully clad in drag—sequins, nail polish, face paint, and all—and slices of pizza and PBR cans floating around through the headbanging masses, N.213 managed to merge the best elements of a house party with a stadium worthy performance for just over 30 minutes.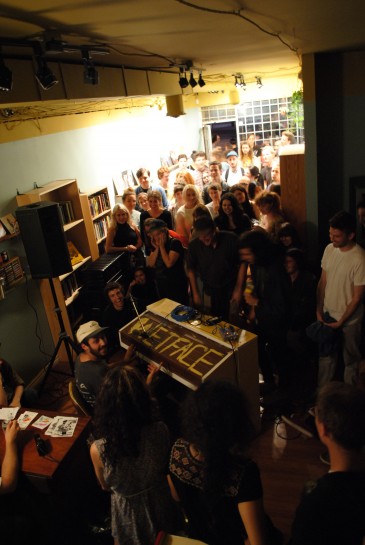 The pepped-up quartet had created a stiflingly hot air but the bodies once again poured into the record shop to try and catch a glimpse of local funnyman, Jordan Minkoff a.k.a. Wetface. Jeering the crowd with his naive and goofy antics, he relished in giving a set hinged on more anecdotes than songs. Eliciting a room full of laughter from stories about nearly getting hit while crossing the street or complaining about what a pain dragging an organ around to each show is is no small feat for any entertainer, even if it has your moniker painted across the top in all its ragged glory. Not to say Wetface didn't move between love songs and slow jams while thanking 'the almighty Gosh' in the meantime, it's just that making mundane missives amusing is this man's signature and this night was no exception.