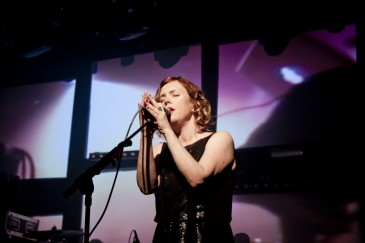 As all good reviews start out with anecdotes, here's one: I recently got into an argument about the merits of bands reforming without new material to justify yet another tour. I was firmly on the side of "selling out."
It takes a powerful display to completely change someone's mind, but Slowdive's recent stop at Vancouver's Commodore Ballroom managed just that. Not only did the recently-reunited British shoegaze band completely justify their presence on this side of the Atlantic, they did so with such thorough and vivid intensity as to leave all expectations shattered.
Slowdive have always struck me as a particularly fascinating band. While their second album, Souvlaki, managed to etch itself into the music nerd's catalogue of essential records, alongside My Bloody Valentine's Loveless, as a definitive moment in shoegaze music, the band itself was never, in their original iteration, commercially successful or critically lauded. Their last album, 1995's Pygmalion, barely managed to get a proper release before the band were unceremoniously dropped from their label, Creation, and the band broke up soon after. The ultimately glazed-over Pygmalion, and the group's lack of serious success in the '90s, makes their reunion all the more enticing, and their live act managed to completely cement their return nearly two decades later.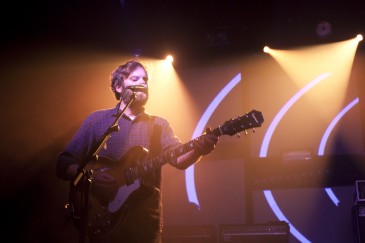 Although it would be correct to call slowcore titans Low the opening act, the astounding applause their half-hour set was graced with would have had you thinking they were the headliners. It seemed little secret that at least some in the crowd had come to see Duluth, Minnesota's claim to fame first and foremost.
The band was humble and in amazing form, outperforming every other time they've played in Vancouver by miles. Perhaps it was the context of performing before a crowd of shoegazers, but Low made giant strides to accommodate the overdrive-seeking, distortion-haunted audience as their signature quiet, tortoise-paced set blossomed brilliantly into crazy jam-band noise solos. Frontman Alan Sparhawk channelled more than a little of Yo La Tengo's Ira Kaplan in his guitar wizardry, from introspective plucking to down-and-out fuzz rock.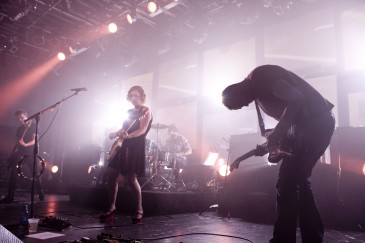 Slowdive's overwhelming success at the Commodore was unexpected and, at times, almost too much to take in. Much of their set consisted of tracks from Pygmalion, and putting a solid stop to my "selling out" debate, the band played these songs very honestly, and very openly. It was apparent just how much fun the quintet were having finally getting to play these songs live for a crowd of people, even if half the crowd hadn't been born when they were first recorded and released. The big numbers on their setlist, of course, pulled from Souvlaki, whose loud-quiet-loud moments almost veered into Mogwai territory, and where the most ears recognized the impending walls of noise.
Souvlaki has never struck me as a particularly loud record, but hearing the opening chords of "Souvlaki Space Station" before the thunderstrike of delay-soaked guitar noise was a profoundly changing experience. The band was very, very loud, and the explosions of reverb were not only fantastic but also completely changed my mind about how their original records were really supposed to sound.
The hearing damage was well worth the wait. Judging by the pen mics pointed into the crowd from the stage, Slowdive will have a live album coming sometime in the near future. And it'll be the first live album I'll be excited to listen to in a very, very long time.