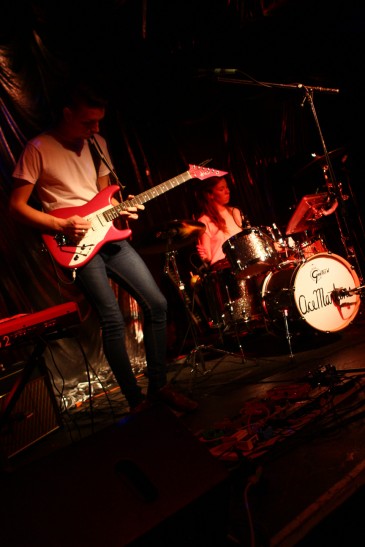 Two topics were raised during onstage banter at the Friday, February 27 Winter Waste fundraiser: the first thing on everyone's mind was Tops, playing the Biltmore one neighbourhood over; the second was Leonard Nimoy (RIP), who came up twice.
Tops had a big crowd, but it didn't take away much from noisy lounge rockers Ace Martens, who were on first. The genre designation might suggest the project's potential to be unbearably self-indulgent, but it remained fresh and honest. Ace Martens played between eras; through an entry point of '90s shoegaze, or proto-rock, or whatever else, their performance entered moments of wash: timeless, precise, and blissful.
Next was High Wasted with a short and effective set held together by well-placed keyboard patterns and a vocalist who sounded remarkably like Brody Dalle of the Distillers.
Energy Slime's set was unfocused, tossed-togethe,r and a little disappointing. This was a factor of their live performance more than anything else — their recorded work is significantly better.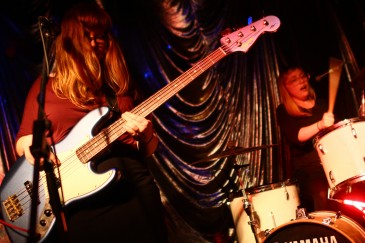 Fourth on the bill was Supermoon, whose set was like a perpetual reunion: feel-good, pastel coloured, essential Vancouver twee-rock.
By all means, this show encapsulated the Vancouver underground scene: a number of the bands on the bill have been playing frequently at small venues around the city, and in general, the sounds of Winter Waste represented various aspects and subcultures of the Vancouver music — Pacific Northwest alt rock, twee, synth pop, etc.
But what really constitutes a local music scene? Does a scene become a scene when we demand something of it? Is it held together by a certain affect, based in shared nostalgia?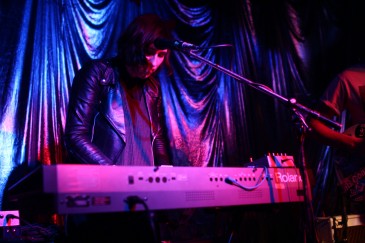 The show itself was a fundraiser for the annual Music Waste Festival, which has served a role in cultivating and supporting Vancouver music since the year before I was born.
The fifth band to play was Poor Baby, who were committed to classic rock, going so far as a Tom Petty cover (released many, many years before I was born). Attempts at a "full" sound fell flat: in an attempt to overwhelm the audience — I counted seven musicians onstage — they ended up sounding obnoxious. Was I expecting something from this scene which didn't cohere? What is the Vancouver sound versus our knowledge of it?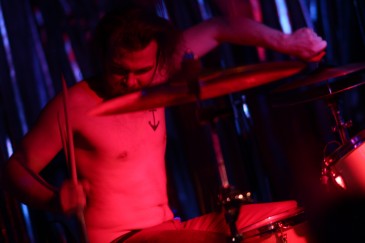 Brass quickly put these questions out of my head — the audience threw beer cans at them, and they loved it. The band's frontman commanded the crowd with lyrics about self-loathing. The drummer almost collapsed in a drunken stupor. The pit filled with sweaty bodies. There was a mid-set joke cracked about the molecular composition of Nimoy's butt.
The ghost of Nimoy made an appearance in the last set of the night too. Weird Candle — hazy, half-drunken, sleepy, loud, and dissonant — sealed the show tight with emotion, energy, and two industrial ladders.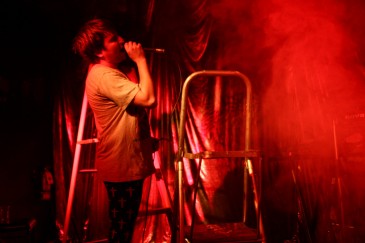 "Today my hero died and I'm really fucking sad about that," yelled the singer, practically sobbing, complete with a Nimoy haircut and t-shirt, echoing Brass and pointing to a tension within the "scene" in ways that are both significant and absolutely ridiculous: half-serious, yearning for the past, and, maybe like all "undergrounds," constantly reminded of its own impending doom.