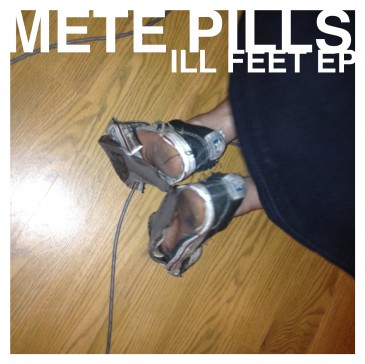 "This is the sorry sound of four grown men taking one more spin around the block again," laments Andrew Lee Barker on "Finding Emo," the third track on Mete Pills' Ill Feet EP. It is true that the members of Mete Pills have been kicking around as long as the ratty pair of Converse pictured on their album cover, however, unlike the trashed sneakers, the the band is more worn in than worn out.

Aside from Barker, the rest of Mete Pills have been playing in bands around Vancouver since the '90s, and their experience shines through these six tracks. The songs on Ill Feet are meticulously constructed: full of dissonant changes, breakdowns, cool outs, and just the right amount of hollering and gang vocals. Wearing little more than a bit of reverb, Tim McGuinness's riffs are steeped in character as they cascade from the speakers while Denyss McKnight's deep, steady bass lines keep everything in check, and Dave Marrow's dynamic beats steer the ship.
New to the microphone, Barker is quickly finding his swagger, tracks like "Pills" showcase his incredibly clever lyrics and find him settling into his own vocal style. Subject to the production wizardry of Jesse Gander, Ill Feet is tight, clean, and built to play loud. What Mete Pills have created is far from sorry sound, it is a post-hardcore manifesto composed by four grown men who defiantly deserve to go around the block again and again.